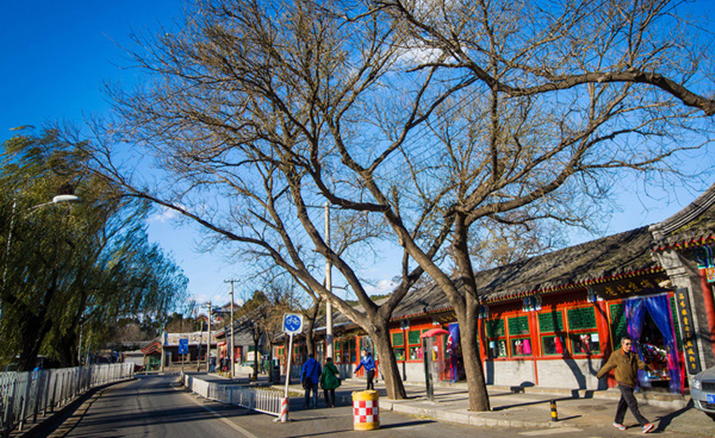 Beijing's air quality improved markedly in 2017 with PM2.5 density dropping 20.5 percent year on year (FILE PHOTO)
Air quality is always one of the top issues raised at the Chinese People's Political Consultative Conference (CPPCC) National Committee during its annual full sessions. But what's new this year is that air quality complaints have actually decreased, while praise has increased. Most CPPCC members, especially those from Beijing, expressed their delight at the enormous progress China has made in improving air quality.
Figures released by the Beijing Municipal Environmental Protection Bureau showed that the average density of PM2.5 in the capital stood at 58 micrograms per cubic meter in 2017, down by 20.5 percent year on year, and heavy pollution days decreased by 16 year on year.
The entire Beijing-Tianjin-Hebei region heightened the battle against air pollution in 2017. According to data released by Hebei Province, the average density of PM2.5 in the province was 65 micrograms per cubic meter in 2017, a decrease of 7.1 percent year on year and a 39.8-percent drop compared with 2013.
A large part of Premier Li Keqiang's 2018 Government Work Report delivered at the First Session of the 13th National People's Congress was devoted to environmental protection. He mentioned that China had achieved a continuous decline of 30 percent in PM2.5 density in key regions since 2013. The proportion of coal in total energy consumption fell 8.1 percentage points, and that of clean energy rose 6.3 percentage points. In addition, some 20 million high-emission vehicles were taken off the road.
Liu Yi, a member of the CPPCC National Committee and President of ActBlue Environmental Protection Co. Ltd. in Anhui Province, told Beijing Review, "It is obvious to everyone that China has achieved remarkable results in air pollution treatment as Premier Li mentioned that the number of days of heavy pollution in key cities in China had been reduced by half. This is the result of joint efforts by supervisory departments and research institutions."
However, Wang Guoqing, spokesperson for the First Session of the 13th CPPCC National Committee, pointed out that air pollution problems have yet to be completely resolved. "Though improvement has been made in the Beijing-Tianjin-Hebei region in air pollution control, with people witnessing more blue skies in the capital in 2017, this progress has come at a heavy price and is due in part to favorable meteorological conditions for the dispersal of pollutants," he said.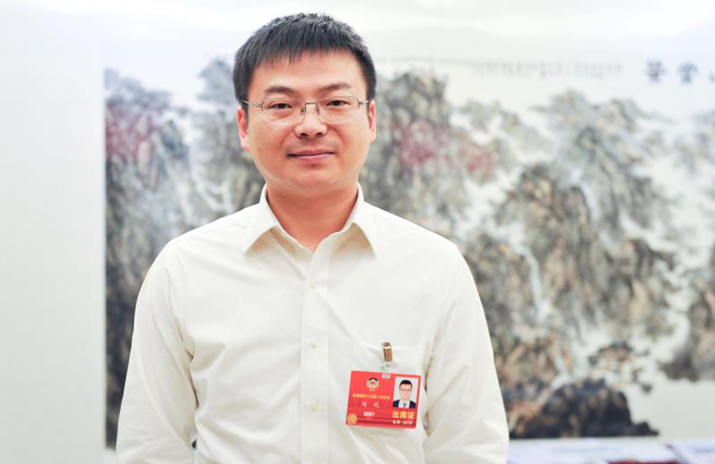 Liu Yi, a member of the CPPCC National Committee (XU BEI)
So, how can these achievements be consolidated and how can China keep increasing its visible blue skies?
Premier Li put forward specific goals and measures in the Government Work Report. This year, China is set to cut both sulfur dioxide and nitrogen oxide emissions by 3 percent and see to it that PM2.5 density in key regions fall markedly. The government will promote ultra-low emission reforms in the steel industry, further raise pollution emission standards and carry out a targeted campaign against excessive emissions from diesel trucks.
"Premier Li placed heavy emphasis on controlling inordinate exhaust emitted by heavy-duty diesel trucks. I think now is exactly the right moment to solve this problem. Though the total number of diesel trucks is not large, their emissions are very high," Liu told Beijing Review.
Liu had other suggestions on controlling pollution. "We should ensure that new cars can meet higher discharge standards, and for vehicles that are already in use, we should adopt measures to strengthen supervision. While continuing to cut vehicle emissions, it is also important to optimize the structure of the means of transportation."
Copyedited by Rebeca Toledo
Comments to xubei@bjreview.com