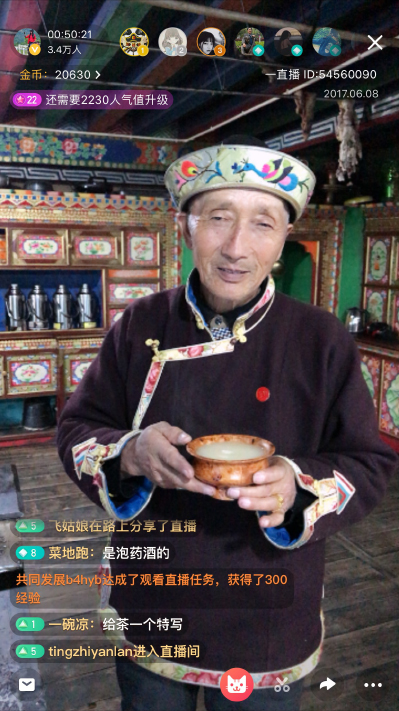 Phuntsok, a family inn owner in Nyingchi, southwest China's Tibet Autonomous Region, promotes his inn by live streaming on June 8, 2017 (ZHAO FEI)
Phuntsok, a 70-year-old family inn owner in Nyingchi City, southwest China's Tibet Autonomous Region, is remarkably web savvy. On his business card, there is a QR code for tourists to scan to see the virtual reality (VR) panorama of his guesthouse in Tashi Gang Village, Lhulang Town.

"Many tourists decide to stay at my inn when they see the VR presentation," he said proudly. The veteran-turned-entrepreneur was the first Tibetan to offer accommodations to tourists in Lhulang starting in 1998.

Along with VR, Phuntsok also promotes his guesthouse on Weibo, the Chinese equivalent of Twitter, and WeChat, China's most popular messaging app; and through live streaming. He has more than 1,780 contacts on his WeChat account, most of whom were previous guests. Whenever a newcomer asks him about the specific location of the inn, the elderly man expertly shares his position through his cellphone, guiding guests with the help of cyber maps.

Things were different when Phuntsok first started his business. Having not attended school, he had no idea how to use the Internet to promote his homestay. But since 2016, with the help of the local government, free Wi-Fi has been available in rural Nyingchi. A specialized online platform for promoting the city's tourism was also established in the same year and a free training course on how to use online marketing was offered to family hotel owners. This was grist to the mill for Phuntsok, who ran with these promotional tools.

Now, Phuntsok's guesthouse has become one of the most popular inns in Nyingchi. Celebrities and backpackers queue for a room in advance of the peak season. In 2017, he received nearly 7,000 guests, a surge of 133 percent in two years, with a yearly income of 350,000 yuan ($55,840).
Internet Plus tourism

"I could never enjoy my good life today without the good policies," Phuntsok said, referring to the local government's commitment in recent years to pulling herdsmen and farmers out of poverty with Internet Plus tourism.

Tibet aims to become an international tourist destination and an all-in-one tourism demonstration zone in China. In May 2015, it rolled out a plan to build 20 distinctive towns with complete Internet infrastructure and digital public service platforms, including Phuntsok's hometown of Lhulang.

Located along National Highway 318, Lhulang town is known as China's most beautiful passage linking Sichuan Province and Tibet and has long been a tourist stop. Local residents have always offered accommodations or sold native products to tourists. But there was never a specialized online platform to connect tourists with guesthouse owners.

"On the one hand, many tourists wanted to experience the traditional rural Tibetan lifestyle, but few knew where to go before 2016. On the other hand, farmers-turned-homestay managers knew little about marketing and promotion," Tanzin Samdrup, head of the Nyingchi Tourism Development Commission (NTDC) told Beijing Review.

The changes began in 2016, when the town was renovated with 3.8 billion yuan ($601 million) of investment from China's southern Guangdong Province. A paved road network was built to make scattered villages more connected and accessible. Public infrastructure, such as a water supply station, a garbage transfer station and a sewage treatment plant were erected. Villages were cleaned up and old guesthouses renovated. Up to 90 percent of the town was covered by a mobile communication network. The once simple town was transformed into an international tourist destination with a traditional Tibetan atmosphere.

Since its trial run in 2016, Lhulang town has received over 300,000 tourists, creating many great business opportunities and generating 1,000 local jobs.

Besides the offline facelift, the Nyingchi government teamed up with a private enterprise to digitalize its rural tourism system. An online platform called Nyingchi Smart Tourism (NST) was established, offering tourists specific information about Nyingchi's resorts, restaurants, hotels, travel agencies, dynamic tourist flows, traffic reports and weather forecasts. With a simple click, tourists can now easily find out where to go, where to eat and where to sleep in the region, even when they are in remote highland pastures.

"In the past, when guests came to my inn, I had to pick each of them up. Thanks to the well-developed Internet, tourists now book rooms online and come to my house by themselves with the help of online maps," said Phuntsok.

What's more, an online marketplace called 7782, sells local products such as dry yat meat, mushrooms and Tibetan herbal medicine. This enables local farmers and herdsmen to sell their products to buyers online.

To encourage more local residents to promote their family hotels and products online, staff from the Nyingchi Smart Tourism Development Co. Ltd. (NSTD) went door to door teaching farmers how to use the platform and provided them with free tablet computers.

Data from the NTDC shows that after the platform was launched, the number of guesthouses in Nyingchi went up from 308 to 570, increasing by 85 percent. According to Qin Lei, NSTD General Manager, the platform has amassed over 3 million registered users, generating a turnover of 14 million yuan ($2.23 million) in less than two years.

"Local residents can now receive orders without stepping out of their doors," said Tanzin Samdrup. "And tourists can enjoy a cashless trip across Nyingchi with a cellphone."

Nyingchi residents are not the only beneficiaries of the information highway in Tibet. In the past five years, the autonomous region has grown into the first ethnic region in China where all towns are covered by the Passive Optical Network (PON). To date, PON is accessible to 2,055 villages, or 40 percent of the region's rural areas.

Selling farm produce online has become a common practice in rural Tibet. By February, 14 counties in Tibet were named national level e-commerce demonstration counties, including Tsole County in Ngari Prefecture, a remote county with an average altitude of 4,700 meters. Abounding in farm produce and cashmere products, Tsole failed to find a market as a result of poor telecommunications in the past. When it got access to broadband in 2015, however, it established an e-commerce association and opened online and offline stores to engage villagers in e-commerce. In the first six months, over 120 farmers and herdsmen from 21 villages took part, bringing each of them an additional income of nearly 1,000 yuan ($159.37) per month.

"Nowadays, Tibet has taken on a new outlook. Modern infrastructure is improving and mobile payment is feasible even in border hamlets," said Qizhala, Chairman of the Tibet Autonomous Region, on March 27.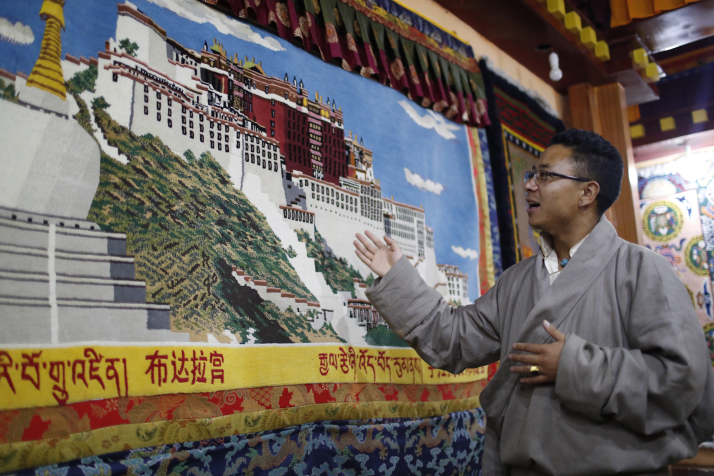 Tanzin, founder of a Tibetan tapestry cooperative in Gyangze County, southwest China's Tibet Autonomous Region, innovates the old craft with 3D design styles (YANG JIA)
Craftsman's spirit

Lhobsang Kandrol, professor with the Tibetology Institute at the Minzu University of China, told Beijing Review, "Tibet's tourism development depends on its natural, cultural and religious resources. Therefore, protecting these resources is the prerequisite for Tibet's long-term tourism development." Thus he confirmed that Tibet's thriving Internet-driven tourism is good for its cultural and environmental protection.

Last year, 25.6 million tourists from home and abroad visited Tibet, an increase of 10.6 percent year on year. Their trips propped up the sales of local handicrafts and artwork, including Tibetan tapestry and Thangka paintings. The Tibetan tapestry industry, with an output value of 350 million yuan ($55 million) in 2015, has grown into a leading handicraft industry in the region.

Turkish carpets, Persian silk rugs and Tibetan tapestry are the top three carpet brands in the world. Gyangze County in south Tibet has been famous for its masterful tapestry-making for over 600 years. In the past, nearly every household in Gyangze could make Tibetan tapestry.

But the industry struggled in the early 2000s as a result of low market demand, a limited portfolio and manufacturing difficulties. Many young people flocked to big cities for jobs rather than take up tapestry at home. But with the surging market demand for Tibetan tapestry these years, more people—especially millennials—are now willing to inherit and develop the old craft.

In his mid-20s, Tanzin from Gyangze County is one of them. After graduating from Tibet University in 2014, he accepted a job offer as a civil servant in the local government. But he quit the decent job after three months and started up a cooperative to produce hand-made Tibetan tapestry and Thangka paintings with wool and natural dye in Niandui town, Gyangze County.

Tanzin invited Tibetan tapestry masters to teach him and his employees and to preserve the traditional techniques. He also made some innovations by designing 3D patterns, which diversified his product portfolio and make tailored tapestry possible.

"Tibetan tapestry made in Gyangze is a handicraft that well represents the unique Tibetan culture. As an architect, I combined what I learned in university with the traditional tapestry-making craft, adding a 3D flavor," Tanzin told Beijing Review. In addition, the young man combined Tibetan tapestry with Thangka, creating a new product called tapestry Thangka.

Tanzin's innovations have proven successful. In 2016, the volume of sales from his workshop totaled 1.2 million yuan ($189,800), creating 65 jobs for the small town. In June 2017, his tapestry Thangka won the International New Product Trend Award at the 2017 China (Qinghai) International Carpet Exhibition. But Tanzin has bigger dreams. "I hope that new techniques and new designs can rejuvenate the old Tibetan tapestry-making craft, enabling Tibetan tapestry to go global," he said.

In fact, the regional government has provided funds and worked out preferential policies to buoy the development of the Tibetan handicraft. Both product value and young practitioners of the industry have increased. For example, regional figures through April 2018 indicate that there are now about 3,000 professional Thangka painters in Tibet. They consist mainly of artists from the ages of 30 to 40, making them much younger than their predecessors.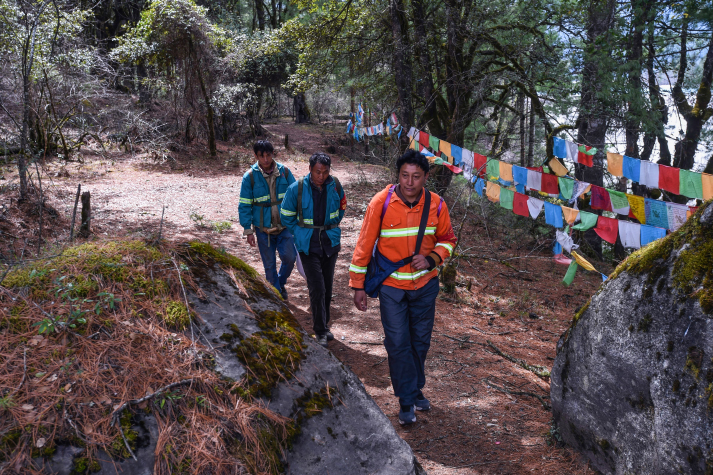 Nima Tsering (front) and his fellow forest rangers from Barka Village, Bomi County, walk their beats in the Yarlung Tsangpo Grand Canyon on March 27 (XINHUA/DAWA)
From hunter to ranger
One of Tibet's major tourist attractions is its natural plateau landscape. Tourism has filled the pockets of Tibetan farmers and herdsmen, which further impels them to make greater efforts to protect their environment. As Chinese President Xi Jinping said, "Lucid waters and lush mountains are invaluable assets."
For decades, 50-year-old Nima Tsering and fellow residents of Barka village, Bomi County, have been living off the virgin forest in the Yarlung Zangbo Grand Canyon. When Tsering was young, every household in the village had a gun hanging on the wall. "Wild animals were being scared off back then; hunters often came home empty-handed after days of wondering in the forest," he told Beijing Review.
But the situation was reversed gradually after measures were introduced to protect the forest as a national level nature reserve in 1984. Hunting is now prohibited and every one of the former hunters from 26 families in Barka Village was hired by the local government to act as a forest ranger. The job brings them an additional income of 13,000 yuan ($2,053) annually.
The villagers are not alone in protecting the environment. In 2017, Tibet earmarked 6.17 billion yuan ($973 million) for the hiring of 700,000 farmers and herdsmen to act as environmental protectors.
After decades of protection, wild animals, such as bears, buffalo and monkeys have returned to the forest. In the process, Barka Village became a renowned regional natural destination. Since 2009, more and more tourists have traveled to the small village to enjoy the pristine forest and mountains and experience original Tibetan life. Villagers, including Tsering, started guesthouses to accommodate tourists, which help local residents earn significantly more money. In 2017, Tsering's income was 80,000 yuan ($12,624), four times more than before 2008.
The villagers call the income hike a gift from the mountains and forest. "What the tourists love is the natural environment here. Once the environment is well-protected, the mountains will remain green, the water will stay clear and the sky blue. Then, we will be able to enjoy the gifts of the mountains and forest for a long time," Tsering said.
By the end of 2017, there were 47 nature reserves in Tibet, taking up 33.9 percent of the region's total area.
"Ecological tourism drew visitors to sleepy villages in the region, which has brought changes to the local residents' views on green development," NTDC's Tanzin told Beijing Review, adding that tourism, in his opinion, is a sustainable option for rural Tibet.
Regional statistics show that by developing rural tourism, green agriculture, handicrafts and border fairs, the per-capita disposable income of local farmers and herdsmen climbed to 10,330 yuan ($1,634), a 13.6 percent increase.
Challenges
But the Internet Plus tourism on the roof of the world is not without some obstacles, with lack of talent posing a major problem. "Tibet's high attitude puts some talent off. We are badly in need of Internet technicians," said Qin.
Incubation centers, including the Lhulang Startup Center, were launched to lure talent to Tibet. Opened in June 2016, the center aims to be both an incubation center and a brain bank. To date, a dozen enterprises have rooted themselves at the center. New entrepreneurs are given rent subsidies, accommodations and tax breaks. Attractive internship programs connected to five universities are offered to college students."We rack our brains on how to retain hi-tech talent in Tibet, hoping that they will help enrich Tibet's brain bank," said Qin.
In the past year, the regional government made great efforts to amass talent, with a total of 105 PhD graduates settling in Tibet, outpacing most other provinces and autonomous regions.
Copyedited by Rebeca Toledo
Comments to linan@bjreview.com