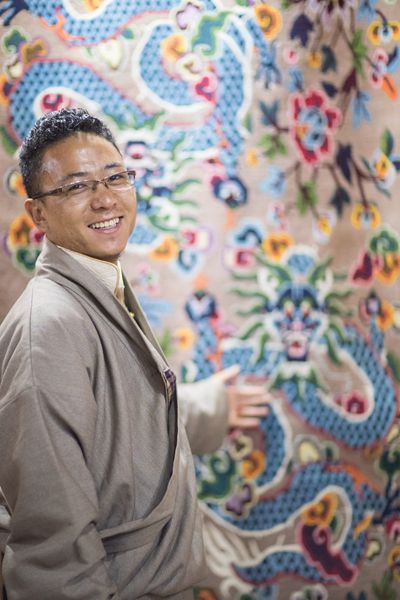 Tanzin, founder of a Tibetan tapestry cooperative in Gyangze County, southwest China's Tibet Autonomous Region, innovates the old craft with 3D design styles (YANG JIA)
Last year, 25.6 million tourists from home and abroad visited Tibet, an increase of 10.6 percent year on year. Their trips propped up the sales of local handicrafts and artwork, including Tibetan tapestry and Thangka paintings. The Tibetan tapestry industry, with an output value of 350 million yuan ($55 million) in 2015, has grown into a leading handicraft industry in the region.
Turkish carpets, Persian silk rugs and Tibetan tapestry are the top three carpet brands in the world. Gyangze County in south Tibet has been famous for its masterful tapestry-making for over 600 years. In the past, nearly every household in Gyangze could make Tibetan tapestry.
But the industry struggled in the early 2000s as a result of low market demand, a limited portfolio and manufacturing difficulties. Many young people flocked to big cities for jobs rather than take up tapestry at home. But with the surging market demand for Tibetan tapestry these years, more people—especially millennials—are now willing to inherit and develop the old craft.
In his mid-20s, Tanzin from Gyangze County is one of them. After graduating from Tibet University in 2014, he accepted a job offer as a civil servant in the local government. But he quit the decent job after three months and started up a cooperative to produce hand-made Tibetan tapestry and Thangka paintings with wool and natural dye in Niandui town, Gyangze County.
Tanzin invited Tibetan tapestry masters to teach him and his employees and to preserve the traditional techniques. He also made some innovations by designing 3D patterns, which diversified his product portfolio and make tailored tapestry possible.
"Tibetan tapestry made in Gyangze is a handicraft that well represents the unique Tibetan culture. As an architect, I combined what I learned in university with the traditional tapestry-making craft, adding a 3D flavor," Tanzin told Beijing Review. In addition, the young man combined Tibetan tapestry with Thangka, creating a new product called tapestry Thangka.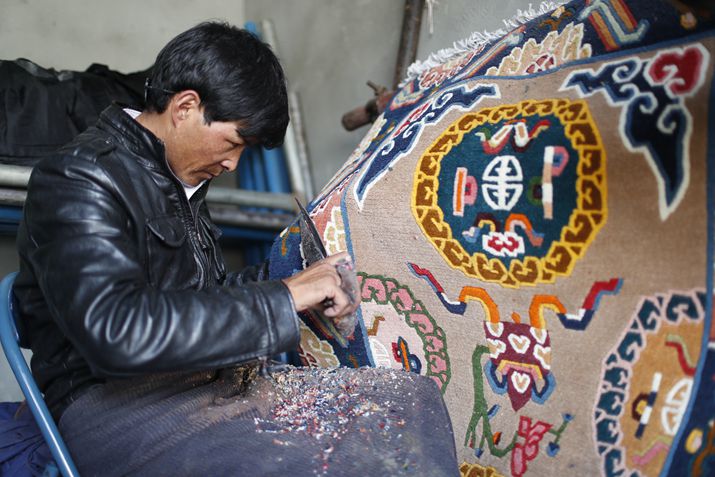 A craftman makes Tibetan tapestry in Gyangze County, southwest China's Tibet Autonomous Region in August 2017 (YANG JIA)
Tanzin's innovations have proven successful. In 2016, the volume of sales from his workshop totaled 1.2 million yuan ($189,800), creating 65 jobs for the small town. In June 2017, his tapestry Thangka won the International New Product Trend Award at the 2017 China (Qinghai) International Carpet Exhibition. But Tanzin has bigger dreams. "I hope that new techniques and new designs can rejuvenate the old Tibetan tapestry-making craft, enabling Tibetan tapestry to go global," he said.
In fact, the regional government has provided funds and worked out preferential policies to buoy the development of the Tibetan handicraft. Both product value and young practitioners of the industry have increased. For example, regional figures through April 2018 indicate that there are now about 3,000 professional Thangka painters in Tibet. They consist mainly of artists from the ages of 30 to 40, making them much younger than their predecessors.
Copyedited by Rebeca Toledo
Comments to linan@bjreview.com