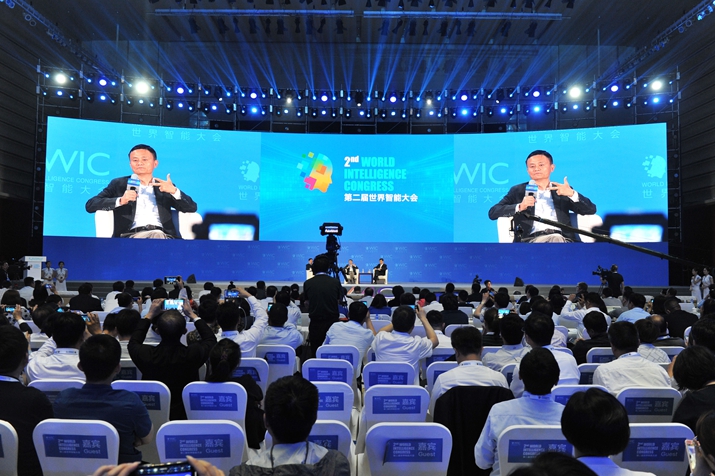 Alibaba Group's founder Jack Ma talks about the future of intelligent technology at the Second World Intelligence Congress on May 17 (WEI YAO)
Movers and shakers in the field of artificial intelligence (AI) gathered in north China's Tianjin for the Second World Intelligence Congress held on May 16-18. The congress featured forums, a world intelligence expo and activities such as an intelligent driving challenge and an intelligent drone contest.
With the theme of The Age of Intelligence: New Progress, New Trends and New Efforts, the congress drew an impressive array of major national players. At the opening ceremony, Wan Gang, Vice Chairman of the National Committee of the Chinese People's Political Consultative Conference and former Minister of Science and Technology, spoke of the importance of AI technology.
"As the core driving force of a new round of the industrial revolution, it will spawn new technology, new products, new industries and new models. It will also trigger great changes in economic structures, modes of production and people's lives and thinking, leading to an overall leap in social productivity," he said.
Wan, also President of the China Association for Science and Technology, added that President Xi Jinping has stressed that the development of AI technology will profoundly change people's lives and the world at large, thus China should accelerate the development of this high technology.
In 2017, the Chinese Government released a three-step plan to develop a new generation of AI technology and integrate AI into the economy and society, according to Wan.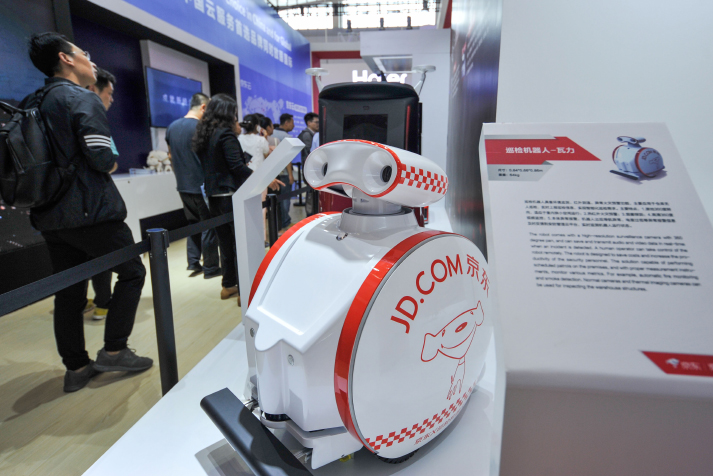 A robot used in e-commerce giant JD Group displayed at the World Intelligence Expo in Tianjin on May 17 (WEI YAO)
Smart manufacturing
Many Chinese companies have already set their eyes on smart manufacturing enabled by AI technology. During the congress for instance, a number of tech moguls addressed various forums, including Alibaba founder and Chairman Jack Ma, JD Group Chairman and CEO Richard Liu, IFLYTEK Co. Ltd. Chairman Liu Qingfeng, 360 Group Chairman Zhou Hongyi, Haier Group CEO Zhang Ruimin and Foxconn Chairman Terry Gou. The companies they lead are all bellwethers of China's smart manufacturing progress. At the congress, these entrepreneurs elaborated on industry trends and their company's smart strategies.
JD Group's Liu is undoubtedly one of the most famous young entrepreneurs in China today. He transformed a small store in Zhongguancun in Beijing, China's Silicon Valley, into one of the largest e-commerce giants in China thanks to a decade of rapid development of the Internet economy.
In recent years, JD Group has embraced AI technology, experimenting with delivering goods with robots and unmanned aerial vehicles, and offering AI technology in customer services.
For e-commerce enterprises, logistical systems are extremely important. Liu said that 57 percent of JD Group's product orders are processed by robots and other AI applications rather than humans, including procurement, inventory management and sales forecast.
"This is a very complex system. Our 2018 goal is to have 94-95 percent of stock-keeping units managed by AI technology, from the procurement process to pricing, goods transfers between storages and replenishment management," said Liu. He said he is confident about the future, which he believes will leave more time for humans to pursue higher goals.
"With the dawning of the AI era, people should spend most of their time creating spiritual wealth. The creation of material wealth should be entirely left to robots and other AI technology. People can spend more time pondering philosophical issues, engaging in art and other things they like," Liu said.
He concluded his speech by saying, "When the intelligent age comes, people's attitude and adaptation to changes will determine their future."
Compared with other entrepreneurs running Internet companies, Haier Group's Zhang may appear to be a bit traditional. The group is the most internationally well-known household appliance enterprise in China.
This huge business is facing a strong challenge from new technology. But Zhang is not conservative, he welcomes new technology. During his address at the congress, he explained how Haier Group applied Internet of things technology before other companies in the industry, and how its management model was upgraded to adapt to the new technology.
He said he believes that the intelligent era promises an opportunity for Chinese firms, especially those lagging behind that can change lanes and overtake others by adopting new technology.
Foxconn's Gou has undoubtedly created a legend in the public eye. His company prospered by supplying parts to Apple Inc. But the first thing Gou said while speaking at the congress was that Foxconn was no longer just the original equipment manufacturer (OEM) of a dozen years ago. The company has incorporated Internet and other smart technologies in the production process. He said that Foxconn's production machines were all connected to the Internet and were capable of producing dozens of megabytes of data in a day. Moreover, the company developed its own voice operating system.
Foxconn has long been striving to go beyond its OEM status with Apple, and the intelligent era provides a great opportunity to do so. Gou said he advocates an "8K+5G" (8K resolution plus 5G network) strategy, donning a red baseball cap bearing the word "8K" at the congress, which has become his signature attire.
Gou also said that he believes that the potential market for the industrial Internet is huge. In his speech, he said, "The number of people, machines and things connected by the industrial Internet is far greater than the number of people connected by the consumer Internet platform. The value of the industrial Internet platform will be far greater than the consumer Internet one." He predicted that by 2020, the number of devices connected to the Internet of things will exceed 50 billion. By 2025, the industrial Internet will create an economic output value of $82 trillion, which is one half of the global economic aggregate.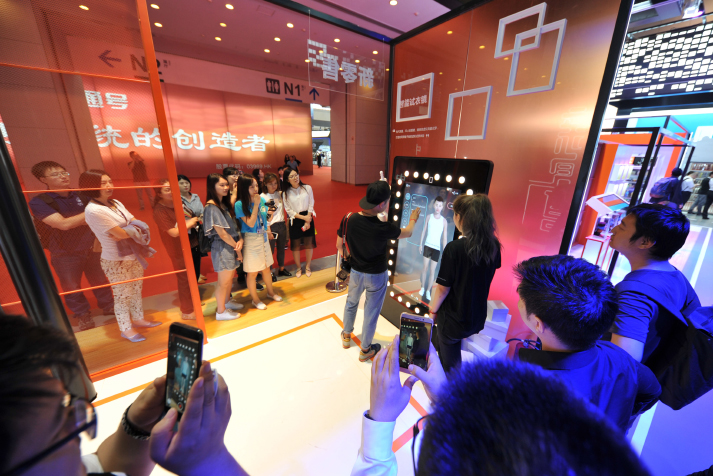 A visitor to the World Intelligence Expo tries Alibaba's vitural dressing mirror displayed at the World Intelligence Expo in Tianjin on May 17 (WEI YAO)
Smart cities
Gou met with officials in Tianjin in addition to attending the intelligence congress.
The Tianjin Municipal Government saw the apparent effect Foxconn had in boosting the development of large cities such as Wuhan and Zhengzhou and is very interested in cooperating with the company. Moreover, the city harbors an ambition for smart development.
Tianjin, situated only 100 km from Beijing, has become the most important trade city in northern China due to its geographical advantage as a port facing the Bohai Bay. In recent years, it has sought development driven by intelligent manufacturing and industrial innovation.
Li Hongzhong, Secretary of the Tianjin Municipal Committee of the Communist Party of China, described Tianjin's development future in his speech at the congress. According to the Beijing-Tianjin-Hebei coordinated development strategy, "Tianjin is shouldering the historical task of building a nationally-advanced manufacturing, research and development base; an international shipping hub in north China; a financial innovation and operation demonstration area; and a reform and opening up pilot zone." He said that Tianjin will take the opportunity availed by the new era to cultivate a large smart industry cluster and build the city into a smart port.
Sun Wenkui, Tianjin Vice Mayor, spoke about policies to accelerate the development of smart industries. These plans include setting up a large intelligent manufacturing fund of tens of billions of dollars, improving research and development capability, giving hefty financial support to national and provincial level research institutes relocated to Tianjin, and awarding individuals and enterprises that have made important contributions to developing smart science and technology. Meanwhile, the city also will focus on the protection of intellectual property rights, vowing to crack down on violations.
While attending the intelligence congress, Alibaba's founder Ma spoke about Tianjin's transformation in recent years. "Tianjin has changed so much the city is getting cleaner and more modern." He added that a city's changes cannot be separated from a change in people's mindset, which he said has changed in Tianjin's government, enterprises and residents.
Tianjin used to be an industrial base, but now as the host of the Second World Intelligence Congress, it reflects a change in its thoughts and actions, and it has become more service- and future-oriented, Ma said.
Previously, state-owned enterprises were Tianjin's mainstay, however, in the future, the city will spur the development of private and innovative enterprises, which is very encouraging, he added.
In today's China, not only metropolitan cities like Tianjin are seeking smart development, many medium and small cities in eastern and central China, as well as western cities, like Guiyang in southwest China's Guizhou Province, are also looking to get onboard. While promoting intelligent manufacturing, they also strive to create a more modern and intelligent city environment so that people can enjoy a better life.
(Reporting from Tianjin)
Copyedited by Rebeca Toledo
Comments to zanjifang@bjreview.com