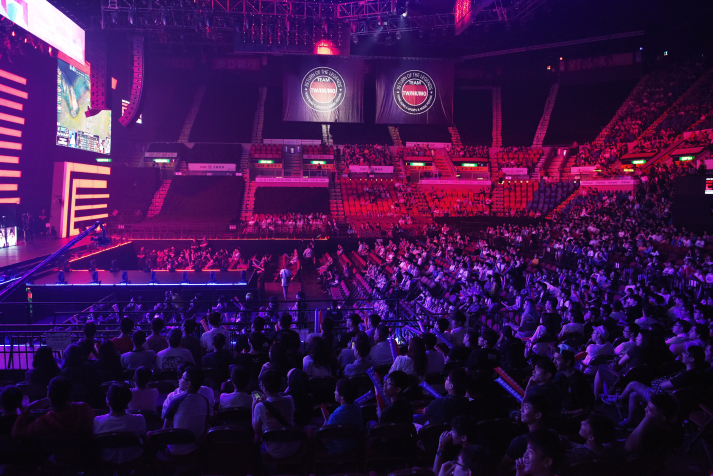 Spectators watch a League of Legends tournament at the First E-sports Music Festival in Hong Kong on August 4, 2017 (XINHUA)
The spring of this year brought a series of landmark moments for China's esports. On May 20, Chinese esports team RNG beat South Korea's KZ 3-1 in the 2018 Mid-Season Invitational, an annual League of Legends tournament, winning China's third world championship.
Previously, on April 24, it was revealed that esports were, for the first time, to be included as a demonstration sport at the upcoming 18th Asian Games which will be held in the cities of Jakarta and Palembang in Indonesia. According to the Asian Electronics Sports Federation (AeSF), six video games have been confirmed as part of the Games—League of Legends, Pro Evolution Soccer 2018, Arena of Valor, Starcraft II, Hearthstone and Clash Royale.
"We are very excited to see esports making a debut at the Asian Games," said Kenneth Fok, President of AeSF, adding that only those games that promote a vision of integrity, ethics and fair play were selected. But Fok, who took office last September, has a bigger ambition—the inclusion of esports in the world's biggest sporting event, the Olympic Games.
Whether or not esports will ever be included in the Olympics, there is evidence that China's esports are thriving following two decades of development.
Official figures show that the total revenue of China's game sector amounted to 218.96 billion yuan ($34.15 billion) in 2017, increasing by 23.1 percent year on year. The population of online Chinese esports participants reached 220 million, surging by 69.2 percent year on year. The data was released by the China Culture and Entertainment Industry Association (CCEA) and Beijing-based market intelligence provider Entbrains in November 2017.
Such rapid growth is transforming the global landscape of the industry. Newzoo, an Amsterdam-based game market researcher, noted in its latest Global Games Market Report that China remains the top spending country worldwide with more than a quarter of the overall market and over 60 percent of the mobile game market this year. North America is second, with Europe trailing behind.
Ups and downs
What is behind the miraculous boom of China's esports? The official recognition of esports as a competitive sport, the professionalization of players and the development of China's Internet and dotcom companies are all believed to be among the reasons. But the rise of China's esports has been anything but smooth.
The game industry in China began in the late 1990s, with amateur gamers playing imported PC games like Starcraft and Counter Strike in cyber cafés across the country, according to a report released by Shanghai-based iResearch in February.
In 2001, the Chinese team won the first esports world championship at the inaugural World Cyber Games in South Korea, but since few at the time knew anything about the emerging industry, the news went largely unnoticed. It was widely thought that spending too many hours playing video games was harmful to young people, especially students.
"Most parents believed that playing video games was a waste of time, not a proper occupation," Yu Boshu, a professional esports player with Chengdu-based AI Club, told Beijing Review.
The scene began to change entering the 21st century. On November 18, 2003, esports were listed as the country's 99th recognized sport by the State General Administration of Sports. A once little-known industry had entered the spotlight. At least nine TV shows on esports were on air within the year, including Esports World by China Central Television, and the First China Esports Games (CEG) kicked off on March 20, 2004.
The year witnessed jaw-dropping growth in the industry's takings, from 950 million yuan ($148.3 million) in 2002 to 3.48 billion yuan ($543.3 million) in 2003, rocketing about 266 percent according to figures released in January 2005 by the China Association for Science and Technology.
But the good times were not to last. Reports about young people's addiction to video games caught the attention of the Chinese Government. One month after the First CEG, a directive was issued to cease the broadcast of all TV programs about video games. As a result, both media exposure and the growth rate of the esports industry declined for the next six years, with the CEG suspended in 2009.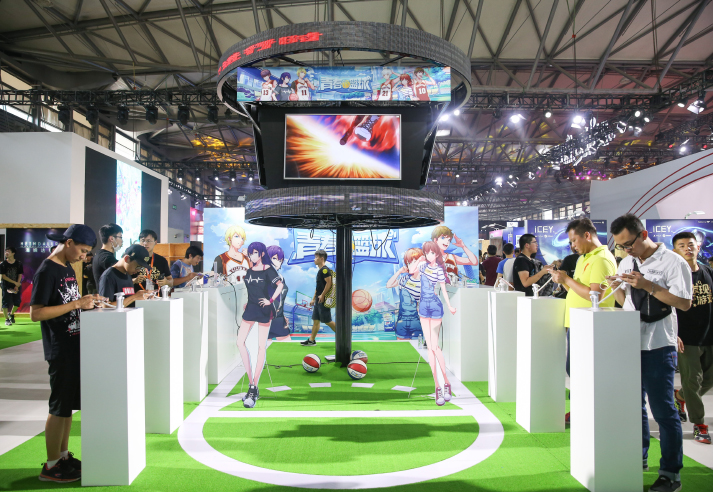 Visitors play mobile games at the China Joy Exhibition in Shanghai on July 27, 2017 (XINHUA)
Resurgence
The next twist in the tale came in the following decade, as young entrepreneurs began to gravitate toward the sector. Wang Sicong, son of Wang Jianlin, a real estate magnate and one of China's richest men, was one of them. As money began to flow into the industry, esports clubs began to spring up nationwide. More and more hobbyists joined these associations to become professional gamers enjoying regular incomes and intensive training, and Chinese players started to distinguish themselves at global esports competitions. In turn, game companies began offering more lucrative prizes to encourage more people to take up this sport. In August 2016, the Chinese team Wings Gaming took the International 2016 (T16), the greatest title in competitive Dota 2, taking home prize money worth over $9 million.
The professionalization of esports and the huge cash prizes at stake had a significant impact on many people's attitudes toward the industry, particularly parents. For Yu, his decision to go professional as an esports player with AI Club was initially opposed by his mother and father. "I told them that esports were just a normal industry in need of talent. To become a professional player had always been my dream. I wanted to make it come true," he said, adding that his parents supported him after getting to know more about the industry.
Government support returned too. The National Development and Reform Commission rolled out an action plan in April 2016 to encourage more national and international esports events to be held in China to stimulate consumption and industrial transformation. A year and a half later, the final event of the 2017 League of Legends S7 World Championships took place in the Bird's Nest, China's iconic Olympic stadium in Beijing, drawing a 43,000-strong crowd. The coverage of the event won the 39th Annual Sports Emmy Awards in May, the first Sports Emmy to be awarded to esports-related media. In 2016, the Ministry of Education also introduced esports as a new course of study at institutions of higher education. The move was seen by many insiders as a restart for China's esports. "It shows that China's esports are heading toward standardization and professionalization," Zhao Teng, Deputy Manager of AI Club, told Beijing Review. He added that the creation of an esports degree provides a more institutionalized pathway for esports training.
China's Internet and dotcom companies also had their part in the industry's success. According to the latest report by the China Internet Network Information Center (CNNIC), by the end of 2017, China had 772 million net users, of which 97.5 percent accessed the Internet via their smartphones. The Internet penetration rate was 55.8 percent, 4.1 percentage points higher than the global average. A total of 102 Internet companies worth 8.97 trillion yuan ($1.4 trillion) were listed at home and abroad, among which 28.4 percent were online game producers. In 2017, more than 16,000 new mobile games were released.
The popularity of live streaming platforms has also enabled esports to reach a wider audience. According to CNNIC, in 2017, users of esports live streaming platforms amounted to 224 million, a year-on-year increase of 53.1 percent. In other words, 29 percent of China's netizens streamed esports in the past year.
Going global
The popularity of the industry doesn't stop at China's borders. Sanusi Ashraff, a 20-year-old Indonesian student at Hasanuddin University, plays the Chinese mobile game Mobile Legend every day. "I downloaded it because it was highly rated on the Apple store," Ashraff told Beijing Review. He is one of many young people across Southeast Asia playing games made in China, with Chinese productions becoming ever more widespread.
"Gamers from Southeast Asia know a lot about Chinese culture and so it is easier for Chinese video game developers to move into Southeast Asia," Ying Shuling, founder and CEO of Hero Entertainment, told Beijing Review.
In recent years, China's Internet game developers have gone to a lot of effort to move into the global market. Some have purchased shares in foreign game companies to get a foothold overseas. China's Internet giant Tencent has invested in at least 10 foreign game enterprises. Others have won the hearts of foreign gamers by localizing their products. "We do this by highlighting local cultural elements, such as using local idioms," Ying told Beijing Review, explaining that this can help his products to reach target users.
Their efforts have been well rewarded over the past year. The overseas revenue of domestic game developers totaled $7.61 billion, increasing by 10 percent, according to the CCEA and Entbrains report.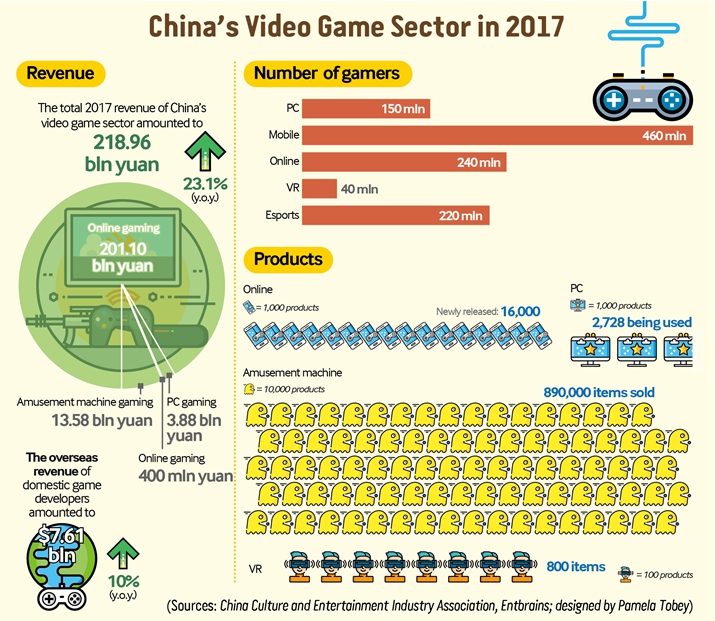 Challenges ahead
Yet some doubt whether the future of China's esports is as promising as the figures suggest. Product homogeneity is one of the problems according to the CCEA and Entbrains report. The latest financial reports from Tencent and NetEase showed that growth of China's two biggest video game companies slowed in the first quarter. The revenue of Tencent's game sector grew by 26 percent in the first three months of the year, 8 percentage points lower than the same period last year. A lack of new outstanding products that have large popularity among players is believed to be the major cause. Tencent's Arena of Valor was a sensation in China last year, bringing in huge profits for the company. This year the company has yet to produce a game that takes the market by storm.
"The only way out is to innovate. I think the creativity of Chinese game developers is good and I am optimistic about the prospect of China's esports," Ying said.
The lack of standardized supervision and management is another problem. Although China's esports have a history of 20 years, there is still no national association for the industry. In contrast, there are several loose organizations for every game, according to AI Club's Zhao.
A shortage of administrative personnel also poses a challenge. "Except for experienced retired players, there is a limited supply of human resources in the market," said Zhao, adding that the inclusion of esports as a university degree may help address this issue.
Perhaps most importantly, stereotyped attitudes toward esports prevail. In the eyes of many people, esports are just playing games. AeSF's Fok explained that although esports evolved from playing video games, it strives to inspire and motivate the youth of the world to be the best they can be through educational and entertaining interactive challenges, which is no different from traditional sportsmanship. How to dispel the misunderstanding of esports is one of the major hurdles ahead for the sport on the road to becoming a part of the Olympic Games.
"There is a long way to go, but that doesn't mean that it's impossible. We need to press ahead step by step," Fok said.
Copyedited by Laurence Coulton
Comments to linan@bjreview.com