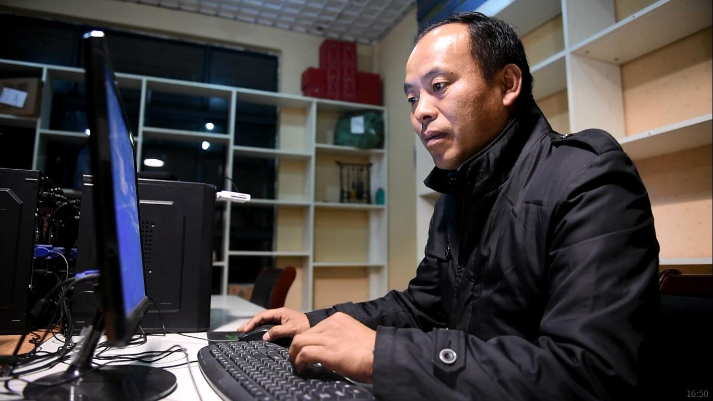 Yan Yushan surfs on the Internet on November 18, 2017 (XINHUA)
Yan Yushan left home after graduating from middle school with nothing but a few books and the dream of making it in the big city.
The year was 1992, when China's urban centers began to get a facelift from the country's renewed efforts toward reform and opening up. One of the most drastic transformations was in Guangdong Province, where small towns and fishing villages would overnight become metropolises of highways and skyscrapers.
And that was where Yan would flourish, eventually able to bring his success back home to Xiaogang.
Success in the city
Yan was born in 1973 to a farming family in Xiaogang, a small village in east China's Anhui Province. The eldest of five siblings, Yan saw little prospects for his family in the way farming was conducted in the village, and decided to find out what else was out there.
Arriving in Dongguan, south China's Guangdong Province, Yan was immediately impressed by the newly paved roads. He found work as a security guard at a Hong Kong-invested company producing electronic parts. Like the city itself, the company grew quickly, moving to new office buildings and workshops, and increasing its number of staff.
"I came here to learn, with an aspiration to be a boss in the future and return to my hometown," he recalled. "So I must observe carefully, and develop the ability to solve problems that others can't."
There were many problems beyond those related to security, so Yan keenly followed every production procedure and every corner of the factory. His break came when the factory was behind on fulfilling an order for switch transformers, and faced defaulting on loans.
The factory at the time used conventional production methods; long procedures and significant manpower were deployed to produce meager sums. Yan noticed that imported machinery for supposedly automated production was collecting dust, and decided it could be the solution to the company's crisis.
In his early 20s, Yan had little training, but he did have plenty of time after work. After finally getting the machine up and running, he asked his boss to put him in charge of the production line. With little to lose, his boss agreed.
Yan did not waste his chance. As the new workshop director he installed the machine, simplified the procedures, rearranged the workers, and succeeded in producing 2,000 switch transformers on the first day of his promotion.
This breakthrough, along with his proactive attitude, made Yan a rising star. Over the seven years he was with the company, he saw its employees rise 100 fold, his own pay making a similar leap. The young man from a remote village was well on his way to becoming a successful businessman on the frontier of China's economic rise.
In 1998, on the 20th anniversary of China's reform and opening up, Yan saw his father on TV delivering an inauguration speech as the director of Xiaogang's village committee. At that moment, Yan was reminded of why he had left home in the first place: to find a path for his family and his village toward a better life, just as his father had once done many years ago.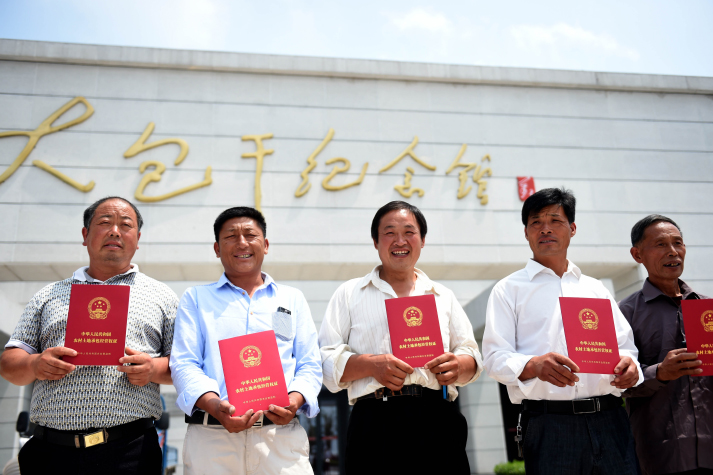 Villagers of Xiaogang Village, Anhui Province, show their certificates for rural land contract management right on July 8, 2015 (XINHUA)
The secret agreement
One of Yan's earliest memories was of a green jeep in front of his house in Xiaogang driving off with his father. At 5 years old, Yan did not understand the significance of the event, but he would later learn that his father Yan Hongchang, along with 17 other villagers, had helped spark a wave of nationwide rural reforms that marked the beginning of China's reform and opening up.
In 1978, a severe drought befell Xiaogang and the surrounding region. Fearing a famine, the villagers signed a secret agreement to individually manage the communally owned farmland in their village.
At that time when the planned-economy prevailed, assigning land management right to individuals was a bold decision.
The result proved to be good. In 1979, the village produced as much grain as in the previous five years combined, and as much oil-producing crops as the sum of the previous 20 years. Within a few years, villages across China adopted the methods of Xiaogang. The agreement signed by the 18 Xiaogang villagers now sits proudly in a museum, and their story is taught in China's history books.
Yan always knew he had a lot to live up to. With everything he had learned and accomplished in Dongguan, he decided it was finally time to return to Xiaogang and follow in his father's footsteps.
A different vision
Filled with renewed purpose, Yan packed up for home in 1999. As director of the village committee, his father had promised to increase Xiaogang's annual per-capita income to 400 yuan ($62), and Yan planned to contribute by starting a business and creating jobs.
It did not take long for Yan to realize that Xiaogang was no Dongguan, a city that flourished thanks to China's pilot policies in reform and opening up. His first two ventures—a handicraft company and an electric meter factory—both failed, closing down in 2001 and taking all Yan's savings with them.
Not one to give up, Yan headed back to the city, founding successful businesses in Hefei, Shanghai and Beijing before bringing the profits back to Xiaogang for a second try—to no avail.
In August 2014, Yan returned to Xiaogang for the final time with a new approach. Instead of starting a company, the son of one of China's earliest pioneers in economic reform decided to follow his father's path into public service, becoming a member of the Communist Party of China Xiaogang village committee.
So as to fully commit to his new role, Yan sold his shares in his companies outside the village, including a majority stake in a small utility and appliance company in Beijing.
Yan explained his choice as the result of an inherent sense of duty. "Great changes have taken place in Xiaogang, but its economic development is not so remarkable. My father's generation shouldered their historical responsibilities and now our generation must accept ours."
However, his plan for Xiaogang was also the product of his business acumen, after multiple attempts at various forms of manufacturing. Instead of creating a secondary industry from scratch, Yan decided to lean on the village's agricultural heritage and develop its tourism industry.
Instead of raising factories, Yan led the village in paving its roads, planting trees, and renovating its storefronts. Tourism in Xiaogang began to take off, integrating historical tours, folk customs and cultural activities like the flower-drum dance, and the picking of fruit and vegetables.
This year the village's tourism industry is receiving a boost from the 40th anniversary of China's reform and opening up. Yan estimates that Xiaogang, as a key historic site in the country's reform, has already received around 500,000 visitors so far in 2018.
In order to bring more convenience to visitors and local businesses alike, Yan launched an e-commerce platform, searching for and eventually attracting commercial tenants to 33 stores at visible locations to present specialty products from Xiaogang and other areas.
As the person in charge of poverty alleviation, Yan is also motivating the younger generation of Xiaogang natives to become entrepreneurs. He is implementing various reforms for the village to help them along the way, including reforms in land rights, contract rights, and management rights for rural land.
Yan is also working to clear the obstacles he personally faced when trying to start businesses in the village, reforming the shareholding system in a collective economy, turning rural resources into assets, capital into equity, and farmers into shareholders.
"People generally believe that the Xiaogang spirit implies the guts to think, to act and to be the first to do something," he said. "In my interpretation, it also implies unity and collaboration, without which the agreement in 1978 wouldn't have been possible at all."
His efforts have led to preliminary outcomes. During the last few years, the number of villagers leaving to become migrant workers decreased from 1,000 to 600, as more and more young people came back to participate in Xiaogang's development.
"The future of Xiaogang relies on us, the villagers," Yan said. "Everyone should bear in mind that they are the people of Xiaogang, and should get involved and make contributions for the vitalization of our village."
The article was first published on China.org.cn
Copyedited by Laurence Coulton
Comments to zanjifang@bjreview.com