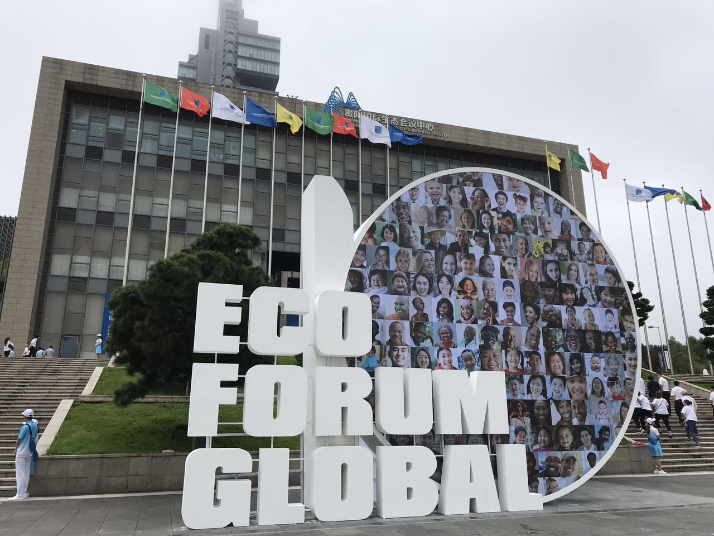 The Eco Forum Global Annual Conference takes place in Guiyang, southwest China's Guizhou Province, on July 6-8, 2018 (PAN XIAOQIAO)
Touching on a series of topics related to eco-civilization, the Eco Forum Global Annual Conference was held in Guiyang, capital city of southwest China's Guizhou Province, from July 6-8. Topics ranged from forest cities to eco-poverty alleviation, green finance innovation, ocean protection, bio-diversity in economic development, mitigating climate change, environment and health, and wilderness restoration.
President Xi Jinping sent a congratulatory letter to the conference, emphasizing that China pays close attention to the protection of the ecological environment, upholds the harmonious coexistence between humankind and nature, and is willing to continue its efforts to implement the 2030 Agenda for Sustainable Development along with the international community to build a clean and beautiful world together.
This year marked the 10th anniversary of the conference and also the fifth year that it was upgraded to a national and international high-end event by the Chinese Government. In March, eco-civilization and building beautiful China was written into the Constitution. The forum in Guiyang was the first international event devoted to eco-civilization development after the 19th Communist Party of China National Congress established eco-civilization as a strategic policy to sustain the Chinese nation's everlasting development.
In his congratulatory video to the forum, UN Secretary General António Guterres expressed his appreciation to China for incorporating the 2030 Agenda for Sustainable Development and the Paris Agreement into its national policy.
With the theme of Embracing a New Era of Eco-Civilization: Green Development with High Priority to Ecology, the forum aimed to send a signal to the world that eco-civilization matters to all of humankind and thus international cooperation is necessary to build an ecosystem based on respect of nature and green development. As the Guiyang Consensus, reached at the first forum in 2009 stated, eco-civilization is human society's development trend. It is not an optional choice but a compulsory one.
(Reporting from Guiyang, Guizhou Province)
Copyedited by Rebeca Toledo
Comments to panxiaoqiao@bjreview.com