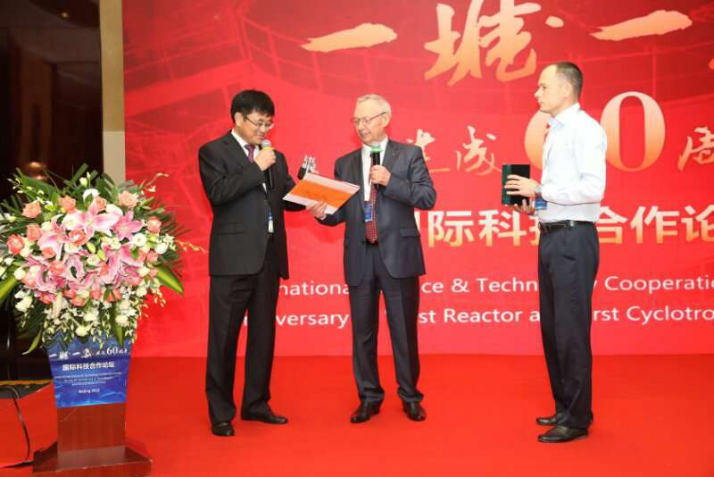 An international forum opens in Beijing on August 30 to celebrate the 60th anniversary of China's first nuclear reactor and first cyclotron (ZHANG YANSHENG)
An international forum on science and technology cooperation was held in Beijing on August 30-31 to celebrate the 60th anniversary of China's first nuclear reactor and first cyclotron.
In 1958, the China Institute of Atomic Energy (CIAE), China's largest nuclear research arm, built the first experimental heavy water reactor and the first cyclotron, also know as the First Reactor and First Cyclotron (FRFC), with the help of the Soviet Union.
"The operation of the FRFC ushered in an era of atomic energy in China. They are a symbol of China-Russia friendship and evidence of China's openness and cooperation. The FRFC were drivers of China's nuclear sector, creating a splendid chapter in the history of China's nuclear technology development," said Wan Gang, head of CIAE, at the opening ceremony of the forum on August 30.
According to Wan, the FRFC have been in operation for 50 years and 26 years, respectively, resulting in more than 30 national and 100 provincial and ministerial level research and development awards. They were vital in isotope production and application, nuclear power generation, as well as neutron activation analysis and scattering research, said Wan.
In addition, the FRFC helped enable Chinese nuclear technology to go global, forging links between Chinese nuclear institutes and international organizations. In the past six decades, CIAE has teamed up with the International Atomic Energy Agency and other international organizations, as well as 195 institutes in 32 countries and regions. A long-term mechanism for science and technology communication and cooperation has been formed between CIAE and international organizations.
In 2017, CIAE completed the Ghana MNSR LEU conversion project, which meant that China delivered on its promise made by President Xi Jinping at the 2016 Nuclear Security Summit to help Ghana guarantee its nuclear safety and ensure nuclear non-proliferation in the world. A year later, CIAE exported its nondestructive testing electron linear accelerator for the first time, launching it into the overseas accelerator market. Furthermore, this year, CIAE helped upgrade the Algeria Birine Reactor 30 years after building the heavy water research reactor.
"In the past 60 years, the FRFC have underpinned the growth of both CIAE and China's nuclear industry. They also helped enhance nuclear cooperation between China and other countries," said Wan.
Over the course of the forum, more than 200 Chinese and foreign experts, including Mikhail Chudakov, Deputy Director General of the International Atomic Energy Agency, and senior executives from the China Atomic Energy Authority and China National Nuclear Corp., exchanged views on nuclear technology innovation.
In addition, Chinese and foreign experts visited the China Experimental Fast Reactor, the China Advanced Research Reactor and the 100MeV proton cyclotron.
Copyedited by Rebeca Toledo
Comments to linan@bjreview.com