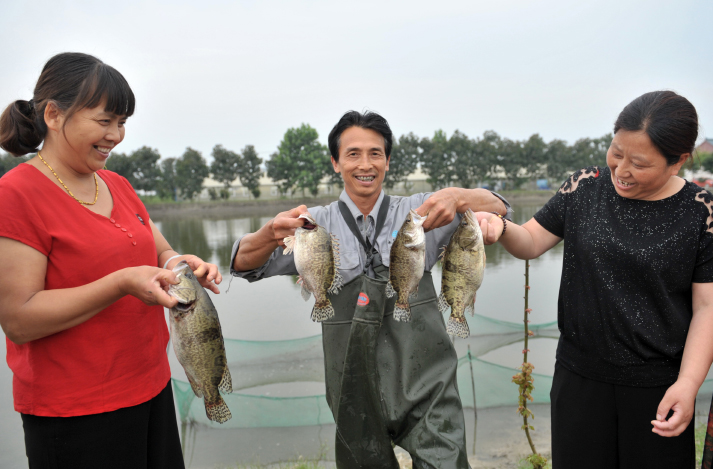 Customers buy Chinese perch at the Huzhou Wushi Eco-Agriculture Co. Ltd. in Zhili in Huzhou City, east China's Zhejiang Province, on June 15, 2017 (XINHUA)
Villagers living in the town of Zhili in Huzhou City, east China's Zhejiang Province, have seen major changes taking place in their hometown in recent years. The sky and rivers, they say, are clearer, and the land greener than before.
Lu Yunqi, Secretary of the village branch of the Communist Party of China (CPC) of Wupu, a village under the jurisdiction of Zhili, has witnessed changes in its economic fortunes as well. "Now there is not a single low-income family in our village," he said.
According to Lu, few villagers are involved in agriculture in the villages of Zhili, with most of the young and middle-aged population working in big cities elsewhere in the province or at local children's wear manufacturing workshops, while senior villagers are engaged in aquaculture and the processing of aquatic products, with an average annual income of 40,000 yuan ($5,870) per person.
According to Yao Lianhua, Deputy Secretary of the CPC Zhili Township Committee, since 2006, the town has accelerated steps to foster beautiful villages, especially under the guidance of President Xi Jinping, who was the Secretary of the CPC Zhejiang Provincial Committee when the drive began.
"We have made efforts in the development of industries suited to local conditions and focused on improving the environment so as to further cultivate a pleasant countryside and enhance people's well-being," Yao said.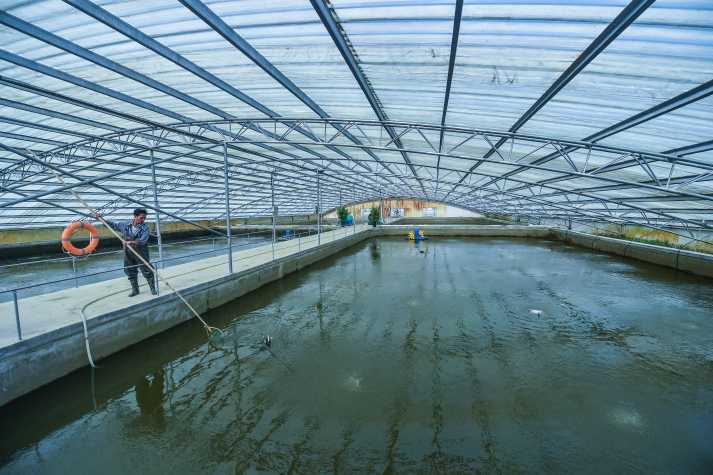 A worker checks the fish in a pond in Zhili Town on May 9, 2017 (XINHUA)
Fishing industry
Located on the south bank of the Taihu Lake, the third largest freshwater lake in China, Zhili has developed its water-related industries in recent years. The area is home to multiple fisheries, making it an ideal place for aquaculture. The crabs and shrimps raised on local aquatic farms are of premium quality and popular nationwide.
According to Lu, since the beginning of reform and opening up in 1978, many of the resources in his village have been successfully integrated. At first, the land went to waste as villagers chose to instead earn a living in the children's wear industry, but later the area's land resources were consolidated and reallocated to fish farmers for aquaculture.
Yet, gradually local people realized that they could not make serious profits merely through traditional farming. Only by elevating the added value of products and expanding their businesses could they achieve a substantial increase in revenue. "We needed to make it bigger in order to generate higher profits," Lu said.
Wu Rongfeng from the village of Shanglin has benefited from this shift in policy. In 2000, he contracted 1.2 hectares of fishery with a production value of 40,000 yuan and annual profits of over 20,000 yuan ($2,935). At the start, he raised only the most common fish and fed them aquatic plants without any consideration of dietary need of fish.
However, things began to change in 2010 as Wu began taking classes at a local agricultural school. After receiving specialized guidance, he began raising the lucrative Chinese perch. In March 2011, he established his own eco-agriculture company and registered a trademark under the name Yudage, which literally means "big brother fisherman" in Chinese.
"In 2014, we developed a model that doubled our annual production, and our profits have also doubled since then," Wu told Beijing Review.
Today, Wu employs over 20 members of staff. In addition to an annual income of 50,000 yuan ($7,337), the employees can also earn an end-of-year bonus based on the company's profits. During the peak season from June to September, Wu hires more than 30 temporary workers, usually local villagers.
Wu's company adopts a "cooperative plus farmers" model. There are 53 member households in the cooperative, with 366.67 hectares of fishpond. These households also became shareholders of the cooperative. More than 500 other households with over 2,660 hectares of fisheries have also benefited from the operation. Last year, the company's revenue exceeded 20 million yuan ($2.94 million), of which 2 million yuan ($294,000) was profit.
In addition to aquaculture, villages in Zhili are exploring other business models based on their natural advantages. One such venture proving particularly successful is tourism.
Yigao is a village which was once famous for sericulture, the farming of silkworms for the production of silk. During its heyday, the entire village could yield 150 tons of silkworm cocoons, but after the country's economy began to take off in the 1980s, Yigao lagged behind due to its geographic remoteness. As the rest of Zhili became famous for the manufacture of children's clothing, Yigao Village failed to hitch a ride on the coattails of this new industry. Local villagers began to wonder how they could revitalize their once proud village with a history of more than 1,000 years.
In 2016, an ancient drainage system beside the Taihu Lake, the Lougang Irrigation Project, was selected as an example of World Irrigation Project Heritage. Yigao, located at a major juncture of the project and itself a typical example of Lougang culture, seized the opportunity and began to develop its tourism industry. The ancient village restored its original appearance and began to attract visitors from around the country. This year, it has already received more than 20,000 visits.
Booming tourism has brought new opportunities, allowing villagers to seek new employment opportunities and even start their own businesses.
Stay-at-home retirees have become waiters and waitresses at homestay hotels, earning around 3,000 yuan ($440) a month, while other villagers run restaurants serving local specialties, which have become popular among tourists to Yigao.
"We want to join hands with neighboring villages and develop tourism together. In the near future, we are going to build a tourist area focusing on Lougang culture," Yao said.
Improving environment
Song Songyuan is the former head of Wupu Village and has been fighting a war against environmental deterioration for many years.
In 2007, a large bloom of blue-green algae in the Taihu Lake caused the water quality to deteriorate drastically. But Song himself discovered that certain crabs eat the algae, solving the problem in Wupu Village. This method is still in use today for cleaning waterways and has been adopted by other villages nearby.
"Now we are enjoying a happy life in a beautiful village," Song said.
The Zhili Government has also worked hard to resolve other water-related issues. By 2014, the town had cleaned up all polluted rivers in the area. Two years later all poultry farms came under regulation for pollution control, and this year the town has begun environmental governance in the aquaculture industry.
"This year, we plan to properly deal with 1,667 hectares of aquaculture waste water," Yao said.
In 2014, Wu built a 2-square-km greenhouse and began an aquaculture business. He also invested 400,000 yuan ($58,680) and designed a set of water treatment equipment which can effectively filter and clean waste water.
"We expect to be able to use the same water for a decade via the water-recycling system," Wu told Beijing Review.
In 2017, he also installed equipment at other fisheries for treating waste water, with a total investment of 2 million yuan.
Wu said that with better water quality, fish are less susceptible to diseases and grow faster and healthier than before, which in turn has brought him higher profits. He plans to develop and add more treatment and safety equipment.
In addition to dealing with waste water, the town is also seeking to improve the quality of its drinking water. In the past, many villagers sourced their drinking water from the watercourse, which was of average quality but tasted bad. Two years ago, the government launched a water improvement project in 13 villages. As a result, both the quality and taste of the local water have been improved.
The government plans to invest more than 150 million yuan ($22 million) in improving local facilities to meet the need of villagers. Roads are to be renovated, more trees will be planted, and activity centers are to be built.
Yao said that rural development is slow compared with the progress taking place in cities. "With such big investment, we want to make sure that every villager can benefit from public utilities and enjoy a comfortable environment," he said.
Copyedited by Laurence Coulton
Comments to zanjifang@bjreview.com