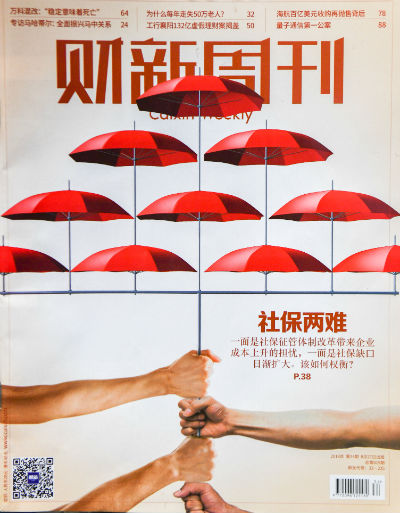 Cover of Caixin Weekly
According to a recently released policy, all social insurance will be collected by tax authorities starting on January 1, 2019. As a result, China's social security system, especially the pension system, is facing new challenges brought about by enterprises' concerns about rising costs and a widening pension gap due to an aging population.
Although the change is only related to the collection and management of tax rather than the fundamental rules of social security, some enterprises are still concerned about the increased burden once social security for employees needs to be paid strictly in line with regulations.
An aging population has also made the imbalance between the revenue and expenditure of Chinese social security funds more prominent. In recent years, the value of fiscal subsidies in the revenue of pension funds has exceeded 400 billion yuan ($57.97 billion) per year, more than 15 percent, and is showing signs of increased momentum.
In order to strike a balance between the increasing burden of enterprises and sustainable social security funds, decision makers need to take rational measures. Enterprises should be further classified in an appropriate way as high social security may be detrimental for labor-intensive small- and medium-sized enterprises which create a large number of jobs. Aside from urging enterprises to pay social security according to regulations, tax authorities should also strive to reduce the fees.
The reform is also aimed at improving the coverage and efficiency of social security collection as China's pension gap widens, with problems caused by an imbalance between the revenue and expenditure of pensions looming. As a solution, authorities have adopted a policy to make adjustments and bridge the gap between different regions in terms of pension funds.
The relevant sectors still need to make accurate calculations and make the standards of pension beneficiaries more specific to provide elderly people with a social safety net.
(This is an edited excerpt of an article originally published in Caixin Weekly on August 27)