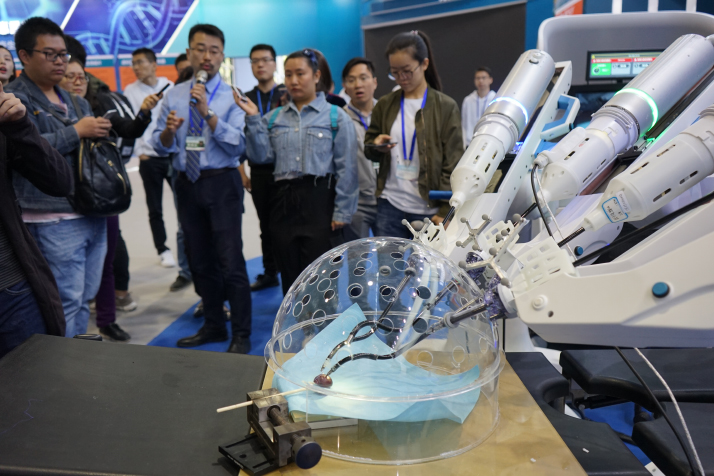 Surgical robotic arms developed by Beijing Surgerii Technology Co. Ltd. sew a cut on a grape at an exhibition in Beijing on October 8 (PENG YANMIAO)
Several robotic arms are stretched out side by side, engrossed in a task. They are not assembling automobile parts, but instead operating on a human simulation. The arms were inserted through incisions into a dome-shaped transparent cover that represents the abdomen to suture a grape, which mimics the ailing tissue of the body in need of treatment. The arms neatly sew up a cut on the grape, without scathing the delicate fruit.
The laparoscopic surgical robotic system is developed by the Beijing Surgerii Technology Co., Ltd. founded in 2014 and headquartered in the Zhongguancun Science Park, a hi-tech industrial development zone spearheading innovation dubbed China's Silicon Valley.
"Laparoscopic surgery uses small skin incisions and is less invasive for patients. It has become the preferred choice for surgical treatment of diseases. However, manual laparoscopic operations are challenging and exhausting. So using robots to assist laparoscopic surgery is a prevailing trend," said Xu Kai, the robot's chief designer.
Dr. Xu, founder and Chief Technology Officer of Beijing Surgerii, is also a professor in Shanghai Jiao Tong University.
The company is committed to becoming the first hi-tech enterprise in China to independently develop and produce a third-generation minimally invasive surgical robotic system.
This surgeric robot system was a highlight at the Beijing venue of the 2018 Mass Innovation and Entrepreneurial Week in October, where new fruits of science and technological innovation were showcased.
"Beijing is the region with the richest resources and the most vibrant environment for innovation and entrepreneurship, and results here are the most remarkable in the country," said Wang Yingjian, an official with the Beijing Municipal Commission of Development and Reform. He said that the city will further upgrade its mass innovation and entrepreneurship initiative.
Policy support
The initiative, first proposed in 2014, embodies China's effort to seek innovation-driven development. In the initial stage of mass innovation and entrepreneurship, problems have arisen such as low-quality innovation and entrepreneurship, lack of job generation and an emphasis on the quantity of startups over quality, said Xu Zhaoyuan, a research fellow with the Development Research Center of the State Council. He said that at the present stage, the quality of innovation and entrepreneurship should be improved, which is the core of an upgraded version of the initiative.
It should be better able to expand employment, enhance science and technological creativity, vitalize industrial development and provide new momentum for economic growth, he said.
In September, the State Council issued opinions on promoting the high-quality development of innovation and entrepreneurship and creating an upgraded version of innovation and entrepreneurship. The document spelled out measures on how to further boost innovation and entrepreneurship, expand employment and apply science and technological advancements.
For instance, it stated that the policy of lifting the percentage of tax-deductible research and development expenses to 75 percent will be applied to all tech firms. When individuals buy and sell stocks listed on the new over-the-counter market in the secondary market, the difference between such income and comparable income from trading stocks of listed companies will be exempt from personal income tax.
Both state and provincial level incubators of science and technology enterprises, university science and technology parks and eligible makerspaces can enjoy real estate tax and value-added tax exemptions.
In addition to preferential tax policies, the document also stipulated other major measures such as promoting information sharing and fair competition, and improving the management of intellectual property rights.
In recent years, under the mass innovation and entrepreneurship initiative, the country, and in particular the capital city, has been buzzing with innovative and entrepreneurial activities. Since the beginning of 2017, 112,000 technology firms have sprouted in Beijing, averaging 200 firms a day, said Wang.
"The new economy characterized by innovation and entrepreneurship has become a new driver for Beijing's economic development," Wang said, adding that in the first half of 2018, the new economy contributed to one third of Beijing's GDP. In the same period, the added value of Beijing's new economy reached 470.7 billion yuan ($67.8 billion), an increase of 15.2 percent over the previous year, higher than the GDP growth rate of 8.4 percentage points.
In the first half of this year, the Zhongguancun Science Park earned 1.9 trillion yuan ($274 billion) from emerging industries such as artificial intelligence (AI) and big data, accounting for 81.2 percent of its total income, Wang said.
At the same time, the Beijing Municipality received 102,400 applications for patents and granted 62,400 patents, up by 17 percent and 20 percent, respectively, year on year.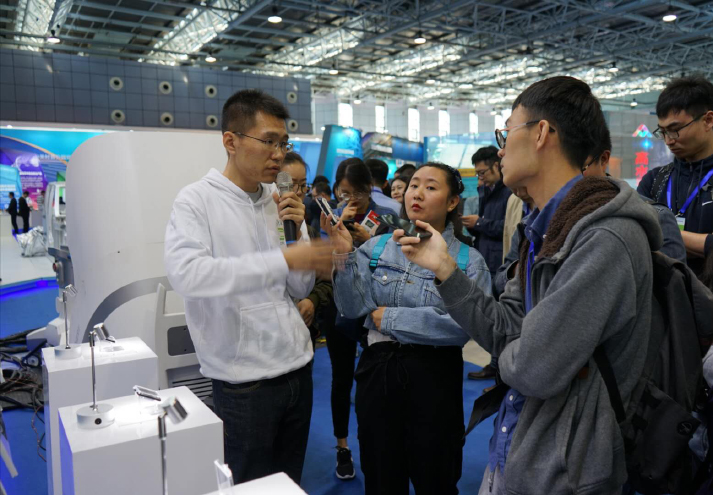 Bai Bing, a co-founder of Photoncounts (Beijing) Technology Co. Ltd., demonstrates a photon chip developed by his company, at an exhibition in Beijing on October 8 (PENG YANMIAO)
Hi-tech driven mode
A new surge in entrepreneurship was triggered by the development of advanced technologies such as AI, said Xu Jian, an official with the Administrative Committee of the Zhongguancun Science Park. He said that last year, 45 percent of the city's startups were concentrated in frontier areas such as AI, big data, intelligent medical treatment and robotics. Xu hailed this trend as a feature of the upgrading of mass innovation and entrepreneurship.
He also noted that a combination of hard technology and the innovative business model has become common among startups. Many of them use industrial Internet, Internet Plus healthcare, Internet Plus education and other Internet Plus technologies to improve the quality and efficiency of manufacturing and public services.
Xu profiled the new characteristics of people starting businesses in Beijing over the past year. The majority of them are college professors and students as well as medical doctors; 49 percent of them are former top executives or technical experts from leading enterprises; 28 percent are continuous entrepreneurs; and a significant percentage are young, with those born after 1980 accounting for 39 percent and those born after 1990 accounting for 11 percent.
Bai Bing, a doctoral candidate majoring in electric engineering in Beijing Jiaotong University, founded Photoncounts (Beijing) Technology Co. Ltd. in 2017, with several other doctoral students from universities such as Tsinghua University and Peking University.
Demonstrating a photon counting chip, which is what the company makes, Bai told Beijing Review the chip is the first of its kind in China and an international leader. "Compared with the traditional electronic AI chips, this photon chip has the advantages of low latency and high resistance to electromagnetic interference, while its calculation power is three orders of magnitude and its power consumption is 1 percent of electronic chips."
In September, the company received Angel funding and in October, it won first prize in the finals of the Fourth China "Internet +" College Students Innovation and Entrepreneurship Competition.
Lynxi Technology Co. Ltd., a novel company that was commercially registered in January, was set up by Tsinghua University professor Shi Luping to develop neural network AI chips and brain-inspired computers.
"Igniting the creativity of scientific research personnel is the foundation for creating an upgraded version of mass innovation and entrepreneurship," said Xu Zhaoyuan, adding that high quality innovation and entrepreneurship often rely on the high-quality transformation of scientific research advancements.
To encourage scientific research personnel to engage in innovation and start new businesses, in February 2016, the State Council released measures for implementing the Law of the People's Republic of China on Promoting the Transformation of Scientific and Technological Achievements, first promulgated in 1996 and amended in 2015.
The measures require state-owned research institutions and universities to solicit the opinions of scientific and technical personnel when making income distribution decisions related to the transformation of scientific and technological achievements. It also stipulates that when rewarding persons who have accomplished scientific and technological advancements in their field or other people who have made important contributions to the transformation of achievements, according to law, the total reward should be no lower than 50 percent of the net income earned from the transformation, and no less than 50 percent of the total reward should go to individuals who have made major contribution in research and development as well as the transformation of achievements.
According to the State Council, as long as science and technology personnel fulfill their work duties, with the consent of their employers, they can work part-time in enterprises or take a leave from their post for up to three years to engage in the transformation of scientific and technological achievements.
Providing a motivating environment for researchers to produce quality research results and convert their results into productivity will lay a better basis for upgrading innovation and entrepreneurship.
Copyedited by Rebeca Toledo
Comments to wanghairong@bjreview.com