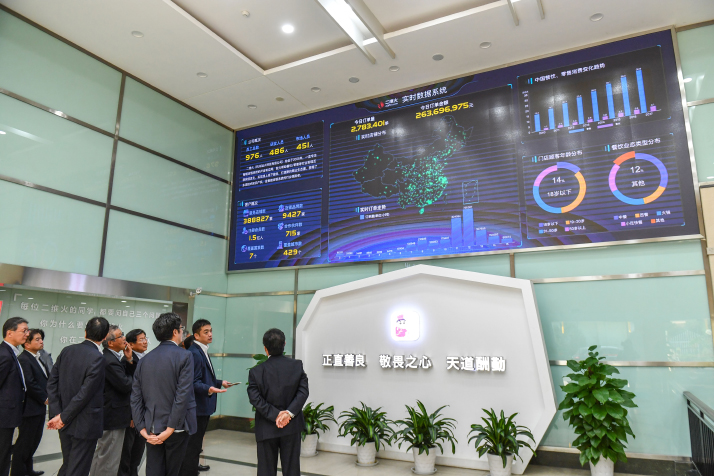 Business partners from Japan watch the big screen demonstrating Dfire's operations at the company's headquarters in Hangzhou (WEI YAO)
Hangzhou in Zhejiang Province is the home of Alibaba. But the city's Internet industry is much more than the Internet giant, encompassing a large number of small and medium-sized Internet companies as well.
And new businesses continue to mushroom. "On average, every day, 602 market players and 109 valid invention patents are born in this digital city," Zhou Jiangyong, Secretary of the Communist Party of China's Hangzhou Municipal Committee, said in an October meeting on building the city into a leader of the digital economy.
"An innovative and entrepreneurial spirit runs in the veins of the Zhejiang people," Yu Hao, Chief Financial Officer of the Aicai Group, a Hangzhou-based financial service organization, said. "In Zhejiang, when people enter their 20s and 30s, they are often asked, 'Why don't you go out and do some business?'"
Several Internet industry startuppers born in this city in the 1970s, 80s and 90s shared their unique stories with Beijing Review.
Game developers at work at Hangzhou Xiaowanzi Technology Co. Ltd.(WEI YAO)
Easy eating
Eating in a restaurant has never been easier. Walk in, choose your table, scan the QR code on your table with your phone, and you get the digital menu. Place your order through your phone and soon your food is served, either by a human or even a robot. Once you've finished eating, scan the code again to pay, using your digital wallet, and you are ready to leave. Thanks to Zhao Guangjun, a man who barely travels and never eats outside, people now eat at restaurants in such a time- and speech-saving way, based on an artificial intelligence (AI) system known as 2dfire.
Born in 1971, Zhao is one of those early birds who mastered computer technology in the 1990s. As early as when he was a college student majoring in chemistry in Zhejiang University, he started his little business of assembling computers. When he graduated, he had amassed over 500,000 yuan ($72,500). Then he worked for a local company as its youngest vice president, under 30, in charge of financial software development.
"It was in 2005 that I heard the concept of cloud computing for the first time at an IT conference. I realized here was my opportunity," Zhao said. "I decided to combine cloud computing with the restaurant business, as I am interested in both fields."
Next year, he founded Dfire and one year later, developed his cloud restaurant management software version. The system basically functions as a cash and inventory register in collocation with touch-screen tablets serving as the e-menu. The novel system soon captured the market and brought him a fortune.
When smartphone technology was introduced in China in 2007, Zhao and his team worked to apply the software to smartphones. "We spent over five years on research and development before we could finally eat in a restaurant by scanning a code through our 2dfire system," he recalled. Many Internet companies including Dfire had tried different kinds of codes including barcodes, and most of them gave up after years of failure.
"My team of developers and I were under high pressure, financially, physically and psychologically, as there were different reactions after we continuously put large amounts of time, energy and money into a project that sounded hopeless." Zhao said, calling the period "the darkest days" of his life. "I used up all my savings, tried to pay employees' salaries by taking tens of thousands of yuan as loan with high interest every month, worked over 10 hours in my office with the development team every day, and spent the equivalent of less than $100 on personal use during a whole year."
In 2014, Dfire obtained financing from venture capital firm China Growth Capital and turned the corner. One year later, Zhao and his team marketed 2dfire and obtained investment from Alipay, Alibaba's third-party mobile and online payment arm. Today, over 350,000 restaurants and beverage shops in China are using the 2dfire system, which costs them 5,000-10,000 yuan ($725-1,450) per year. According to Dfire's sales department, 2dfire has been adopted in several Asian countries, while agents from other countries are trying to introduce the system.
"Customers can save time ordering and paying, and can thoroughly know about every dish they order through the text, picture and video descriptions. As for the administrators, they save money on printing and continuously upgrading menus and hiring employees," Zhao said.
He showed some more functions of the 2dfire system on his phone. Through the page of a restaurant in Dfire's headquarters in Gongshu, a district in Hangzhou, Zhao can check on the restaurant's operations and the performance of the 2dfire system. The page has multiple function units, such as cashier, storage manager and even adviser. The system can issue instant messages like a list of most popular dishes, the customer volume and the inventory of all raw materials, and even advise on operation.
"The system can compare all the data of the restaurant with those of all restaurants using this system throughout the country, and tailor practical suggestions such as updating menus, restocking or even redecorating the restaurant," Zhao explained. "A good product, like the iPhone, will train users to adapt to the system. After they form a habit of using the product, it will be hard for loyal customers to get rid of the product."
Dfire has over 1,000 employees and over 60 percent are in the research and development (R&D) department. "R&D of new products will always be the core of this company," Zhao said. However, despite the success, he still lives like a modern hermit, spending most of his time with his development team.
"The best business model runs like a natural and healthy ecological system," Zhao said, pointing to a huge aquarium he has built himself, one of his few hobbies. "It will take everyone's demands into consideration, which is also the principle of our R&D."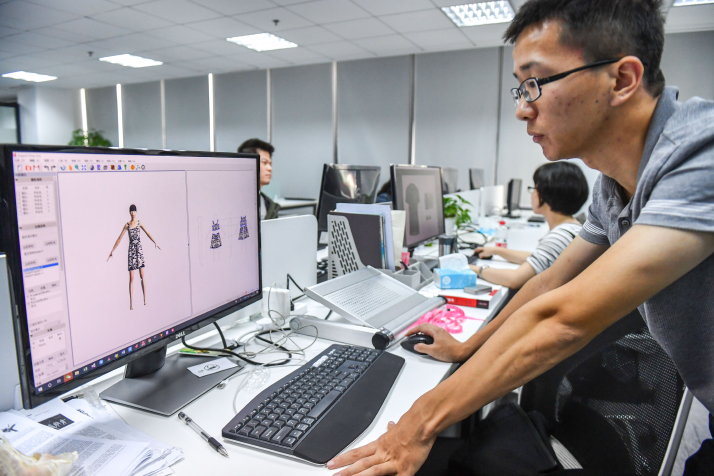 Luo Likang, chief software engineer of Shanghai Linctex Digital Co.'s R&D center in Hangzhou, demonstrates the 3D fashion design process (WEI YAO)
Big little game player
The business of Wang Kai, the 35-year-old CEO and co-founder of Hangzhou Xiaowanzi Technology Co. Ltd., might make millennials go green with envy: It is based on phone games.
Wang started his career as a young journalist for a local daily after graduating from Shanghai University. In 2006, he quit his job to work for a local Internet portal, and became its chief operating officer in 2010. Six years later, he co-founded Xiaowanzi, with his two friends, both born in the 1980s.
Xiaowanzi mainly develops leisure games that users can play on social media platforms, primarily WeChat, TikTok and Baidu, Wang said. The company started with a registered capital of 500,000 yuan ($72,500), obtaining funding from an investment company. Today, it employs more than 80 people, over 90 percent of whom were born after the 1990s. About 60 percent of them had worked for IT companies in Beijing.
Wang has a development model. His editing team follows the latest ranking of the business, plans new programs based on data analysis, and launches games on different social media platforms.
The company has launched 150 games on WeChat. Since its inception nearly three years ago, it has developed five games every week on average. It broke even in the first year, and now has a monthly turnover of 10 million-20 million yuan ($1.4 million-2.8 million), mainly from games released on WeChat, Wang said. Their most popular game Shoothand, a parkour adventure game released on WeChat, has more than 30 million users, and more than 1 million daily active users, he said.
Recently, the company has begun to release games on Facebook, with three already on. There are over 6,000 games in use on Facebook right now. To Wang, this will be the next growth point of his
company, which is expected to generate as much revenue from Facebook as from WeChat in half a year. Wang plans to
develop social functions of leisure games through voice talk and voice broadcast. "We hope the company can go public on Nasdaq in the United States soon," he said.
Dream wardrobe designer
While some hi-tech firms flock to Hangzhou to take advantage of the opportunities offered by a concentration of firms in similar industries and their suppliers, Shanghai Linctex Digital Co., which works as an original design manufacturer (ODM) for foreign fashion brands like Zara, decided to open its R&D center in the city for a different reason.
Founded in 2015, Linctex's R&D center focuses on 3D digitalized design technology to lower the operation costs and improve the efficiency of the traditional garment industry. In other words, with Linctex's technology, people in the fashion business can see how the clothes they are designing would look in different colors and fabrics through 3D effects on computer. "It is the offspring of marriage between people who know garments best and those who are best at computer-aided design," said Luo Likang, the center's youngest partner and chief software engineer.
The center has put the research achievements of a national-level science laboratory in Zhejiang University into use with its branch company in Hangzhou located outside the university's campus in Xihu District. "We chose Hangzhou because the computer-aided graphic design program of Zhejiang University is the best in the country," Luo explained, adding that all members of the original team of the center graduated from there. Luo himself was an award winner in a national-level computer program when he was in that laboratory.
Linctex is the Alibaba of the apparel industry, for it puts suppliers and purchasers of raw materials and apparels on the same platform, which has been in trial operation for more than a year now. Sample designs can be done on the platform and displayed to customers. They only need to log in and the supplier pays the platform's service fee, 27-year-old Luo said.
Currently, the platform mainly serves ODM manufacturers worldwide. "The advantage of computer-aided design is that the design cycle is short and customers can be offered many patterns to choose from without any extra cost or risk of waste," Luo said. If necessary, people can even get themselves scanned
holographically to see how they would look in the newly designed clothes. In 2017, the center obtained 15 million yuan ($2.18 million) from electronics company Xiaomi, and about 20 million yuan ($2.8 million) from its parent company Linctex. A 30-million-yuan ($5.36 million) investment is expected by this year.
"I entered the business as a software engineer. But the thinking mode was different after I initiated the center and became a partner," Luo said. "You need to wrack your brains for product development and operation. There is no boundary between working hours and spare time."
(Reporting from Hangzhou, Zhejiang Province)
Copyedited by Sudeshna Sarkar
Comments to dingying@bjreview.com