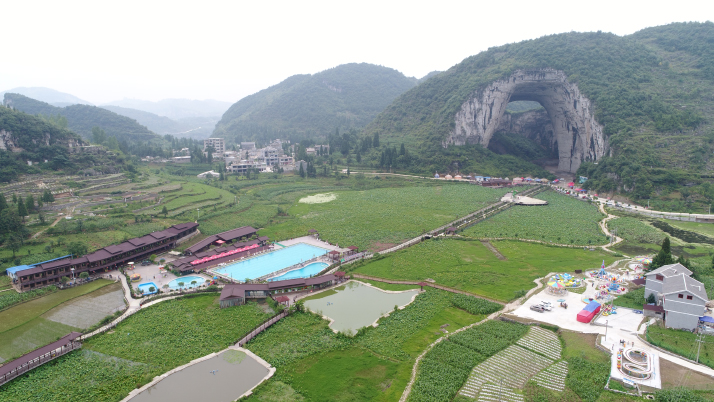 Tourism has developed fast in Dafang County, southwest China's Guizhou Province, because of the karst landform of the area (XINHUA)
Bunches of plump dark purple grapes hang from trellises in a vineyard in Siba Town in southwest China's Guangxi Zhuang Autonomous Region. Tracing the grapevines to the ground, one can see that they are rooted in stone cracks rather than soft soil.
The vineyard was cultivated on a stony hill in Luocheng Mulao Autonomous County, which features typical karst topography, so its hills mostly have a thin layer of soil over limestone bedrocks. When surface soil is eroded, bedrocks are exposed, leading to rocky desertification.
Grape plantation has effectively curbed rocky desertification in the county, said Huang Jianyou, Deputy Director of the county forestry bureau. Thanks to grape plantation in 2017, rocky desertification area in the county shrunk by 15.3 square km, he told the media.
So far, the county has planted more than 1,300 hectares of grapes in 20 demonstrative bases, according to Huang. The variety of grape planted, the downy grape, has developed strong roots that can prevent soil erosion and vines that can sprawl over bare stones. The variety is also resilient to drought and barren land, making it ideal for ecological restoration in rocky and hilly areas.
Moreover, the grape is high-yielding and great for wine brewing, which has benefited more than 1,500 impoverished households, Huang added.
Greening rocky areas
The situation of rocky desertification in karst regions in south China has been regularly monitored by the Central Government, with results from the third monitoring session released by the State Council Information Office on December 13, 2018.
In addition to Guangxi, it also covered Chongqing municipality and Hubei, Hunan, Guangdong, Sichuan, Guizhou and Yunnan provinces. The monitoring revealed that the rocky desertification area shrank at an annual average rate of 3.45 percent between 2011 and 2016, with 22.3 percent of karst areas still suffering from desertification as of 2016.
It also showed that in recent years, rocky desertification has dwindled at a much faster pace, with the total reduced area of stony desertified land in the last five-year monitoring period twice that of the previous five-year period, said Liu Dongsheng, Deputy Director of the National Forestry and Grassland Administration (NFGA), at a press conference to release the results.
He explained that the plantation and protection of trees and grass contributed to 65.5 percent of the rocky desertification reversal in karst areas.
Since 1999, China has initiated many policies on ecological protection, such as subsidies for protecting natural forests and eco-compensation for afforestation and other greening efforts, said Sun Guoji, Director of the Desertification Control Department of the NFGA, which was renamed and revamped during the government reshuffle launched in 2018, reflecting the importance attached to desertification control.
In addition to policy support, China has launched a new round of farmland-to-forest projects and the second phase of natural forest protection projects while continuing to build the Yangtze River and Pearl River shelter forests, Sun said.
Forest and grass coverage has increased, regional economic development has accelerated and people have been lifted out of poverty, according to Liu.
In 2011, the monitored karst areas were home to 217 poor counties, or 26 percent of the total poor counties in the country, accounting for 47 percent of all impoverished people in China, Liu said.
However, the growth of the GDP and per-capita net income of rural residents in the areas outpaced that of the national average during the period from 2011 to 2015, Liu said. In the five years since 2011, the incidence of poverty dropped from 21.1 percent to 7.7 percent, he added.
Many poor people in these areas have been hired as forest protectors or employed in forest-related industries such as the production of fruits, woody grains and oil or animal husbandry and tourism, which have increased their income, Liu said.
Reducing ecological burden
Yanbo Village in Guizhou has benefited from ecological protection, with the forest in the village yielding both ecological and economic gains. Villagers make money by thinning the forest for timber, and raising poultry, pigs and oxen in the forest. Moreover, they also pick wild fruits and mushrooms from the area.
Yu Liufen, the head of the village, is keenly aware of the importance of ecological health to the well-being of the villagers. Due to Yanbo's karst landform, she said, if all the trees were gone, there would be no water.
To protect the forest, she established rules prohibiting villagers from chopping down trees for firewood. She negotiated with a local coal mine to sell coal to villagers at a low cost so as to provide them with an alternative energy source. The forest has been effectively protected, and now the village's forest coverage ratio has been increased to 71 percent.
"The ecological environment is life. Without protection, there would be no development," Yu told Beijing Review.
In the past, people in rural areas in southwest China used to burn firewood to cook meals, which caused severe damage to the environment, Sun said.
"We advocate energy restructuring in rural areas. We actively encourage the use of biogas, solar energy, electricity and liquefied gas in these areas," Sun said, adding that in places where such energy replacement is difficult, the government has promoted measures such as coal-saving and firewood-saving stoves, which have alleviated environmental pressures and promoted ecological restoration.
Sun said that the data they had gathered showed that in the monitored karst areas, the proportion of firewood in total cooking fuel dropped from 37.7 percent in 2011 to no more than 20 percent in 2016.
In addition to reducing the strain on the ecology through energy restructuring, the government has also relocated people out of ecologically fragile areas, which contributed 24.4 percent of the reversal of rocky desertification, Sun said.
The outflow of rural migrant workers and urbanization also alleviated population pressure on the ecological system. Starting in 2011, the urbanization rate in karst areas increased at an annual average rate of 2 percentage points, reaching 45.5 percent in 2016; while the number of surplus rural workers leaving karst areas rose 7.9 percentage points during the same period. The fact that people are no longer dependent on the land has contributed to natural ecological restoration in stony desertified areas.
But more work still needs to be done to reduce population issues. Sun said that in rocky desertified areas, the population density is 207 persons per square km, more than double the theoretical capacity. There are still more than 13 million impoverished people and nearly 200 poor counties in karst areas, and some desertified farmland is still under cultivation, which aggravates desertification.
Other measures to reduce human stress on the ecology include the use of new agricultural technologies, which contributed 3.9 percent to the reversal of rocky desertification, and other factors, which contributed 6.2 percent, Sun said. He explained that improving farmland management and increasing productivity have reduced the strain of farming on the land and alleviated soil erosion.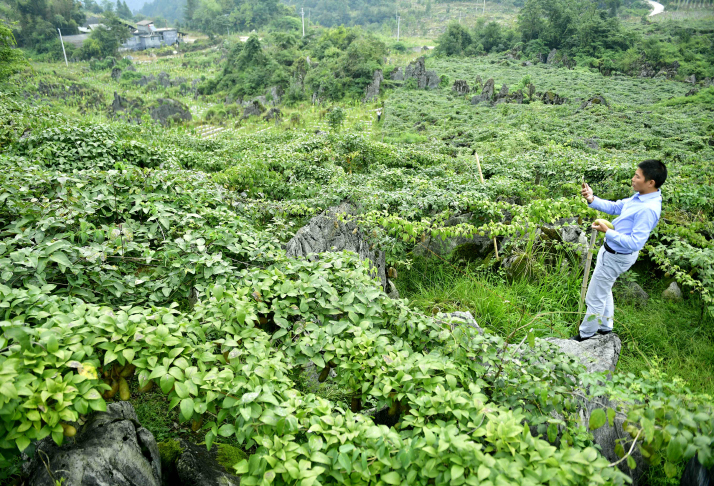 A farmer in Xuanen County, central China's Hubei Province, takes pictures of the fruit he grows. The land where the fruit is grown suffered severe stony desertification in the past (XINHUA)
Creating rocky desert parks
In January 2018, the national forest administration announced the establishment of 33 national desert parks, including 11 rocky desert parks, increasing the total number of national desert parks in China to 103. The rocky desert parks will help conserve the ecology and develop tourism.
Zhangjiajie Red Rock Forest National Park is one of the newly established stony parks. It is located in the northwest suburb of Zhangjiajie City in Hunan Province, close to the famous Zhangjiajie National Forest Park. The rock forest park features red stones in various shapes, along with underground karst caves. The rocks were formed about 450 million years ago from carbonate materials mixed with mud and sand that were deposited on the ancient sea floor; the Earth's crustal movements, erosion and dissolution produced this beautiful geological wonder.
The stone forest park is expected to generate income for residents in nearby villages and alleviate poverty.
Speaking of future measures to tame rocky desertification, Liu said the general principles are strict protection, scientific management and appropriate utilization, with the overall goal to combat both desertification and poverty, and the basic strategy to boost development through big ecological protection projects.
Copyedited by Rebeca Toledo
Comments to wanghairong@bjreview.com