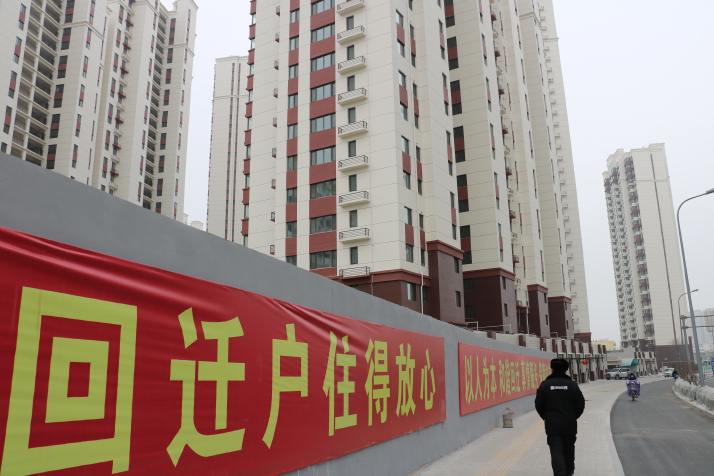 People walk by a newly-built resettlement community in Jinan, east China's Shandong Province on February 4 (XINHUA)
Urban shantytown renovation is beneficial for both people's standard of livings and economic development, according to Chen Yuan, former Vice Chairman of the Chinese People's Political Consultative Conference and Chairman of the Silk Road Research Center, at a seminar on urban shantytown renovation in Beijing on February 27.
Chen said that with rapid development and urbanization comes many makeshift houses located on the fringes of cities, plant areas and mining districts. They are often made of wood board, iron plate, or paperboard. They also lack water, heat and a supply of gas. People living there have a very low living standard. The problem is evident, especially in developing countries. "It is of great significance and necessity to renovate such housing and improve people's living conditions," he said.
Improving people's wellbeing is a goal of the Belt and Road Initiative—the Silk Road Economic Belt and the 21st-Century Maritime Silk Road. Renovating squatter areas in cities along the 21st-Century Maritime Silk Road route and improving people's living conditions is a major component of strengthening the social aspects of the project, according to Chen.
An urban shantytown is an area where buildings lack basic infrastructure and pose a health hazard to those who live there. China has worked on urban shantytown renovation for nearly two decades and has learned much throughout the process. Renovation funds come from four sources, namely national and local government funds, enterprise funds, money from residents and also from financial institutions.
A flexible resettlement system is also developed, including offering displaced people money, resettling them to new houses, or both. Since the renovation and resettlement work is complicated, while implementing national policies, cities can come up with their own detailed solutions according to specific local conditions.
China has also advocated green renovation by promoting the use of environmentally-friendly building materials, planting more trees in resettlement areas and taking pollution into consideration.
At the seminar, under the theme of Renovation of Urban Shantytowns of the 21st-Century Maritime Silk Road, a declaration of cooperation was initiated. It states that the transformation of shantytowns is a necessary and important part of building a more dynamic more inclusive and more sustainable modern urban agglomeration. More close cooperation between China and government departments, enterprises and financial institutions in cities along the Belt and Road should be carried out, so as to promote the construction of cities, improve people's living conditions, and maintain social stability and economic development along the Belt and Road.
Copyedited by Craig Crowther
Comments to luyan@bjreview.com