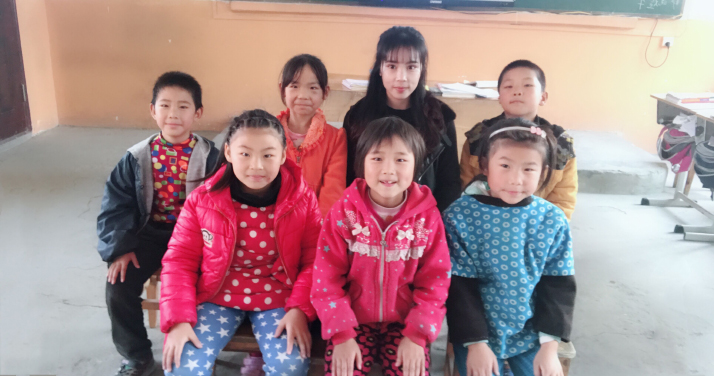 Cai Mingjing and her students in Pengjiagou Primary School in Danjiangkou, central China's Hubei Province (COURTESY PHOTO)
On January 14, in Clearwater Bay in Sanya City, south China's tropical island province of Hainan, Cai Mingjing asked, "Can you see the sea?" Cai, a rural teacher from central China's Hubei Province, was not talking to somebody with her but to her students back in the class via smartphone. The students in Pengjiagou Primary School in the mountainous area of Danjiangkou City were keen to quiz her about marine life and the ecology of the bay.
"I want to be the eyes of my students and inspire them with stories from outside the classroom," Cai told Beijing Review. She said her students rarely have a chance to see life outside of their small community.
Born in 1994, Cai has been a teacher for four years. "I never thought about the difference of working in cities or in the countryside. It's my childhood dream to become a teacher," she said.
She is one of seven teachers at Pengjiagou Primary School which has 49 students from preschool to the fourth grade. Cai teaches a range of subjects with the exception of math, science and gym.
The majority of students live in the school's accommodation, most of which are children of villagers who work in cities. "Migrant parents are willing to see their children stay with teachers. They can't provide a stable home environment," Cai said.
The poor living and working conditions and limited access to educational resources in the school initially frustrated Cai, especially when her young colleagues started to leave. But she was determined to stay and improve the situation, with encouragement from her family. "My parents told me how kind the children from the countryside are and how much they need a good teacher," she said.
Cai emphasizes the overall development of students instead of just academic success. Internet courses have been introduced into classes, in a bid to supplement traditional textbooks. Celebrations for events like Children's Day have also been organized since she started at the school.
Cai said the bond between rural teachers and students is much stronger than that in cities. "I can pay attention to every student," she said. "We also have more opportunities to explore nature, which is another advantage of rural schools."
Cai is part of a large group dedicated to rural education. According to a report released by the Research Institute of Rural Education under Northeast Normal University on January 13, there are 3.3 million teachers in China's countryside and nearly 83 percent of them are willing to stay in rural schools.
Strong support
In recent years, the Chinese Government has adopted various approaches to raise rural teachers' income. In addition, more opportunities for further education are provided.
In 2018, 4.5 billion yuan ($672.6 million) was allocated for rural education, a 660-million-yuan ($98.7 million) increase from the previous year, which benefited 1.27 million teachers. Beijing and Guangdong and Fujian provinces provide living allowances, up to 4,000 yuan ($598) monthly, for all rural teachers.
Yuan Guilin, a professor at Beijing Normal University, pointed out that the key is to make this job attractive. For instance, in Luxi County, central China's Hunan Province, the 1,500-yuan ($224) monthly living allowance has improved the living standards of local rural teachers remarkably.
Other incentives including medical assistance have also improved under the joint effort by governments at various levels. Rural teachers also enjoy some preferential policies with regard to recruitment and promotion.
In order to improve the competence of rural teachers, a training program was rolled out nationwide in 2015, mainly targeting teachers and headmasters in central and west China. By 2020, all participants will complete 360 hours of training.
"The government attaches great importance to rural teachers, and I hope the policy continues," said Zhang Ning, a chemistry teacher in Bobai County, south China's Guangxi Zhuang Autonomous Region.
In addition, non-profit activities have been organized in order to help rural teachers solve daily problems and improve the quality of teaching.
In January, Cai received the Rural Teacher Award created by Jack Ma, founder of e-commerce giant Alibaba Group. The award, consisting of both financial support and training opportunities, has been given to 100 recipients annually since 2015.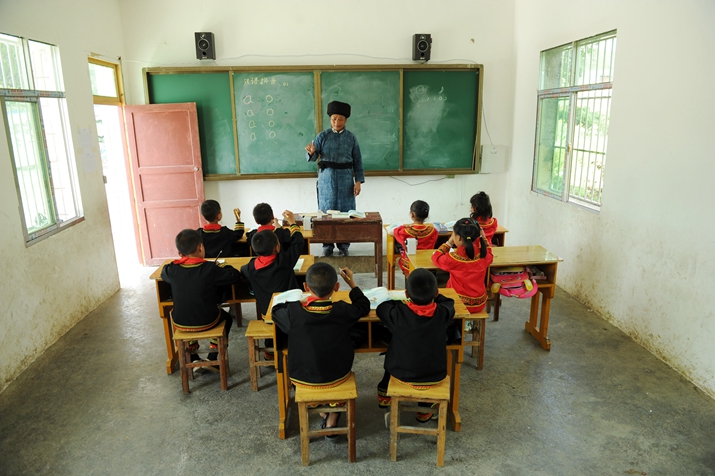 Yang Zhaojun, who had taught in rural schools for 34 years, interacts with his students in Fengping Primary School in Bijie, southwest China's Guizhou Province, on September 4, 2018 (XINHUA)
Further attempts
The integration of urban and rural education is one of the key tasks for the Ministry of Education in 2019, which experts said relies heavily on teachers of high quality.
However, Yuan told Beijing Review that the deficiency of rural teachers is impeding the enhancement of teachers' abilities.
This semester, Cai is teaching Chinese language and literature for two grades. Classes like crafting, computer science and reading are also parts of her responsibilities. There is also some administrative work to address at the school. This makes it hard for her to spare time to attend training sessions.
Many mechanisms have been created to increase rural teacher numbers in recent years. The employment of specially contracted teachers and graduates from free normal education programs has bolstered the stock of available staff.
In addition, some new programs have brought hopes for understaffed rural schools. In Bobai County, where Zhang works, 74 retired teachers returned to teaching positions in 28 mountainous townships in September 2018.
They were recruited under the silver-age program jointly initiated by ministries of education and finance. The silver-age teachers will serve for at least one academic year, and those who pass assessments will be encouraged to extend their service.
Yuan called on rural schools to take more measures to ease personnel shortage. "Policies can be flexible, which releases people for activities and training," Yuan said.
"The space for career development determines the sense of achievement and happiness to some degree," Zhang said. "Though many programs have been carried out, the limits still exist, especially for young teachers who are passionate and ambitious."
In order to dispel this concern, teacher exchange programs should extend to rural schools, according to Yuan. "The positions should not be limited to schools in the countryside," he suggested.
Yuan's recent research finds some other problems remain to be solved. The regulations implemented by governments should be better designed according to local conditions, he said.
In rural areas, there are two main types of basic education institutions: small village schools and residential schools. They differ greatly from urban schools. As a result, it is not suitable to apply the standards of schools in cities to rural schools.
"More factors should be taken into consideration including transportation and the distance from cities instead. Debates among teachers should be encouraged as they know the real situation of rural schools," Yuan said. He added that their suggestions could then be used in making specific and detailed plans.
According to a government plan, by 2020, a contingent of high-caliber rural teachers will provide a strong guarantee for the basic realization of education modernization.
Copyedited by Craig Crowther
Comments to liqing@bjreview.com