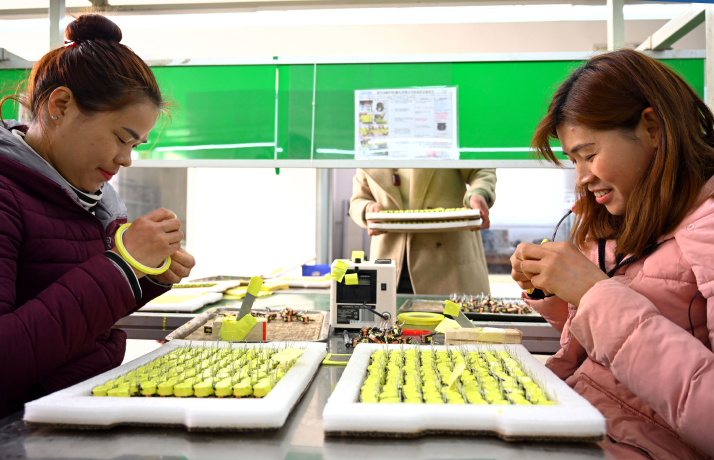 Villagers relocated from poor areas work at an electronics factory in Heze, east China's Shandong Province, on February 28 (XINHUA)
Development is the foundation of and the key to solving all our country's problems, Chinese Premier Li Keqiang said when delivering the Report on the Work of the Government on March 5. The key to solving employment challenges lies in development.
The expected number of new urban jobs for 2018 was over 11 million, while the actual figure was 13.61 million. The registered urban unemployment rate was expected to be below 4.5 percent and was actually 3.8 percent. The Government Work Report sets out adding over 11 million new urban jobs this year and keeping the unemployment rate under 4.5 percent. This shows China's determination and confidence in maintaining stable employment and a commitment to the wider project.
This year, for the first time, the employment-first policy has been elevated to the status of macro policy, in order to increase society-wide attention to employment and generate support for it.
Employment is the cornerstone of well-being and wealth. Maintaining stable growth, first and foremost, requires strong employment. The government will work to achieve the job creation target to ensure opportunities for the surplus rural workforce. "With stable employment and increasing incomes, we can continue to be fully confident," Li said in the report.
At an anti-poverty meeting in 2016, President Xi Jinping said increasing employment is the most effective and direct way to achieve poverty alleviation. The country should give strong support to poor people who find jobs or start up their own business and prevent poverty from being passed on to the next generation.
The report states that "enterprises hiring poor people from rural areas or urban residents registered as unemployed for at least six months will be entitled to a fixed amount of tax and fee deductions for three years." This is a very practical and effective way to help people who face difficulties finding jobs. Stepping up the development of modern vocational education is a strategic move that will ease the current employment pressure. Employment is a way to fulfill personal value and is also a guarantee of social stability and the driving force of a country's development.
To come up with effective measures to stabilize and expand employment, the government should be fully aware that China is facing the pressure of structural unemployment and a shortage of talents, the report says. "For a large developing country with a population close to 1.4 billion like ours, attaining relatively full employment is critical," as stated in Li's report. Here "full employment" refers to not only quantity but also quality. It can result in a pattern of positive interplay between the constant improvement of people's professional skills and rising productivity.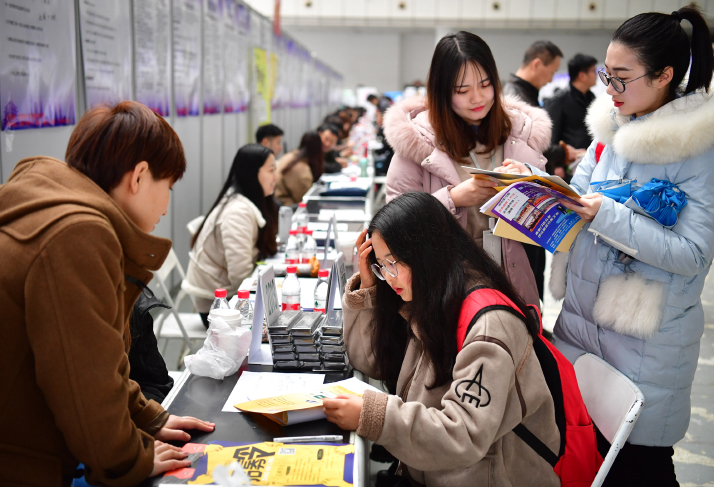 A free job fair aimed to help alleviate poverty is held in Xi'an, northwest China's Shaanxi Province, on March 2 (XINHUA)
Currently, the proportion of skilled workers who have received quality training is not high. In particular, there's a lack of senior engineers and technicians. The country is in need of industrial upgrading and an improved human resources structure. Accelerating the development of modern vocational education is a strategic solution to remedy the situation. Individuals should broaden their thinking and seek a career development path based on his or her own skills, while the government should increase investment in and support for vocational colleges and help graduates with skills to pursue a brighter future.
According to the report, the country will implement a vocational skills training initiative, and allocate 100 billion yuan ($14.9 billion) from the surplus in unemployment insurance funds to provide training for over 15 million people. It will reform and improve vocational colleges' examinations and enrollment and encourage more high school graduates, demobilized military personnel, laid-off workers and rural migrant workers to enroll.
China will expand scholarships and grants for vocational college students, raise the level of financial assistance and speed up work to align vocational technical grade certificates with academic credentials. Through major reforms and the development of modern vocational education, the country will train technicians and skilled workers who are in demand at a quicker pace. This will enable more young people to gain professional skills, realize their potential, producing a vast range of talent in the labor market.
Eradicating gender and identity discrimination is also an important employment issue. When recruiting workers, some companies create inappropriate thresholds. This dampens applicants' and employees' enthusiasm and creativity. This is not conducive to the optimum allocation of human resources and productivity. In addition, it also violates the principle of employment equality.
The author is a research fellow with the Center for the Study of Xi Jinping Thought on Socialism with Chinese Characteristics for the New Era at the Chinese Academy of Social Sciences
Copyedited by Craig Crowther
Comments to yanwei@bjreview.com