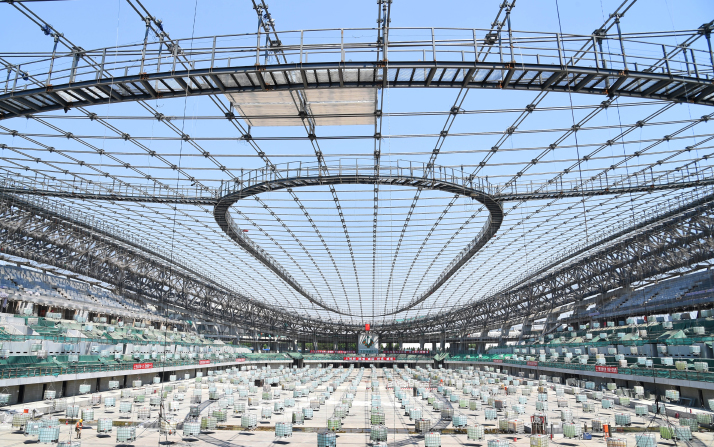 The National Speed Skating Hall in Beijing is under construction for the Beijing 2022 Winter Olympics on May 9 (XINHUA)
At a construction site for the Beijing 2022 Winter Olympic Games in Chongli District, Zhangjiakou City of Hebei Province in north China, about 3,000 workers are sweating as the final phase of the main buildings of a new complex goes into full swing.
Since Beijing and Zhangjiakou, about 200 km northwest of the capital, won the bid for the 2022 Winter Olympics in 2015, the preparation work has been going along smoothly. On May 10, 1,000-day countdown celebration was held in the three Olympic competition zones—Beijing's downtown, its suburban Yanqing District and Zhangjiakou—demonstrating the country's preparation for the Olympics in every detail.
Crystal and white
Occupying 2.89 square km, the complex, located in Taizicheng Village, will be home to the Zhangjiakou Olympic Village. As the cohost city of the 2022 Winter Olympics, it is going to have three competition venues and five other venues, which will accommodate 47 percent of the competitions.
The primary buildings in this complex, which will be the core area during the Games, are scheduled to be finished by the end of September. The entire compound will link other competition venues that will host snowboarding, freestyle skiing, cross-country skiing, ski jumping, Nordic combined and biathlon competitions.
An express railway station is even located right in the complex. Expected to be in operation by the end of the year, the high-speed bullet train will shorten the trip from Beijing to Zhangjiakou from over three hours to less than one.
Chen Jining, Mayor of Beijing and Executive President of the Beijing Organizing Committee for the 2022 Winter Olympic Games (BOCWOG), said the 1,000-day countdown celebration marked a new stage of preparation for the Games. "We will endeavor to deliver fantastic, extraordinary and excellent Olympic and Paralympic Winter Games."
"The preparations are ready to advance to the next stage, from the planning to the readiness phase. Beijing is ahead of the race against time," said Liu Yumin, director of the planning, construction and sustainable development department of BOCWOG.
Beijing will host all ice sports, while Yanqing and Zhangjiakou will host all snow sports, according to BOCWOG. In total, the 26 venues for the Games will be ready by June 2020.
Some existing facilities built for the Beijing 2008 Summer Olympics will be renovated for the Winter Olympics. The National Aquatics Center, or the Water Cube, will be transformed into a curling arena by filling the pool with steel structures and making ice on the surface.
"Here you have the venues from 2008 that are going to be used in 2022 for a complete set of winter sports. This is a wonderful legacy story," said Juan Antonio Samaranch Jr., Vice President of the International Olympic Committee.
The legacy plan for the Olympic and Paralympic Winter Games was unveiled in February. For Zhangjiakou, the competition venues and Olympic Village will be converted into an Olympic Park after the Games.
Li Li, a deputy director of Zhangjiakou-based operations for BOCWOG, revealed that a world-class tourist destination will be built at the venues.
"The Beijing 2022 Winter Olympics has brought a series of positive changes to Zhangjiakou in terms of transportation, ecological environment, green industry, winter sports and people's income," Li added.
BOCWOG also released its volunteer recruitment and training plans. The international recruitment will be launched in December through an online system, aiming to select 27,000 volunteers to directly serve the Games' operation, while another 80,000 will work as city volunteers.
In August 2018, the organizers launched a worldwide competition to design the Olympic mascots. A total of 5,816 designs were submitted, with 10 shortlisted in January. The winner will be announced in the second half of the year. In addition, the preparation work for the opening and closing ceremonies is well underway.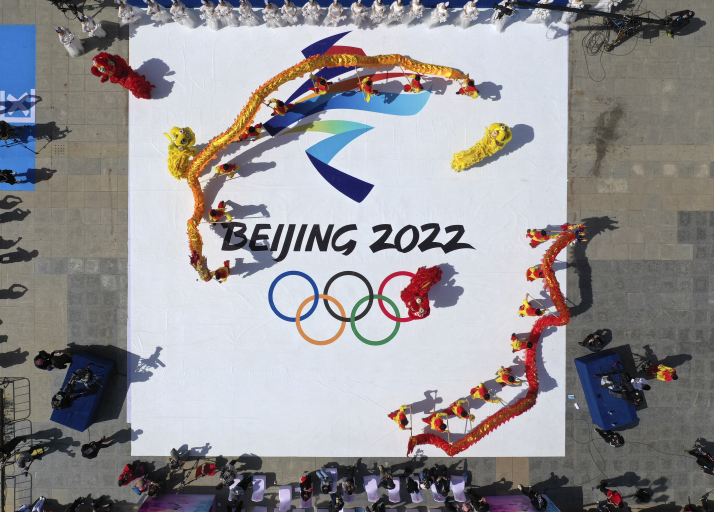 A series of celebrations for the 1,000-day countdown to the Beijing 2022 Winter Olympics are launched in Zhangjiakou City, north China's Hebei Province, on May 11 (XINHUA)
Heating up winter sports
On May 7, BOCWOG released 15 short videos introducing Winter Olympic sports, including speed skating, figure skating, Alpine skiing, freestyle skiing, bobsledding and luge. They are the first batch of educational videos whose intellectual property rights are owned by China.
Each video, about four minutes long, includes a rundown of the sport's rules, highlights, equipment, venues and history.
Yan Cheng, head of BOCWOG's Department of Human Resources, said that any individual, agency or organization can use these films free of charge for non-profit causes and activities.
Yanqing plans to help more than 20,000 students in primary and secondary schools master skiing and skating over the next three years, a move designed to spur enthusiasm among the district's residents for the Beijing 2022 Winter Olympic Games and beyond.
Zheng Shiyong, Deputy Director of Yanqing's District Education Commission said so far, there are more than 14,000 students who have taken skating and skiing lessons and the number is expected to rise to 17,000 by the end of the year.
Outdoor ice rinks have been constructed at schools when winter weather conditions allow and in summer, man-made ice is available for schools to open up skating areas for practice.
In addition, Yanqing will put more effort into increasing the number of qualified winter sports instructors, improving school curricula and speeding up the construction of winter sports venues.
Ma Zhiyong, Deputy Director of the Sports Bureau of Yanqing District, said that the district's education authorities have cooperated with its sports bureau to make ice and snow sports available to all residents in the area. Meanwhile, some important events and testing activities are expected to be held in Yanqing in the following two years, including the 14th Chinese National Winter Games Alpine skiing speed events in 2020.
The ice and snow industry in Zhangjiakou has witnessed a sharp boost in recent years. The seven large ski resorts in Chongli, with 169 snow tracks totalling 162 km, have become one of the major ski clusters in China. Moreover, two ice and snow gardens are under construction, while several ski resorts have cooperated with colleges nearby to offer free courses for students.
On December 6, 2018, the fifth national snow and ice season was launched in Shanghai, making it the first city in south China to host this event.
"Ice and snow venues are gaining popularity in south China," said Ding Dong, Executive Deputy Director of the National Winter Sports Administrative Center. "Apart from building more venues, we should also enhance our public service in promoting winter sports, such as setting up organizations in different places to offer scientific guidance."
Copyedited by Rebeca Toledo
Comments to yuanyuan@bjreview.com