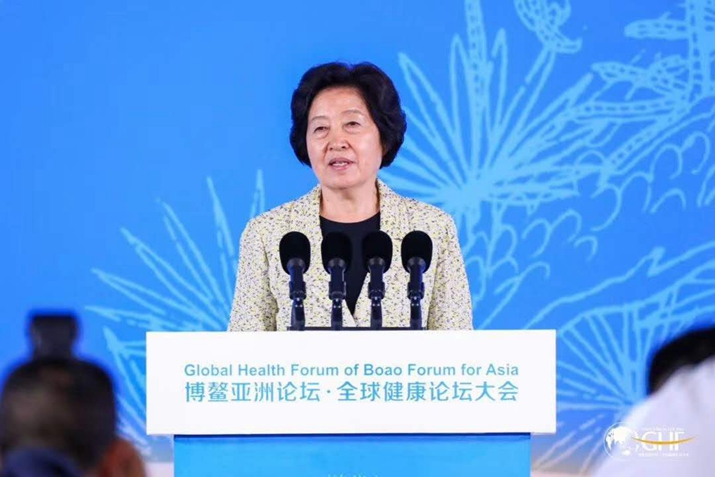 Vice Premier Sun Chunlan delivers a keynote speech at the first Global Health Forum of the Boao Forum for Asia on June 11 in Qingdao, Shandong Province (COURTESY PHOTO)
The first Global Health Forum (GHF) of the Boao Forum for Asia is being held in Qingdao, east China's Shandong Province, on June 10-12 under the theme of Health Beyond Health--In the Year of Sustainable Development 2030. China's Vice Premier Sun Chunlan attended the opening ceremony on June 11 and delivered a keynote speech.
The health forum was initiated in 2018 by the Boao Forum for Asia. It is intended to be a long-term platform for health cooperation and exchanges among governments, industries, media and civil society jointly working for the United Nations Sustainable Development Goals of the 2030 Agenda.
More than 2,600 guests from 55 countries and regions including experts, scholars and entrepreneurs are attending the conference, said Dr. Margaret Chan Fung Fu-chun, President of the GHF and Emeritus Director-General of World Health Organization (WHO) at a press conference on June 10.
The forum is focused on three topics, namely "achieving health for all people, promoting health through innovation and integrating health into all policies," she said.
In addition to the opening ceremony and plenum, the GHF also features 28 sub-forums, four innovative projects road shows, a Global Health Exposition and 16 other events.
The theme of the health conference dovetails with the development of Qingdao, which has a briskly growing health sector, said the city's deputy mayor Xue Qingguo at the press conference.
Qingdao is proud to be the host city of the first GHF, he said, adding that the forum will promote the further opening up of the city and Shandong at large, and help attract investment and talented people.
"National health is also an important part of economic growth. The health industry has become one of the fastest growing sunrise industries in the world. Every country in the world places great importance on health issues and actively develops health projects and health industries," Chan said.
At the same time, the global health sector is still facing many challenges, including insufficient investment, the inability to respond to new and unexpected public health incidents, and the unbalanced development of the sector in many countries, Chan said. Asia and the world at large should explore how to find solutions to these challenges and the GHF offers a platform, she said.
Copyedited by Rebeca Toledo
Comments to wanghairong@bjreview.com