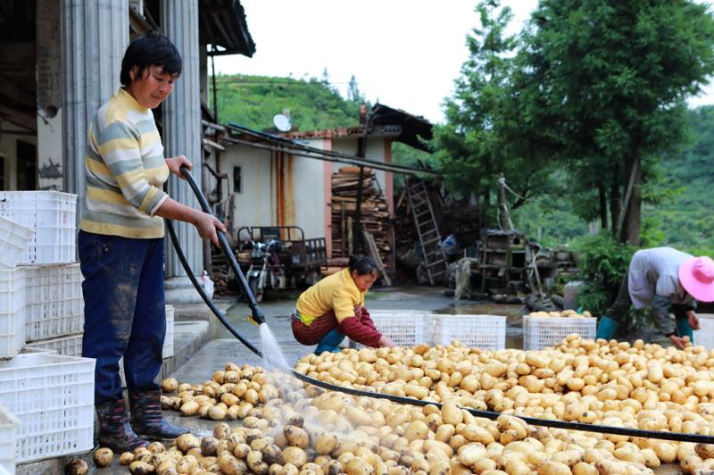 Farmers wash their potatoes clean before packing and sending them to buyers who have already placed their orders (YU JIE)
Mist shrouds Chongqing as the city in southwest China welcomes the rainy season with a pervasive drizzle that drenches unwary passersby.
When it's not raining, the air remains heavily humid. While that may cause discomfort to tourists, for Tang Daixiang, a farmer in Xing Hechang village in northeast Chongqing, it is a golden season, the time to harvest potatoes.
Tang planted potatoes in over 1.6 acre and could not hide his joy when talking about his harvest. "My crop is doing very well," he told Beijing Review, beaming, standing on his patch with over 2 kg of potatoes in hand. "I can now earn about 4,000 yuan ($579.20) per mu."
The mu is a traditional Chinese land measure, with 1 mu equaling 0.16474 acre.
The potato farmers in this village have no worries about how to sell their products. "All I need to do now is to dig them up and wash them clean, as Mr Liu has already booked all my crop," Tang said, pointing to a man in black T-shirt.
Liu Hengtao is the manager of Hengyu Food Limited based in Tengzhou City in east China. He is present at the site, watching the farmers at work. Tengzhou is famous for its potato and Liu's company is a leading producer of the vegetable, enhancing production with improved seeds, disease prevention and control, and mechanized agriculture.
His company has rented land near the village to grow a model potato farm where local farmers can get invaluable experience. Liu also helps them sell their crop through the company's well-developed marketing network.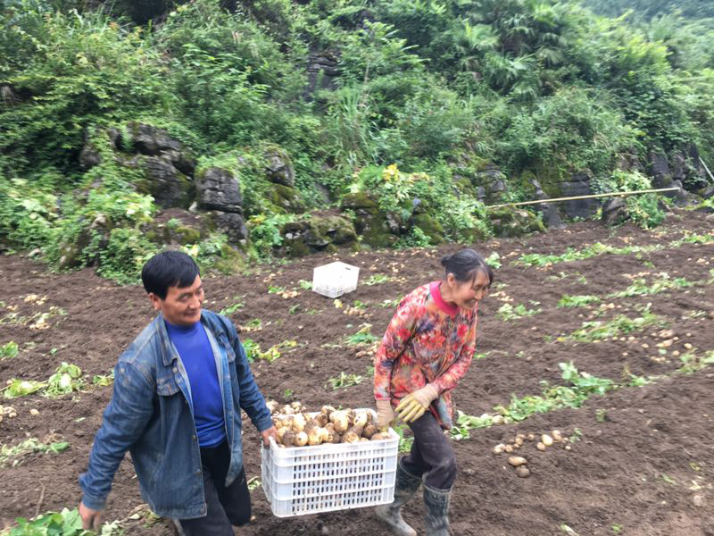 Farmers carry away harvested potatoes from their fields in a village in Chongqing City, southeast China (WEN QING)
Fengdu, the township where the village is located, was paired with Tengzhou by the local government as part of the ongoing assistance program where a more developed area helps a less developed peer to grow its economy and facilities. "Our local government encouraged us to come here to give a hand. Moreover, it is also our social responsibility," Liu said.
The assistance in potato planting is an example of a more developed eastern province helping Fengdu, once the poorest township in China, to shake off poverty. Besides Liu and his company, other experts also come to provide more agricultural knowhow to the farmers.
"In the past, we could barely get 10 quintals of potato per mu. But now we get 30 quintals and that too of better quality," Tang said. "It is more profitable than tobacco, and I plan to expand the planting area next year."
Copyedited by Sudeshna Sarkar
Comments to wenqing@bjreview.com