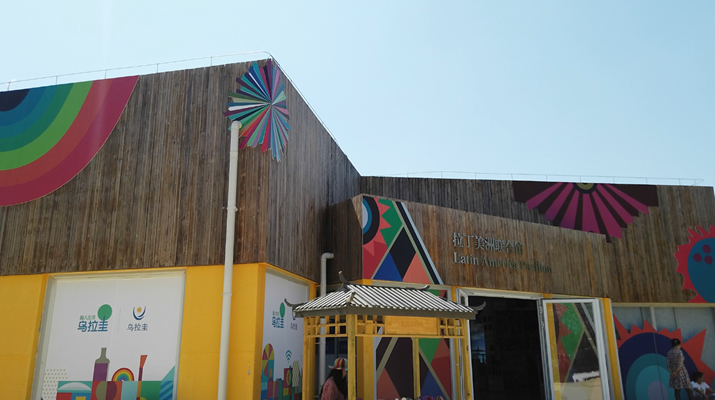 The blare of reggaetón hits you as you approach the Latin American Pavilion at the International Horticulture Exhibition 2019 in Beijing. The music is a modern mix of reggae, hip hop and tropical rhythms such as merengue, bomba and plena originating in Panama, and is a perfect example of the diversity and blending of cultures in the region.
Along with the Caribbean Community Pavilion, the garden provides visitor's a view into what some countries in Latin American and the Caribbean (LAC) are doing to build Green Lives, Better Lives, the theme of the expo. Already, many LAC countries have signed the Rio Declaration on Environment and Development, the Kyoto Protocol and the Paris Agreement on climate change.
The joint pavilion is dedicated to the Mayan culture, one of the oldest civilizations in the world at about 5,000 years old, which has a lot in common with the Chinese civilization, Angela Mercedes Xicay de Leon from the Guatemala booth, told Beijing Review.
"Guatemala is in Central America, in the center of the heart of America. Our country is filled with forests, mountains and jungles. Lamentably, there has been a lot of burning of forests, something we are trying to reverse," she said. "Currently, we are working under SEICA (the Secretariat for Central American Economic Integration) to conserve our forests since this is a general and regional issue."
Xicay explained that it is those who want to cut down trees that set the forests on fire, thus the region needs to work together to stop this practice.
Guatemala has many activities to plant trees and create gardens, she said, adding that it also has various ecological and archeological parks based on Mayan discoveries and excavations and about 20 national parks.
Xicay described the strong commercial ties between Guatemala and China. "We export coffee, cotton, fruit and rum to China and would like to export more products in the future since we consider China an important trading partner," she said. "China is my country's second largest trading partner in terms of imports and 20th in terms of exports."
"It has been great to interact with Chinese citizens because they are very interested in the Mayan civilization and in our traditions," Xicay added. "Our friendship with China is also based on the fact that we have very similar cultures."
Christian Shaw, director of the Uruguay booth, told Beijing Review he was glad to be a part of the cooperation platform provided by the expo to promote a green world.
"Of course, Latin America wants to cooperate with the world to promote green and better lives, to reduce greenhouse effects," he said. "Every country is trying to do something and being together here is a chance to talk about these issues and try to work closer together."
Cooperating with China, the second largest economy, is a priority for the small South American country of 3.5 million people.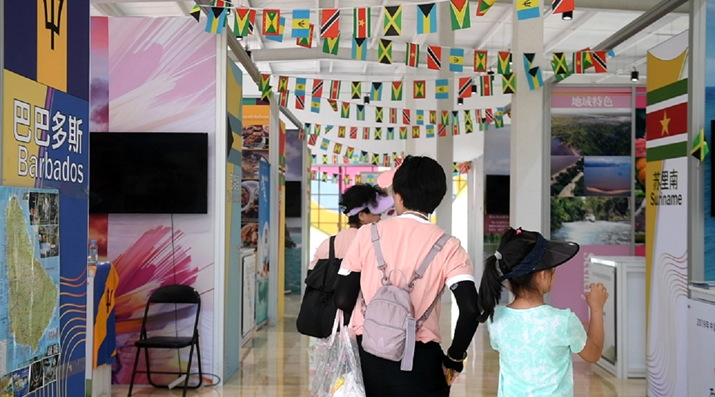 "Organic green living is the future. The Chinese are trying to eat healthier, many companies are trying to reduce their greenhouse effects and pollution. It is an opportunity to build a better life for everyone and for future generations."
Uruguay's efforts to help build a green world have been recognized around the world. It is a leader in developing windmills for clean energy.
"We want to promote natural Uruguay," Shaw said. "We have organic beef raised in large open pastures, as well as honey, soybeans, wool, blueberries, caviar, amethyst and leather. Currently, 80 percent of Uruguay's beef is exported to China, making it a really important economic partner."
Uruguay's diplomatic relations with China date back over 30 years and it was the first South American country to sign a memorandum of understanding with China to join the Belt and Road Initiative.
"The expo is a great opportunity for the Chinese people to get to know us," Shaw said. "Every day, we get about a thousand visitors who now know Uruguay and like our products and want to know more about them."
"China is looking ahead to cooperating more with Latin America, and we have to be a part of that, it's the future," he said.
At the Caribbean Community Pavilion eight countries came together under the theme Beautiful Countries, Tropical Paradise. Featuring crafts and tourism information, among other things, the garden is colorful and welcoming.
François Jackman, Barbados' Ambassador to China, told Beijing Review, "Since our countries are geographically and culturally very close, we often undertake major international activities together. So when the opportunity arose to participate in the expo, it was natural that Caribbean countries would get together to make the most of it."
He described how Barbados, along with the other participants, have collaborated to organize food and drink tastings, concerts and films and will continue to do so for the duration of the expo.
As a small developing island focused on tourism, Barbados always has a spotlight on environmental conditions. "We are following a model of green and blue development. By global standards, the quality of our environment is excellent, but we still need to do better," Jackman said. "We already have one of the highest ratios of penetration for domestic solar power use in the world and our government has set the date of 2030 as a target for achieving 100 percent green and carbon neutral development."
The ambassador noted that recently, projects with Chinese partners to integrate solar energy have been carried out, citing the country's newly-renovated national gymnasium as an example.
"Barbados and China share 42 years of diplomatic relations so we have been good friends for a long time. However, I think it is in the last decade that the relationship has really blossomed," he said.
"In the last 10 years, China has become Barbados' third most important provider of imports; Barbados opened an embassy in Beijing; a Confucius Institute was established on the Barbados campus of the University of the West Indies; and more Barbadians are studying in Chinese universities," he continued.
Barbadian rum is now available on the shelves of high-end shops in China, Jackman said, adding that there is still room for development, especially in the tourism and investment areas.
To this end, China and Barbados signed a Memorandum of Understanding on Cooperation within the Framework of the Belt and Road Initiative in February, with implementation plans underway.
"Overall, Barbados sees the initiative as a platform for advancing its development and its relationship with China in a balanced and mutually-beneficial and sustainable manner, in a way that allows us to make progress toward achieving the UN Sustainable Development Goals," he concluded.