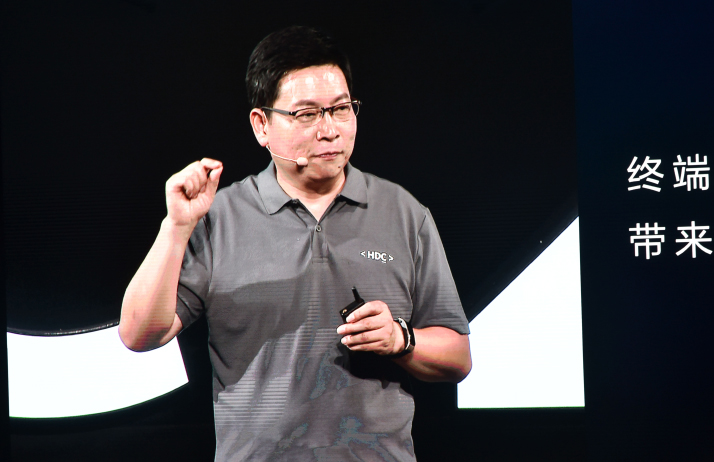 Richard Yu, CEO of Huawei's Consumer Business Group, unveils the HarmonyOS, or Hongmeng in Chinese, during the Huawei Developer Conference held in Dongguan, south China's Guangdong Province, on August 9 (XINHUA)
With the mounting uncertainties brought about by the China-U.S. trade war, Huawei—China's giant telecommunication equipment provider targeted by U.S. President Donald Trump in recent months—is paving its way out of reliance on U.S. partners.
On August 9, the opening day of a three-day Huawei Developer Conference in Dongguan, south China's Guangdong Province, the company announced the launch of its own operating system (OS), a step toward shaking off threats and actions by Washington to choke Huawei by banning U.S. companies from doing business with it.
The Chinese name for the new OS is Hongmeng, a term from Chinese mythology referring to the chaotic state of the universe before the creation of heaven and earth. In English, it is called HarmonyOS.
New system, greater harmony
Rumors flying for months that Huawei was going to launch its own OS were finally confirmed by Richard Yu, CEO of Huawei's Consumer Business Group, who announced the first details of the OS at a stadium filled with thousands of participants on August 9.
The official announcement turned out to be a surprise for the audience. Yu's description of Harmony's technical features and capabilities was accompanied with bursts of applause.
Yu revealed that Huawei had begun to develop the Harmony system two years ago with more than 4,000 developers involved in the process. Initially, the software was aimed at Internet of Things products, including smart displays, wearable technology, smart sneakers and in-car devices rather than a replacement for the Android OS. But since the U.S. announced a trade ban on Huawei earlier this year, Google, one of the company's affected business partners, may stop offering Android services to Huawei devices. Under such conditions, the new OS has become a key player in this battle.
According to Yu, it is an entirely new OS generation, completely different from the Android and Mac systems since it enables artificial intelligence capability in different scenarios from PCs, tablets and other domains. The company has been internally testing its new OS on multiple devices. So, if Huawei can no longer access Google's Android ecosystem, it can deploy Harmony at any time, Yu said. Until then, Huawei will continue to support the Android OS.
Since 2008, when the first Android phone, the HTC Dream/ T-Mobile G1, was released, big product manufacturers have been developing a robust ecosystem using their own software. Samsung Electronics from the Republic of Korea has developed its own OS called Tizen for smart watches and televisions, but the whole project was plagued by a lack of support for developers.
In contrast, Zhang Ping'an, President of Huawei's consumer cloud service, said during a media briefing of the conference on August 9 that the company plans to invest $1 billion to support developers.
Yu explained that in order to attract developers, Huawei was willing to cut its fee intake from app developers working for Harmony to as low as 10-15 percent, much lower than Apple and Google's 30 percent.
If the trade ban isn't lifted by the end of the year or early next year, Yu said that Huawei will be forced to switch to Harmony for its new devices, including the upcoming Huawei Mate 30 series. "If we are not able to use the Android OS, then we can activate Harmony anytime," Yu said.
But for now, the company is sticking with Android on its smartphones in consideration of its existing partners in the U.S., many of which have collaborated with Huawei for over 20 years.
Harmony will gradually be incorporated into the company's other smart devices over the next three years, according to Huawei's plan.
Huawei announced that Harmony will be released as an open-source software, meaning it will be freely available for developers to study, enhance and redistribute. Meanwhile, it also plans to partner with other companies to set up China's first open-source software foundation.
"If China does not have its own open-source community to maintain, manage and host these open-source codes, the domestic software industry will be vulnerable to uncontrollable factors," Wang Chenglu, President of the Software Department at Huawei's Consumer Business Group, said at the conference on August 10.
Wang also said the plan is progressing quickly and is expected to be in operation in one or two months.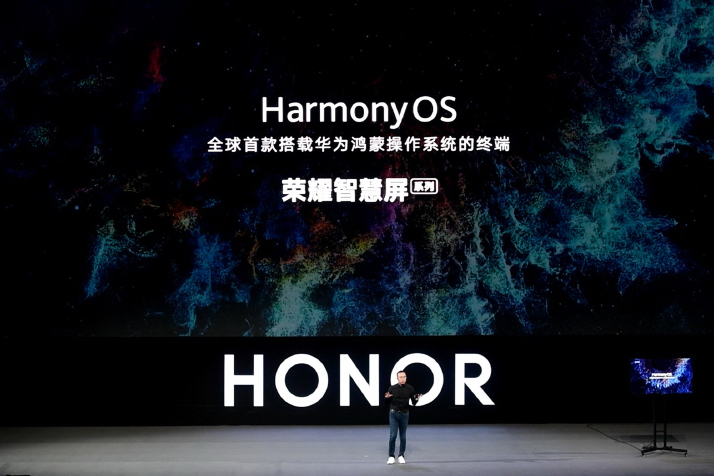 Zhao Ming, President of the Honor Brand of Huawei, unveils the company's first HarmonyOS smart screen product during the Huawei Developer Conference on August 10 (XINHUA)
More to come
On August 10, the second day of the conference, the first Huawei product that runs on Harmony was released: the smart Honor Vision screen.
It comes with a 55-inch screen and will function as a hub for information sharing for families and a center for multi-device interaction along with the entertainment features of traditional TVs.
Priced from 3,799 yuan ($538), it was officially put on China's online store shelves on August 15, with preselling taking place several days in advance.
President of the Honor Brand Zhao Ming said that Huawei aims to leverage its years of innovation in smartphones to reshape the role of television in people's daily life as a step to forming its own ecosystem.
On the same day, Huawei announced its plans to unveil its own mapping service in October, since the U.S. Government has banned Huawei devices from using Google Maps on its overseas smartphones.
Known as Map Kit, the mapping service is designed to encourage software developers to come up with apps based on its mapping capabilities. However, it is not for direct consumer use.
The Huawei Map Kit will be connected to third-party mobile apps and local mapping service providers in about 150 countries and regions.
Russian Internet heavyweight Yandex and the U.S. travel website Booking Holdings are among the software companies that are partnering with Huawei on the service.
Zhang Pingan from Huawei said that this move is crucial to maintaining Huawei smartphones' popularity overseas. The Huawei Map Kit will be available in 40 languages, offering real-time traffic conditions and a highly sophisticated navigation system.
"Even though Huawei is late in offering a mapping service, its telecom base stations in over 160 countries and regions have provided advantages to offering complementary information to satellite positioning data," said Xiang Ligang, Director General of the Telecom Industry Association Information Consumption Alliance.
Copyedited by Rebeca Toledo
Comments to yuanyuan@bjreview.com