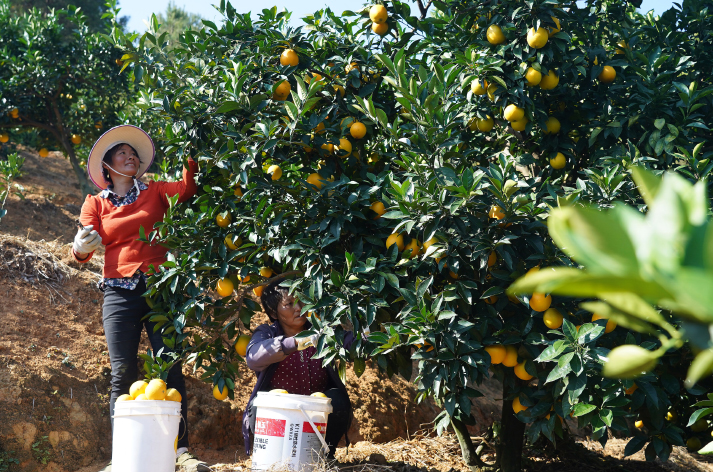 Farmers pick navel oranges in an orchard in Xunwu County, Jiangxi Province in east China, on November 6 (XINHUA)
In November, when over 300 delegates from political parties from 60 countries toured Jiangxi Province in east China, they met Deng Daqing, a 62-year-old farmer from Ruijin, a revolutionary base of the Communist Party of China (CPC) in the early 1930s. Deng is now a household name in the area because of his efforts to reduce poverty, not only for his own family but for the village where he lives.
It is a long way from Ruijin to Trinidad and Tobago in the Caribbean, but Ancil Antoine, a member of parliament from the island nation, bridged the gap during the visit. In addition to the usual things that impress first-time visitors to China, Antoine was also struck by the orange planting industry in the city and Deng's story. He's a hero, Antoine concluded about the Chinese farmer.
A new start
Ruijin is recognized as a red capital and a cradle of the Chinese revolution because the forerunner of the People's Republic of China, the Provisional Central Government of the Chinese Soviet Republic, was founded there in 1931. Located in the mountains, its inaccessibility, which was an advantage during wartime, became a bottleneck for economic development after the founding of the People's Republic in 1949.
A decade ago, Deng was struggling to make ends meet. A string of diseases left him mired in debt and his attempt to grow green plums and Valencia oranges, sweet summer oranges deriving their name from the city in Spain, ended up in losses.
When he was at his wits' end, local officials advised him to try a new crop: navel oranges, seedless winter oranges that are better suited to the local soil and humid climate. They also helped him apply for a loan and receive free training.
In 2014, his first navel orange trees bore fruit and to his delight, fetched him around 30,000 yuan ($4,268). He began to focus on the fruit and today, is growing it on 2 hectares.
Three years ago, aided by his son, Deng opened a store on Taobao, a popular online marketplace created by tech giant Alibaba, to promote the sale of the oranges. He also started an association for orange growers in his village to pool information and resources and promote local products. Now navel oranges from the little village are also sold outside China, in the countries along the route of the China-Europe freight train that connects Jiangxi with Uzbekistan, widening sales channels.
In 2017, all households in Deng's village shook off poverty as their per-capita income reached 13,000 yuan ($1,848).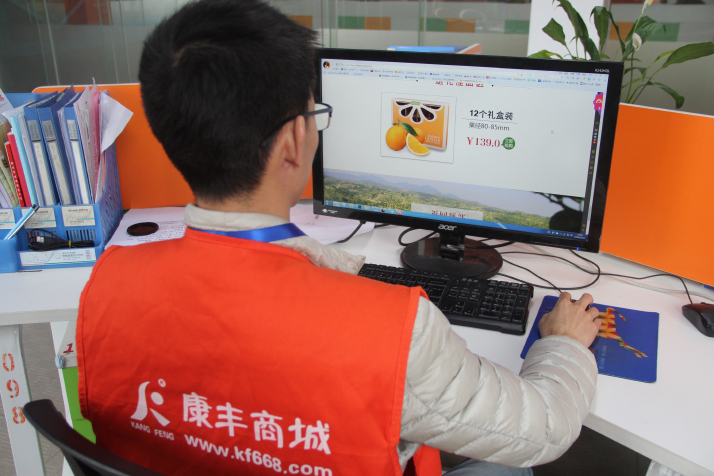 A worker of an e-commerce company in Xinfeng County, Jiangxi Province in east China, sells navel oranges online on November 14, 2018 (XINHUA)
Mass participation
More and more farmers like Deng have switched to the industry and orange groves with plump fruit have become a common landscape in Ruijin. By 2018, the entire city had cast off poverty by developing industries suited to local conditions, notably orange planting.
Chen Fobao, Secretary of the CPC Committee of Huangbai Township in Ruijin, said a 1,000-hectare navel orange orchard, the largest in China, has been established in the area, where over 1,000 households from five villages work. Last year, it produced 16,000 tons of oranges with an output value of 110 million yuan ($15.6 million),
"We expect 18,000 tons this year, fetching around 120 million yuan ($17 million)," he told Beijing Review.
There are two more large orchards in Ruijin that have helped more than 30,000 people cast off poverty.
"For better sales, we have formed cooperatives of orange growers and are providing training and marketing services to link farmers with enterprises and strengthen the supply chain," Chen said.
Ruijin's success story is only part of China's poverty alleviation drive. The national aim is to build a moderately prosperous society in all respects by 2020.
Despite current progress, the battle against poverty is not yet over. According to official data, 16.6 million rural residents were still living below the national poverty line by the end of 2018. More than half of them are from the less-developed western regions.
As the countdown starts, authorities are focusing on supporting the poorest who reside in remote and mountainous regions with tough natural environments and inadequate infrastructure. For sustainable economic growth of poor regions, distinctive industries are being encouraged to enhance local self-reliance, such as leisure agriculture and rural homestays.
Online marketing
Currently, many other regions in Ganzhou, the city that Ruijin is part of, are also eyeing the industry for a more prosperous life.
In Xunwu County, another major navel orange production base in Ganzhou, Dongyuan Fruit, a company established in 2008, has developed a complete industrial chain covering planting, sorting, packaging and warehousing.
Chen Wei, a manager at Dongyuan, said the company sold over 300,000 kg of oranges on Tmall, Alibaba's business-to-consumer online marketplace, in 2015. Last year, its online sales volume exceeded 1 million kg. Since early November, when its oranges hit the market, it has sold over 250,000 kg on Tmall and other platforms, sending out 2,000 packages on average daily.
With the rise of New Retail that blends online and offline experiences, a growing number of orange growers have turned to e-commerce platforms and seen substantial sales growth. In 2018, the online trading value of navel oranges was 5 billion yuan ($723 million) in Ganzhou, accounting for 42.2 percent of its total sales volume.
The value of the navel orange industry in south Jiangxi, where many orchards are
located, reached 12.2 billion yuan ($1.7 billion), improving the income of around 250,000 households and providing jobs for 1 million people, according to official data.
However, the reputation of the region's oranges has also led to other regions trying to cash in on their fame. "Some online sellers from other regions pretend that their oranges are from Ganzhou, which is adversely impacting the local orange industry," Chen Wei said.
Liu Limin, an official with the fruit industry bureau in Ruijin, suggested that a quality control mechanism should be employed to increase the market share of Ganzhou's navel oranges and nurture brand recognition.
Copyedited by Sudeshna Sarkar
Comments to lixiaoyang@bjreview.com