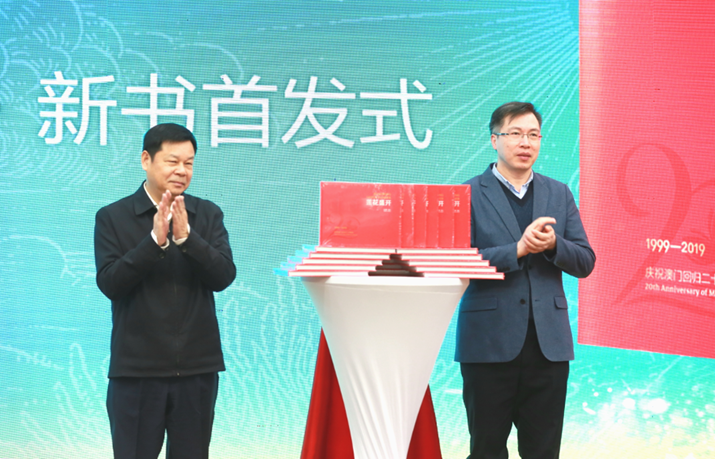 Du Zhanyuan (left), President of China International Publishing Group, and Xu Zhengming, Deputy Director of the Publishing Bureau of the Publicity Department of the Communist Party of China Central Committee, unveil the Blooming Lotus Flower photo book in Beijing on December 20 (COURTESY PHOTO)
A photo collection titled Blooming Lotus Flower was unveiled in Beijing and Macao Special Administrative Region (SAR) on December 20 to commemorate the 20th anniversary of Macao's return to the motherland.
The Chinese-English bilingual book was compiled by China Pictorial Publishing House (CPPH), the Liaison Office of the Central People's Government in Macao SAR and the Government Information Bureau of Macao SAR. The People's Liberation Army garrison in Macao also provided photos.
"The book represents the results of the implementation of the 'one country, two systems' policy and presents a Macao with social stability, economic progress and cultural diversity where people live a happy life," Lu Cairong, Vice President of China International Publishing Group, a Chinese media conglomerate to which CPPH belongs, said at the book launch in Beijing on December 20.
The book uses both invaluable historical photos and high-definition modern ones to showcase Macao's transformation since the return.
Macao was under Portuguese colonial rule following the country's occupation that began in the mid-16th century. China resumed its exercise of sovereignty over the region on December 20, 1999.
The commemorative photo book and accompanying stamp collection, marking the 20th anniversary of Macao's return to the motherland, are shown (COURTESY PHOTO)
Liu Xiaoxue, head of CPPH's international department, said many people in Macao contributed their own precious old photos after learning that a photo collection was going to be published. "Without their love for and strong sense of identification with the motherland, there wouldn't have been such an exquisite book," Liu said. In order to ensure that the book arrived in Macao in time for the 20th anniversary, the publishing house chose a printing factory in Guangdong Province in south China, which is close to Macao, according to Liu.
Macao's economy has developed rapidly since the return. From 1999 to 2018, its GDP increased from about $6 billion to $55 billion. With rapid economic growth, social welfare has also improved significantly. In 2007, free education was increased to 15 years. Pregnant women, children and people over 65 years old enjoy free medical services at public hospitals. In addition, people diagnosed with major illnesses such as cancer are fully covered by medical insurance.
Copyedited by Rebeca Toledo
Comments to jijing@bjreview.com