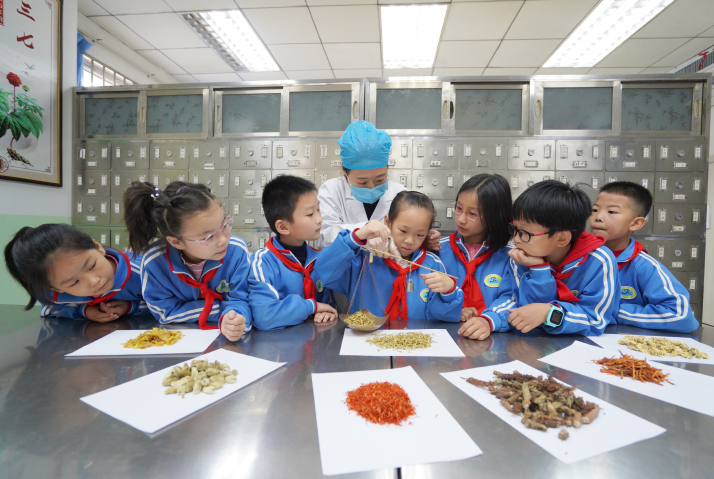 Children from a primary school in Neiqiu County in Hebei Province, north China, weigh the materials to learn the culture of traditional Chinese medicine on October 22, 2019 (XINHUA)
The practice of traditional Chinese medicine (TCM) began when people became aware of the efficacy of some plants in treating illnesses and began to use them in a hit-or-miss way. Millenniums later, TCM has become an institutionalized medical system applied worldwide, using state-of-the-art technology such as remote sensing and a geographic information system.
Pu Sheban, an associate researcher at China Pharmaceutical University in Nanjing, Jiangsu Province in east China, is one of the innumerable people associated with the ongoing task to modernize and improve the system. He is one of the 50,000 participants who are spread out across China to conduct the Fourth National Survey of Chinese Materia Medica (CMM) Resources.
Launched in 2011 to establish a comprehensive database of CMM resources, the survey is a massive venture led by the National Resource Center for Chinese Materia Medica under the aegis of the China Academy of Chinese Medical Sciences (CACMS) and will be completed by 2021. Participants, like Pu, come from TCM universities, research institutes and hospitals.
So far, they have collected 20 million records on 13,000 herbal species and discovered nearly 80 new species. The findings have been published in Nature, a leading science journal, indicating the attention given to TCM both at home and abroad. The information obtained during the survey will bolster large-scale planting of medicinal plants and the development of the TCM industry. The previous such survey was conducted nearly three decades ago.
"Resources are fundamental for the development of TCM because they determine the quality of medicine," Pu told Beijing Review.
Huang Luqi, President of CACMS, said the data can provide the necessary reference for making policies for managing and developing CMM resources. It will also help poverty alleviation programs by teaching people how to select sites to grow TCM plants, cultivate them and control pests.
TCM on record
Huangdi Neijing (The Yellow Emperor's Inner Cannon), formulated 2,500 years ago, is thought to be the earliest Chinese medical treatise. It recorded the clinical experiences of ancient Chinese, including symptoms of illness, preventative methods and treatment, which developed into systematic theories about physiology and pathology.
Today, TCM is not only a developed pharmaceutical system with unique theories and therapies, but also an integral part of Chinese philosophy and culture. It encompasses the medicines and treatments developed by all ethnic groups in China.
One of the fundamental principles of TCM is that all things are related to a balance of yin and yang, two opposite but complementary energies. When the balance is disrupted, people's health is affected. TCM also factors in individual-nature interaction. People should adjust their activities and diet accordingly.
It also says people's mind and physiology are closely connected with their bodies. Therefore, patients should improve their habits or lifestyles to deal with physical problems instead of using medicine.
Pu said another feature of TCM is that it emphasizes individuality. "Doctors will not give the same medicine to patients with the same symptoms," he said. "Instead, they will analyze specific conditions and factors, including the patient's condition, and the climate and season."
The treatments include acupuncture, massage, moxibustion or burning herbs on a patient's skin or nearby as a counter-irritant, and guasha or scraping the skin with a massage tool to improve circulation, which are unique to TCM.
Since Western medicine was introduced in China during the Qing Dynasty (1644-1911), many experts have explored ways to combine it with TCM to optimize the effect of treatment.
This combination has won recognition since it successfully combated Severe Acute Respiratory Syndrome, a contagious respiratory illness which broke out in China in 2003. It also produced results when used to fight the H1N1 influenza pandemic in 2009. Huang said in an interview with Nature that TCM practitioners always look for new insights and direction.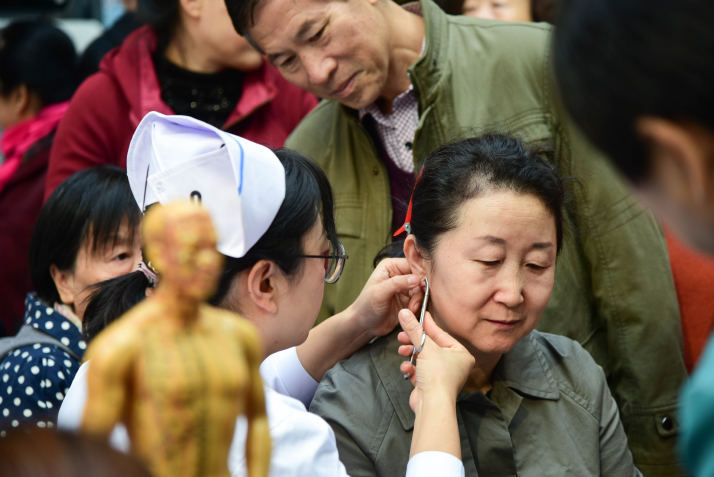 A doctor from a TCM hospital in Inner Mongolia Autonomous Region, north China, treats patients free of charge on October 22, 2019 (XINHUA)
Gaining more followers
According to the National Administration of Traditional Chinese Medicine, more Chinese people today know about TCM and use it in their daily life. In 2018, 15.3 percent of Chinese people were TCM literate, up nearly 2 percentage points from 2017. That year, an additional 158 million people aged 15-69 gained a basic understanding of TCM.
TCM can both help treat and prevent diseases, and it has been valued more as the public becomes more aware of the need to follow a healthy lifestyle, Pu said. Due to the belief in TCM's sustenance power, it is often used in food.
Tea is a good example of this. It's both a drink rich in vitamins and a source of medicine. Tannin, a chemical compound present in tea leaves, can prevent arteriosclerosis and high blood pressure.
TCM and related industries have seen a boom due to a medical paradigm shift brought about by favorable policies, Huang said. Over 98 percent of community health service centers and 97 percent of township clinics nationwide now provide TCM services and TCM experts carry out relief work in remote places. Besides treating diseases, they also help people stay healthy with TCM.
According to the National Health Commission, as of the end of 2018, there were over 60,000 TCM hospitals and institutions, a nearly 50-percent jump from 2012. There are over 1 billion TCM clinics nationwide.
TCM is particularly gaining popularity among people with lower education levels and in impoverished areas. In some poor areas, a whole industrial chain covering herb planting, processing and production has been built, and health and medical services are being offered. Besides affordable treatment, TCM also offers local people an opportunity to earn money by taking part in TCM production, especially growing medicinal plants. Since 2012, it has been integrated with tourism, food and the Internet, giving impetus to poverty alleviation and rural revitalization.
But a major challenge TCM development faces is the high demand for talent. To meet the need, a special education system has been established where students are trained to be TCM practitioners. In addition to campus instruction, training is also provided in communities and villages.
"There is a growing enthusiasm to learn TCM," Pu said. According to his observations, students enjoy learning TCM as a way to pass on traditional culture and philosophy.
State efforts
An outline for the development of TCM was released in 2016, stating that by 2020, all community health centers and township clinics will offer TCM treatment. Scientific research, education and culture will be boosted in coordination with standardization, informatization, industrialization and modernization. The first TCM law was enacted on December 25, 2016.
As a result, the general quality of TCM production has improved in recent years. However, Wang Feng, a researcher at the National Institutes for Food and Drug Control, told China Daily that problems in TCM production such as excessive use of synthetic fertilizers and pesticides should be addressed.
According to another guideline on TCM released in October 2019, a raw material tracking system covering production, distribution and application will be established so that all key TCM drugs are traceable from their origin to final use. Environmental protection in the production areas was also highlighted.
Huang said establishing a long-term monitoring system to forecast herbal medicine output, prices and quality will promote the healthy development of the industry.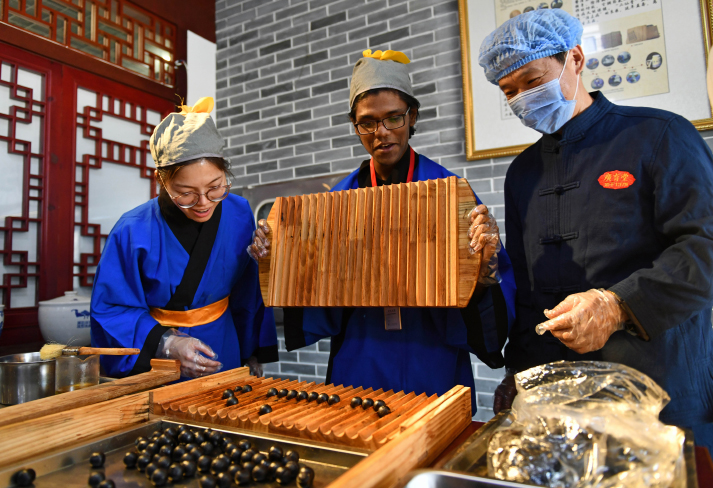 An overseas student from Bangladesh makes pills in a TCM factory located in Jining of Shandong Province, east China on October 10, 2019 (XINHUA)
Global standards needed
A technical standard and grading system for TCM will be established by 2022.
The guideline also called for opening up the TCM industry, promoting international cooperation and establishing international standards.
According to the State Council Information Office, TCM has spread to 183 countries and regions. The government has signed 86 agreements with various countries and international organizations on TCM cooperation, which include establishing 17 TCM centers overseas. TCM medical products have been registered in countries like Russia, Singapore and the United Arab Emirates. Hundreds of TCM schools have been established in more than 30 countries and regions.
China has sent medical assistance teams to over 70 countries across Asia, Africa and Latin America, with TCM professionals accounting for nearly 10 percent of team members. Over 400 TCM professionals have been sent to more than 40 countries.
International standardization is a prerequisite for promoting TCM overseas. By the end of 2019, 40 international TCM standards had been released. Another 38 standards are being researched.
"The number of international standards on TCM falls far short of demand. The formulation of standards should be accelerated to promote the use of TCM overseas," Huang told China Daily.
He thinks China, being the country where TCM originated, should take the lead during the process, and other countries participating in the Belt and Road Initiative can also help with the development of unified international standards by establishing an information sharing platform.
According to Ma Xiaona, an associate professor at the Beijing University of Chinese Medicine, an increasing number of foreign students studying TCM, including those from the Republic of Korea, Japan and the U.S., can promote international exchanges on TCM and expand its global influence.
Copyedited by Sudeshna Sarkar
Comments to liqing@bjreview.com