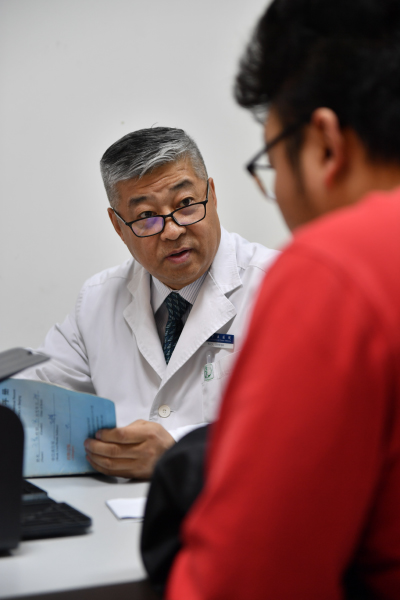 Xiao Dehua, a doctor with the Beijing Hospital of Traditional Chinese Medicine, at work on January 6 (WEI YAO)
Wang Chen, an elevator repairman living in Beijing, never expected that a tiny tool could free him from persistent headaches for a whole year. The 26-year-old has been nagged by headaches since being diagnosed with cervical spondylosis six years ago. "I tried many types of painkillers and Western medical treatments, but they didn't work," Wang told Beijing Review.
When all other options were exhausted, the desperate young man turned to acupotomology, a hybrid minimally invasive procedure he had never heard of before 2018. To his surprise, his headache was soon lifted after just three sessions of acupotomology, which integrates Chinese acupuncture and Western anatomy. "I had no headaches in 2019," Wang said.
So when the headache returned at the beginning of 2020, without hesitation, Wang went back to Xiao Dehua, the surgeon who performed the procedure on his neck with a needle-scalpel tool last year at the Beijing Hospital of Traditional Chinese Medicine (BHTCM).
A hybrid therapy
"The needle-scalpel was invented by Zhu Hanzhang, who used to work at a community hospital in Jiangsu Province 44 years ago," Xiao, who studied under Zhu, told Beijing Review. He is also the vice president of the acupotomology arm of the China Association of Chinese Medicine (CACM) and a doctor in the Pain Management Department at BHTCM.
In 1976, a carpenter suffered a palm fracture in an ax accident. After treatment, the swelling went down and the bones were repaired. But he couldn't grab things with his hand. However, if he had surgery, there could be side effects that could deprive him of his livelihood. He visited many doctors, but couldn't find a good solution.
Finally, he went to Zhu, who made a bold move: He pricked the carpenter's palm with a syringe needle to separate the scar tissue from the bones, and it worked. The carpenter recovered and was able to pick up his ax after only three days of rehabilitation.
The successful trial inspired Zhu: a minimal incision, instead of an invasive surgery, could be applied to separate diseased tissue and relieve pain. And that's when the idea of the needle-scalpel came to him. The original design consisted of making an acupuncture needle thicker, with one end shaped like a mini scalpel blade and the other end capped with a flat handle, which was used to control the blade's direction during the procedure.
The first batch of needle-scalpels was rolled out that same year. The tool, which combined the acupuncture needle of traditional Chinese medicine (TCM) and the scalpel of Western medicine, was named acupotomy. "When a needle scalpel is inserted into the body, the stimulus it creates is more than 30 times stronger than the stimulus from an acupuncture needle. It acts as a needle to get under the skin through minimal invasion and as a scalpel to break apart adhesions and muscle knots. It's more effective than a regular acupuncture needle," Xiao said.
Twelve years later, Zhu got a national patent for his needle-scalpel and it won the Golden Prize at Brussels Eureka 1988, the 37th edition of the World Exhibition of Innovation, Research and New Technology, in Belgium.
In the early 1990s, Zhu's monograph on acupotomology was published and later translated into 19 languages. In 2003, acupotomology was recognized as a new branch of TCM by the National Administration of Traditional Chinese Medicine.
Xiao, then a doctor specializing in acupuncture and massage in Heilongjiang Province, northeast China, heard about the new therapy and became Zhu's student in 1992. "By integrating the macro thinking of TCM with the micro operation of Western medicine, Zhu created a new medical discipline," Xiao explained.
In 2006, the first group of undergraduates majoring in acupotomology was enrolled at the Beijing University of Chinese Medicine and the Hubei University of Chinese Medicine. "In recent years, the number of acupotomology practitioners has increased rapidly," said Xiao. He estimated that there are currently about 500,000 practitioners in China.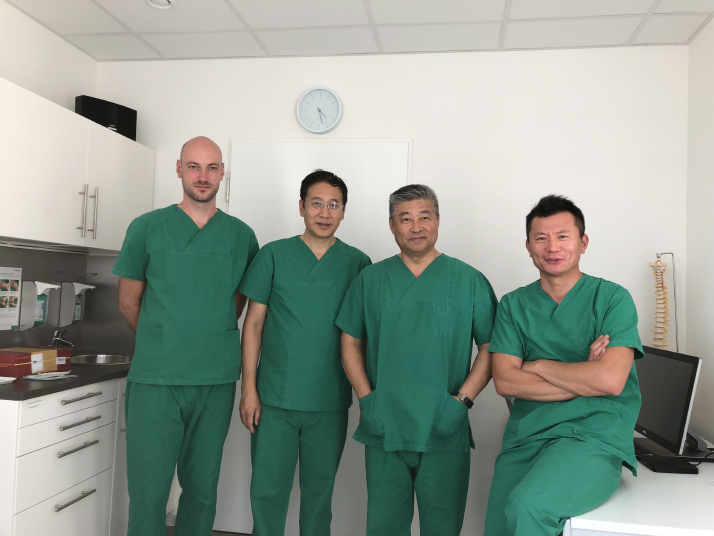 Xiao Dehua (second right) and his coworkers in Reston, Germany, on September 4, 2018 (COURTESY PHOTO)
A transboundary tool
During its early stages, the acupotomy was mainly used to treat orthopaedic diseases, including cervical osteochondrosis, shoulder inflammation, soft tissue damage of the back and tennis elbow, among others. "Many illnesses were cured after the minimally invasive procedure. The curative effects were much better than imagined," said Xiao.
Due to its success, acupotomology was met with praise. Increasingly, more patients suffering from pain began to turn to the discipline. "Patients visit us through word-of-mouth recommendations; we have never advertised," said Xiao.
With its development, the small tool has been used to treat other diseases, such as diabetes, allergic rhinitis and some digestive diseases. "The needle-scalpel is a medical device which is very easy to handle. Different people can use it in different ways," Xiao said. "The biggest advantage of acupotomology is that it can be performed repeatedly."
According to Xiao, doctors in different departments, such as anesthesia and orthopaedics, are now using it. "The needle-scalpel is a transboundary tool," he added.
The small device is also crossing national borders. In 1991, Zhu was invited to Southeast Asia to perform procedures with the needle-scalpel and give lectures. Since Zhu passed away in 2006, his students have taken up the baton.
In March 2009, Xiao was invited to Romania for an 18-day visit, where he treated 315 people. Because the results were so good, he was invited back three months later. "Sometimes, I traveled to two places within 24 hours, treating more than 80 patients a day," he said.
During Xiao's third visit to Romania, he met a 13-year-old girl who was vexed by headaches. The girl's parents were determined to try Chinese acupuncture. "Based on my personal clinical experience, most brain diseases are related to the cervical spine. So I wanted to do a trial. It was September 29, 2009. I performed the first mini invasive surgery with the needle-scalpel on her and told her parents to bring her back in October," Xiao recalled.
A month later, Xiao treated the girl again. After 13 such treatments and with the help of some Romanian herbal medicines, the girl's headache went away. "The girl is now an undergraduate in Amsterdam and she is in excellent health," Xiao said. That experience gave him the courage to deal with more difficult diseases using the needle-scalpel.
Xiao continues to travel abroad to introduce acupotomology to different parts of the world. In 2019, he went overseas 15 times to either give treatments or train students.
At the Third Belt and Road Forum on the Development of TCM held in December 2019, Ma Peihua, Vice Chairman of the 12th National Committee of the Chinese People's Political Consultative Conference, said the Belt and Road Initiative offers opportunities for TCM to go global.
Xiao thinks acupotomology's success provides a good example of TCM going abroad along the Belt and Road routes. "More than 10 years ago, we introduced acupotomology abroad. We held workshops in many parts of the world and they were very popular. Acupotomology combines TCM with Western medicine and drives the holistic development of TCM."
More to be done
The use of the acupotomy is a relatively new therapy and there is a long way to go before it gains more momentum.
Sun Yongzhang, Deputy General Secretary of CACM, noted that acupotomology has the advantages of quick results, a short course of treatment and a wide range of application. However, more studies are needed to improve its basic theory and clinical research. He advised researchers to explore historical data, review theories and combine the development of acupotomology with modern technology.
"Due to the lack of clinical guidelines and standards, acupotomology practitioners can only operate through experience. The technical skills of practitioners are unbalanced, which may lead to medical disputes," Zhai Hongye, a cochair of the acupotomology arm of the Jilin Association of Chinese Medicine, told Beijing Review, adding that clinical guidelines and standards are needed.
Li Shiliang, Director of the Acupuncture Department at the China-Japan Friendship Hospital, has more than 10 years of experience in ultrasonic visual needle technology research. He said he believes that ultrasonic guidance can be used to monitor the needle-scalpel treatment to improve the accuracy of acupotomology.
Copyedited by Rebeca Toledo
Comments to linan@bjreview.com