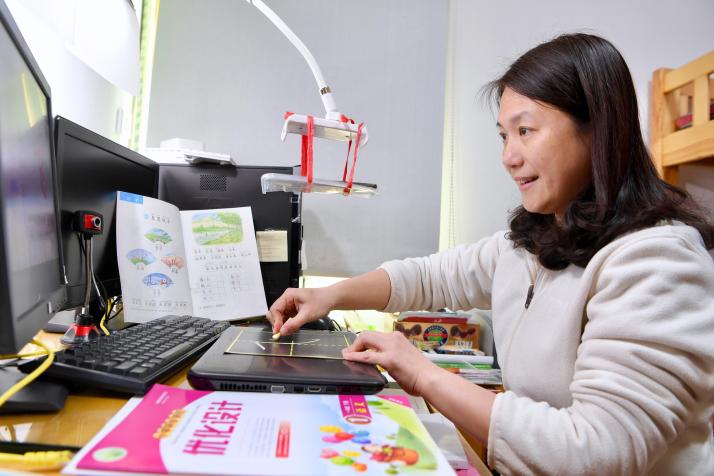 A teacher records online lessons for first grade students of a primary school located in Fuzhou, Fujian Province in southeast China, on February 10 (XINHUA)
Before January, Lu Sa, a professor at China Jiliang University in Zhejiang Province in east China, had never heard of Zeng Heqiong, who lives and works in central China. But the novel coronavirus outbreak has brought the two women together as collaborators in education.
Zeng is the director of the micro electronics department of the Wuhan Technology and Business University (WTBU) in Wuhan, the city that was hardest hit by the epidemic and put on lockdown to prevent the spread of the virus. Subsequently, the Ministry of Education (MOE) notified schools at all levels nationwide to delay the upcoming spring semester to ensure the safety of students and teachers.
To deal with school closures, the WTBU planned to offer online courses. While looking for online teaching resources, Zeng came across Lu's online courses on fundamental circuit analysis. The content was similar to what she was looking for so she wrote an e-mail to Lu, asking if she could use some of the videos and other materials for her class.
Lu welcomed Zeng with open arms, saying she would be honored to help, offering the resources for free. She also created guidelines for Zeng and her students.
This is one of the trends emerging from epidemic control. All over China and beyond, educators who did not know each other are coming together to pool their knowledge and skills so that students cooped up at home can access online classes in the new semester.
Many hands, light work
The MOE calls for pooling digital education resources to ensure teaching activities continue despite the epidemic.
Colleges and universities have been asked to make full use of all types of open online courses and laboratory resource platforms. Official data showed that as of February 2, over 24,000 free courses had been uploaded to 22 online course platforms for advanced education students.
Primary and middle school students will be able to access online courses starting on February 17 on the National Public Service Platform for Education Resources, an online education platform under the MOE. Some schools in more than 20 provinces have already launched their online programs, with products donated by online education companies. Youdao, affiliated to Internet technology company NetEase, is offering free courses exclusively for students in Hubei, while others are for students nationwide. So far, over 500,000 students have attended.
For students living in remote areas, China Education Network Television will broadcast some courses, including a program showing them how to do physical exercises indoor. Online courses do not have to be restricted to the school curriculum; they can cover any content beneficial to students, an MOE official said on February 11.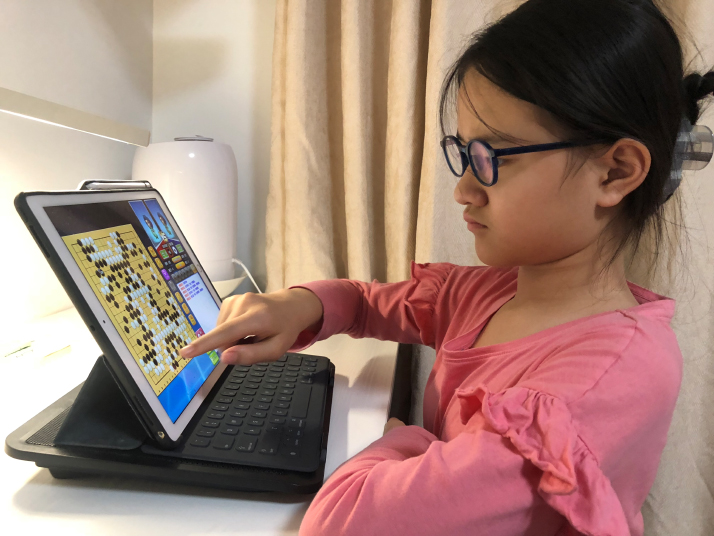 Xi Yunwei, a primary school student in Beijing, takes an online Go course at home on February 10 (COURTESY PHOTO)
Celebrity teacher
Pei Meng, a senior school English teacher, is adapting to the change. She has a new role as a live-streaming celebrity. Her classes are held on video-sharing platform Douyin. Students can tell her in advance what they want to learn to prepare for the spring semester and she prepares her live-streaming classes accordingly. Pei has an over 90 percent student attendance rate though the classes are not compulsory.
The online classes also teach about the epidemic and psychological health. Students interact by sending comments. Her classes fulfill a social function since the students have little interaction with non-family members due to voluntary quarantine.
To do well in the new format, Pei is exploring new strategies.
"I learnt some skills from Li Jiaqi so that the lessons are not boring," she said. Li is a Chinese vlogger who endorses beauty products through live-streaming. Pei also encourages students to attend the classes by giving rewards of snacks that can be claimed when school reopens.
Even so, how to keep students interested is still a challenge. "I can't see their expressions so I can't tell if they have understood what I am teaching," she said.
Pei called the 2020 Spring Festival a unique experience for students.
Education should be an inseparable part of the battle against the epidemic, she said. It can nurture healthy growth, social responsibility and thoughts of sustainable development in young minds.
On the go online
Social institutions are also going online under the supervision of local administrations. Xi Yunwei is learning to master Go, the board game invented in China over 2,500 years ago and known as weiqi in Chinese. Her coach is organizing sessions on a special app. Although Xi prefers to be coached in a classroom with her friends, the 10-year-old thinks this learning method is interesting.
Her parents are relieved since they were worried about his daughter catching the virus from an actual classroom with poor ventilation, with the virtual classes taking a load off his shoulders. The app courses are also flexible and can be attended at a convenient time and from any location.
In addition, parents can also participate, creating more interactions. To be evaluated, students need to upload videos, for which they are allowed to have technical assistance from family members. The involvement of parents can help children concentrate on their studies, her father told Beijing Review.
Long Baoxin, a professor at the Shaanxi Normal University in northwest China, told People's Daily that social institutions sharing free courses is a help in these times of self-quarantine, while it is also accelerating the digitalization of education.
Though the MOE has been mobilizing resources to carry out online education, it stated that it is unnecessary to require all teachers to record and broadcast courses. On February 11, the MOE called for careful selection of courses and teaching methods suitable for online learning, rather than blind imitation of classroom instruction.
It warned that online education cannot replace classroom education and asked schools to analyze and evaluate students' online learning results after the new semester starts and create followup teaching plans accordingly.
Students should be helped with making study plans at home, selecting learning resources reasonably and cultivating independent learning ability, the MOE said.
Chu Zhaohui, a researcher with the National Institute of Education Science, agreed that students should develop the ability to learn independently. It is a chance for students to come into their own, deciding what to study and making arrangements by themselves, he told Xinhua News Agency, in the process, their confidence and self-discipline will be strengthened.
"This is a more important part of children's growth than acquiring book knowledge," Chu said. "If they successfully realize their targets, they will have a stronger will and ability to overcome difficulties."
Home-based study is not equivalent to online study; rather it can be carried out in various forms, said Lu Yugang, an official with the MOE, on February 13.
Copyedited by Sudeshna Sarkar
Comments to liqing@bjreview.com