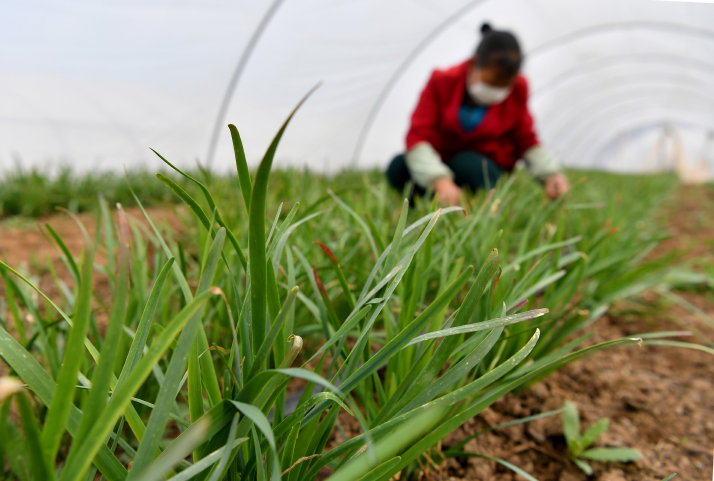 A farmer in Wangwan Village, Xi'an City in Shaanxi Province, northwest China, works in a vegetable greenhouse on February 26 (XINHUA)
Foping County in Shaanxi Province, northwest China, is an idyllic place tucked in the rolling Qinling Mountains and home to rare animals such as giant pandas, snub-nosed monkeys, antelopes and the crested ibis. Though free from the novel coronavirus, it has activated strict prevention measures since the outbreak including restricting unnecessary production activities.
But with the onset of spring and easing of the epidemic, Foping is reclaiming its vitality. Outside the edible fungus production base of a farmer cooperative in Xiaojiazhuang Village, pickup trucks carrying mushrooms and vans loaded with production supplies zip back and forth. At the base, two groups of workers are busy cultivating mushrooms.
The cooperative has taken the required measures for the prevention and control of the epidemic, including measuring workers' temperature and disinfecting machines and workplaces, according to Jiang Chonghua, the head of the village and the cooperative. He added that the employees work on different shifts and in different zones to reduce the chance of infection.
Mushroom growing is a major source of income for the village's 180 households. Xiaojiazhuang has established a complete industrial chain from cultivation, warehousing, packaging, transportation, marketing to waste treatment. Launched in 2018, the cooperative has helped poor households move out of poverty, Jiang said.
Eliminating poverty
The year 2020 is a landmark in Shaanxi's anti-poverty battle. On February 27, the provincial government announced that all of its impoverished counties had shaken off poverty.
"This is an important sign of a decisive victory in the battle against poverty in our province," said Wen Yinxue, head of the Shaanxi Provincial Poverty Alleviation and Development Office.
Shaanxi used to have a large poor population. As of 2012, 96 of its 107 urban districts and counties had a significant number of impoverished people and 56 were listed as poor counties by the Central Government. Due to intensified poverty alleviation efforts in recent years, the number of poor people in the province has plummeted from 5.92 million at the end of 2011 to 183,400 at the end of 2019, with the poverty headcount ratio down from 21.4 percent to 0.75 percent. Foping was taken off the list in 2018.
Speaking about Shaanxi's poverty alleviation achievements, Wen said impoverished people in the province now have adequate food and clothing and access to compulsory education, basic medical services, safe housing and safe drinking water.
In addition, rural infrastructure has also been significantly improved, and all villages have access to paved roads, clinics, electricity and broadband network services.
Wen said leading officials at various levels in the province have been given responsibility for poverty alleviation, with some 35,700 government employees stationed in villages to battle poverty. Currently, poverty alleviation achievements are an important criterion for evaluating the government's performance, he said.
Moreover, Shaanxi has implemented an industrial development initiative to offer at least one source of stable income to every poor household with members able to work, he said. The initiative aims to boost three main industries, namely the fruit industry, especially apple growing, animal husbandry represented by dairy goat raising, and greenhouse cultivation. It also encourages the production of a variety of other specialty products such as konjac, medicinal herbs, walnut and jujube. Many businesses have contributed to poverty alleviation by employing the poor, Wen said.
He said the province has taken diverse measures to generate jobs for impoverished persons, including setting up community-based workshops, creating public service jobs such as forest rangers, and exporting labor services to other regions.
The province has created a special fund for poverty alleviation, and partnered with Jiangsu Province in east China and some central government organizations and state-owned enterprises in the battle.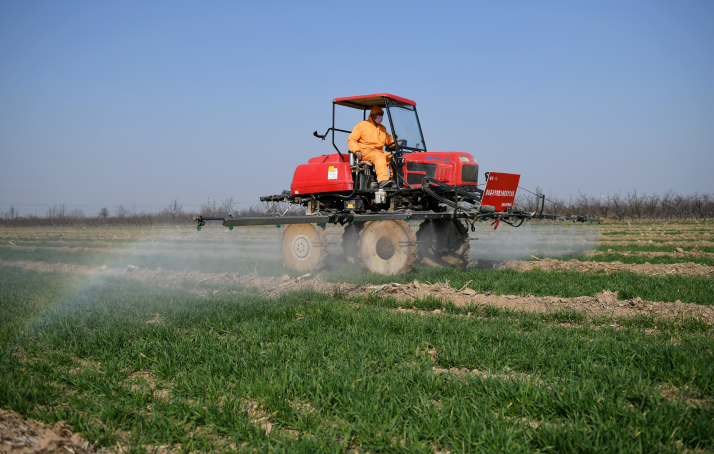 A farmer sprays herbicide in a wheat field in Pucheng County, Shaanxi Province on March 4 (XINHUA)
Unrelenting efforts
There are still many things to do to end poverty in Shaanxi, Wen said, adding that the novel coronavirus epidemic has made the task more difficult.
In addition to the remaining 183,400 impoverished people, those already out of poverty still need to be aided to prevent relapses. The province will continue to boost industries and generate jobs, and will intensify other efforts such as relocating the impoverished living in uninhabitable areas to places with better conditions.
On February 20, Shaanxi issued eight measures to cope with the impact of the epidemic on poverty alleviation. They include medical assistance to confirmed and suspected patients who are in financial difficulty, helping impoverished people find jobs and giving enterprises incentives to hire people living in poverty.
Shaanxi had reported 245 confirmed cases of novel coronavirus infection as of March 2, with 209 recovered patients discharged from hospital and one death. The authorities have downgraded the epidemic risk assessment to low for most of its urban districts and counties and medium for only a few.
"Amid efforts to contain the spread of the virus, we are pushing for the resumption of production to complete the poverty alleviation tasks for this year," Wang Taiping, an official of Lujiaba Village in Hanzhong, said on February 24.
While some villagers start preparations for spring farming, others are planning to return to their jobs in other places as migrant workers. The villagers' committee will help them get permits from epidemic control agencies to travel to these places, according to Wang.
There are more than 6 million migrant workers from Shaanxi working in other regions across the country, according to Xinhua News Agency. As the epidemic situation eases, some local governments in the province are helping migrant workers get back to work.
On February 24, three charter planes transported 540 migrant workers from Hanzhong to Nantong in Jiangsu and Yiwu, a consumer goods hub in Zhejiang Province in east China. The government of Luonan County in Shangluo arranged special trains to send 2,200 migrant workers to work in economically developed areas.
Currently, some migrant workers cannot return to their previous jobs in Hubei, the province hardest hit by the epidemic. Shaanxi said it would assign work on epidemic prevention and control to those who cannot find new jobs. People who want to start up their own business will be given free training and discounted loans.
The province will also provide subsidies to poverty alleviation projects which are having difficulty in selling their products. The government is encouraging logistics enterprises, farmer cooperatives and e-commerce platforms to launch marketing campaigns for agricultural products from impoverished areas.
______
Poverty Alleviation Progress
The latest statistics from the Poverty Alleviation Office of the State Council show that by the end of February, all impoverished counties in Hebei, Shanxi, Heilongjiang, Henan, Hunan, Hainan and Shaanxi provinces, Chongqing Municipality and Tibet Autonomous Region had shaken off poverty.
The office stressed that although these areas no longer remain on the national list of poor counties, they still have some impoverished people, so the poverty alleviation efforts need to be continued.
(Source: People's Daily)
Copyedited by Madhusudan Chaubey
Comments to wanghairong@bjreview.com