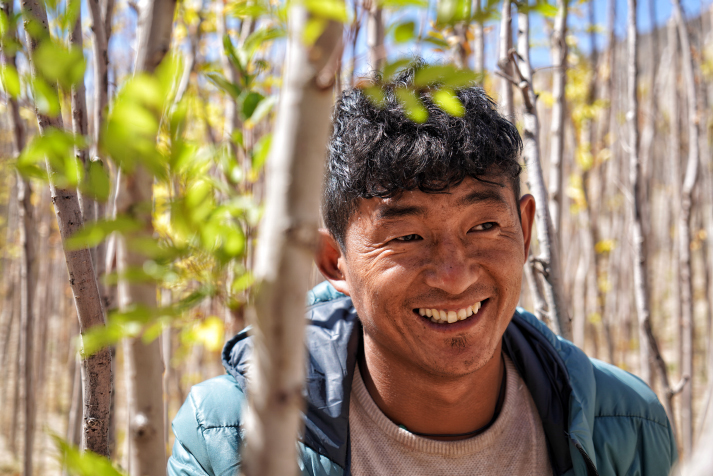 Tashi Palden, President of Axinglang Seedling Nursery in Shannan, Tibet Autonomous Region in southwest China, in his nursery on October 16, 2019 (CHOGYAL)
It's March and the temperature is rising in Shannan, Tibet Autonomous Region in southwest China. It's time for planting trees. Farmers are busy leveling their fields, mulching, digging holes and planting saplings. Tashi Palden and his men are among them.
The 27-year-old is president of Axinglang Seedling Nursery in Gonggar County, Shannan, a city 151 km to the southeast of the regional capital Lhasa. Tashi Palden comes from a village in Gyixong Township, which is on the bank of the middle reach of the Yarlung Zangbo River, the longest river in Tibet. Every winter, the river dries up with parts of the riverbed exposed. The sand on the dry riverbed and elsewhere on the land is tossed around by the strong winter wind, creating frequent sandstorms. In the past, the roads connecting Shannan and Lhasa were often buried by sand.
"I don't want to see the crops, the fruit of my parents' hard work, ruined by sandstorms, or the worried faces of the villagers. Only by fixing the sand can we enjoy a calm life in my village," Tashi Palden told Beijing Review.
Staying the sand
So he began to rent desert land from villagers and established a seedling nursery three years ago. His plan was to plant saplings in the village which would moor the sand to the ground with their roots. It was not an easy job. He used all his savings and in addition had to take a loan of 150,000 yuan ($22,053) from a local agriculture bank. It came at a low interest, thanks to the preferential policies of the county government. Then he began to grow trees such as willows and alamos, but in the beginning, over half of the saplings died.
Still Tashi Palden soldiered on. He underwent training in other nurseries to learn how to increase the saplings' survival rate and invited experts to teach his employees. In 2018, 90 percent of the saplings survived and 5,000 of them were sold. In the following year, he enlarged the nursery with more investment.
Besides greening the village and stabilizing the sand, the nursery creates jobs for villagers. From 2017 to 2019, he hired 45 villagers, 60 percent of whom came from impoverished families.
Tasang is one of the employees. "I have been working in the nursery since it was established. The job enables me to make money near my home and take care of old and young family members," she said.
The business has also been a personal therapy for Tashi Palden. As a teen, he was hit by a tractor, which damaged his hearing. The accident disrupted his school education and left him depressed about his future. But his parents supported him to come out of the depression and do something to earn his own living.
Emboldened by the success of his initiative, his plan now is to keep enlarging the nursery, plant more saplings and make "the villagers' purses deeper."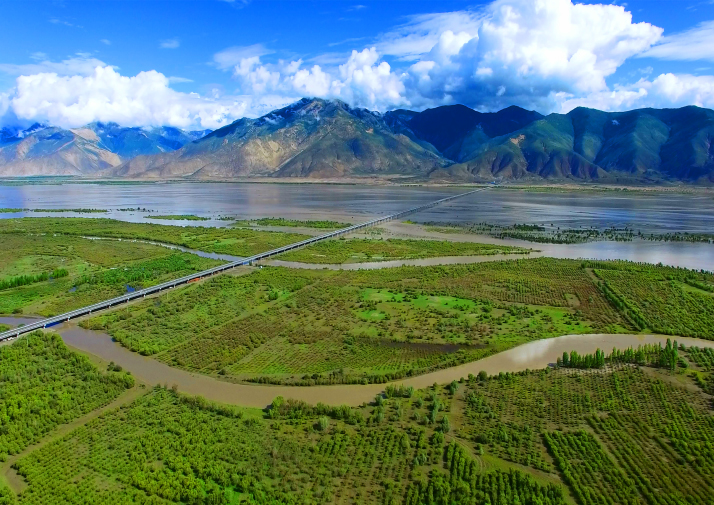 An aerial photo of the green belt of forest along the middle reach of the Yarlung Zangbo River in Shannan, Tibet Autonomous Region, in July 2018 (COURTESY PHOTO)
The green initiative
In the 1980s, the Central Government allocated funds to green the banks of the middle reaches of the Yarlung Zangbo. In 1983, the Tibet Regional Government set up an environmental protection department. That year, the first forest was grown in Shannan to fight sandstorms. In the following decades, more than 45 million trees had been planted along the river in the city, forming a green belt 160 km long and 1,800 m wide by mid-2019. An additional 4,400 hectares of forests are expected to be created in Shannan this year.
The efforts have paid off. The roads linking Shannan and Lhasa are not buried by sand any longer. And the air quality in Shannan and nearby cities has improved. In 2018, 96 percent of the days in downtown Shannan had excellent or good air quality. In Lhasa, the figure was 99.7 percent in the first 11 months of 2019. "When I was young, our courtyard and living room would often be covered with layers of white sand brought in by the strong winds in winter. But in recent years, we are seeing fewer sandstorms and my house is much cleaner," Tashi Palden told Beijing Review.
Significant progress has been made in Tibet's eco-safety barrier project, which includes afforestation in the valleys of the region's six major rivers, including the Yarlung Zangbo. Tibet had 16.02 million hectares of forests, with a forest coverage ratio of 12.14 percent and a growing forest stock of 2.28 billion cubic meters, according to a white paper released by the State Council, China's cabinet, in March 2019.
A new market
The greening project is pushing up the demand for saplings and bringing business opportunities for locals. More nurseries are springing up in Shannan. The city today is home to more than 50 nurseries and many experienced sapling growers.
As Tashi Palden puts it, "Planting saplings can turn a wasteland into a land of milk and honey, which both protects the environment and creates jobs for impoverished local residents who can't go to distant places to look for jobs. So why not do it? "
Protecting the environment has been an effective way for locals to shake off poverty. Since 2001, the Central Government has paid 31.6 billion yuan ($4.5 billion) in eco-compensation to the autonomous region for protecting its forests, grassland, wetland and key ecological reserves, according to the white paper.
Latest data from Tibet's Office of Poverty Alleviation and Development (OPAD) shows that from 2016 to 2019, more than 655,000 jobs related to environment protection were created in the region, with 39.7 percent of them going to impoverished Tibetans. Residents set up 53 seedling nurseries, which employed 1,590 locals, helping them get rid of poverty.
"Offering ecological conservation-related jobs to poor people with the ability to work can not only protect the environment, but also ensure they increase their income and get rid of poverty in a stable way," OPAD's 2019 work report says.
It also says 150,000 people in Tibet cast off poverty in 2019 and around 19 counties were removed from the poverty list. Between 2016 and 2019, 628,000 poverty-stricken Tibetans and 74 counties in the region stepped out of poverty.
This year, 13.09 billion yuan ($1.87 billion) has been earmarked for follow-up support and to prevent Tibetans who have risen out of poverty from slipping back into it.
(Chogyal contributed to this report)
Copyedited by Sudeshna Sarkar
Comments to linan@bjreview.com