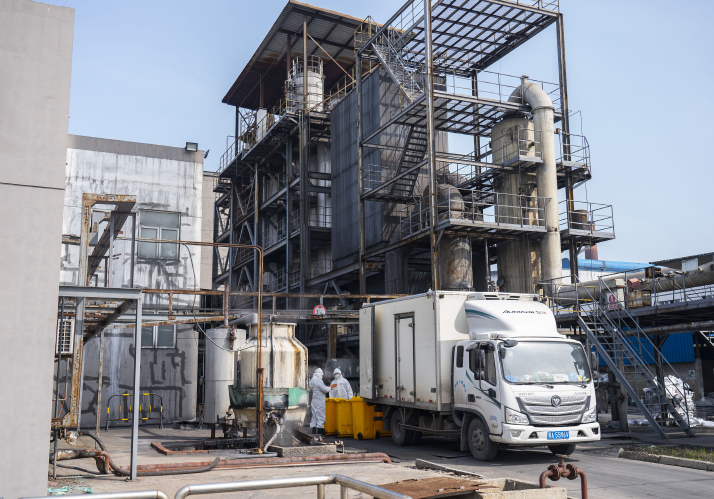 On March 4, workers handle medical waste at Wuhan Beihu Yunfeng Environmental Protection Technology Co. Ltd., which was converted from handling industrial hazardous waste to medical waste after the coronavirus outbreak in Wuhan in Hubei Province (XINHUA)
As hospitals at the forefront of the fight against the novel coronavirus disease (COVID-19) were on high alert for infection risks and the treatment of patients, another source of infection was also getting special attention: medical waste.
Like medical workers, waste handlers were also armed to the teeth with protective suits, goggles, face masks and gloves. Mostly volunteers from other parts of China, they worked around the clock and managed to dispose of medical waste amounting to five times the regular medical waste processing capacity of the city.
A hard start
Before the outbreak of COVID-19 in Wuhan, capital of Hubei Province in central China, the city had only one medical waste processing plant with daily processing capacity of about 50 tons, which met the city's basic demand.
However, it was far from enough after the sudden increase of patients after the outbreak. "We had only 24 vehicles transporting the waste," Yang Fan, head of the plant, told People's Daily. "Our drivers were all incredibly busy in the early stage of the outbreak."
Li Haijian, a 50-year-old entrepreneur from Shenzhen, Guangdong Province in south China, was among the first batch of volunteers to arrive in Wuhan for medical waste disposal.
Li's company in Shenzhen develops energy conservation products. Before making the trek to Wuhan, he contacted the company in charge of the construction of the Leishenshan Hospital, an emergency specialty hospital for treating COVID-19 patients, offering his design for the hospital's medical waste disposal center.
On January 29, six days after Wuhan was locked down, Li arrived at the site to work on the project. Construction moved quickly. On February 8, the medical waste incineration center was put into trial operation. All waste had to go into a temporary storage room for sterilization with infrared rays and disinfectants before it was sent to the disposal center. Then waste handlers had to follow very strict protection rules.
Li set up a temporary team in charge of operation. In total, 35 volunteers joined the team throughout the whole operation process. The team initially thought they could dispose of six to seven bins of medical waste per hour, with each bucket weighing about 40 kg. But the protective suits in the waste were hard to fold and ended up taking more time to be put in the furnaces. They also needed to be stirred while being burnt to ensure thorough disposal.
With the waste piling up, they renovated the furnaces three times, upgrading the capacity from 200 bins to over 800. To keep waste disposal going 24 hours a day, they worked in shifts around the clock.
"Some volunteers could hardly manage to wear the protective suits for more than two hours in the beginning," Li said. "But no one gave up. We finally got used to it and could work for up to 12 hours."
To ease the mounting stress posed by the rocketing volume of medical waste, Li searched online, posting a request for nearby medical waste disposal facilities, and found a company in neighboring Hunan Province that agreed to donate its facilities to Wuhan.
On January 28, the Ministry of Ecology and Environment (MEE) published a guideline laying out measures that included building centralized disposal plants, deploying mobile stations for medical waste incineration and providing onsite incineration equipment for temporary hospitals to close the gap in processing capacity.
On February 5, MEE released a plan to construct an emergency medical waste disposal center occupying 2.3 hectares in Wuhan. "We developed the design in 10 hours," said Lei Ming, a manager from the China Energy Conservation and Environmental Protection Group, which executed the project. From design to completion of construction, it took only 14 days. "Normally, for a project of this scale, we need at least half a year," Li said. The project added 30 tons of daily medical waste disposal capacity.
In addition, MEE dispatched 140 medical waste disposal professionals from 13 provinces to Wuhan and deployed 39 mobile disposal facilities, which increased the daily processing capacity by nearly 80 tons.
Some regular waste disposal plants were also temporarily renovated for medical waste disposal. Moreover, the local ecology and environment bureau put 71 containers at designated and makeshift hospitals as well as quarantine areas for temporary waste storage.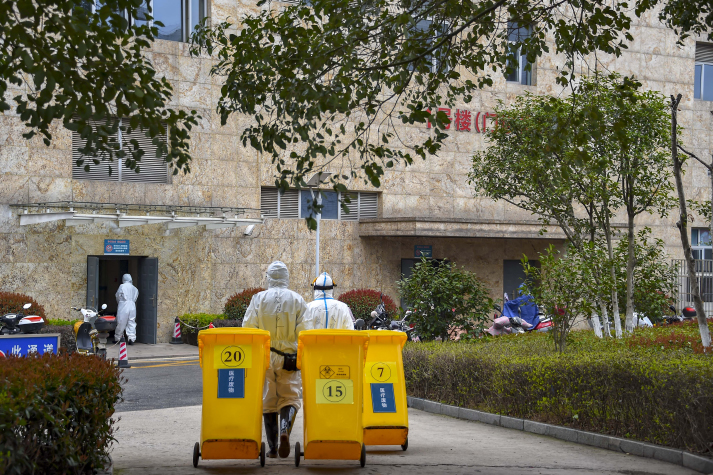 (Top) Workers handle medical waste at Wuhan Beihu Yunfeng Environmental Protection Technology Co., which was converted from handling industrial hazardous waste to medical waste after the coronavirus outbreak in Wuhan, Hubei Province, on March 4 At the Central Hospital in Xiaogan, a city in Hubei, cleaning staff enter a ward to collect medical waste on March 2 (XINHUA)
The final victory
On February 22, Wuhan set up a medical waste disposal coordination center to collect information and make arrangements for transporting and disposing of waste. As the number of infections surged, by February 25, the volume of medical waste waiting to be disposed of had climbed to 192 tons.
Wuhan intensified waste disposal efforts. The Wuhan fire and rescue team assisted 45 medical units in transporting medical waste. Neighboring cities including Xiangyang, Huangshi and Xianning also offered help.
With support from various sources, the number of medical waste transporting vehicles increased from 24 to over 100 and the number of drivers increased from 29 to about 130. The number of trash cans increased from 4,000 to over 20,000.
By March 2, all the medical waste in storage in Wuhan had been disposed of. Since then, all medical waste is disposed of within 24 hours. The daily medical waste processing capacity in Wuhan ultimately surpassed 260 tons.
In addition, through an app designed to monitor medical waste disposal launched by Hubei in early February, sewage discharge from key hospitals is also strictly monitored.
Zhao Qunying, an MEE official, explained that an online monitoring system was set up at Huoshenshan and Leishenshan, two temporary hospitals constructed after the epidemic outbreak, from their inception to make sure the waste disposal meets environment standards. He said gases released from incineration plants are monitored to ensure that no toxic substances are released into the air.
During the epidemic, the medical waste disposal capacity in many other places of China has also increased. Figures released by MEE on March 23 showed that as of March 21, China's overall medical waste disposal capacity had increased by 23 percent, from 4,902.8 tons per day before the outbreak to 6,066.8 tons afterward. Hubei's disposal capacity soared from 180 tons per day before the outbreak to 667.4 tons afterward.
Information from MEE also showed that environmental authorities carried out 21,399 surveys on the country's drinking water sources and did not find any impact from the epidemic.
"We should learn some lessons from this epidemic," said Qiu Qiwen, Director of the Department of Solid Wastes and Chemicals at MEE. "We should set up some waste disposal plants which have the capacity to process medical waste in case of emergencies."
Li completed his work at Leishenshan on April 14. He said he saw room for improvement after working in Wuhan for over 70 days: "We should set up a national information platform on medical waste disposal and monitor the whole process so that every bag of waste can be tracked."
(Original Title: Bringing Up The Rear)
Copyedited by Rebeca Toledo
Comments to yuanyuan@bjreview.com