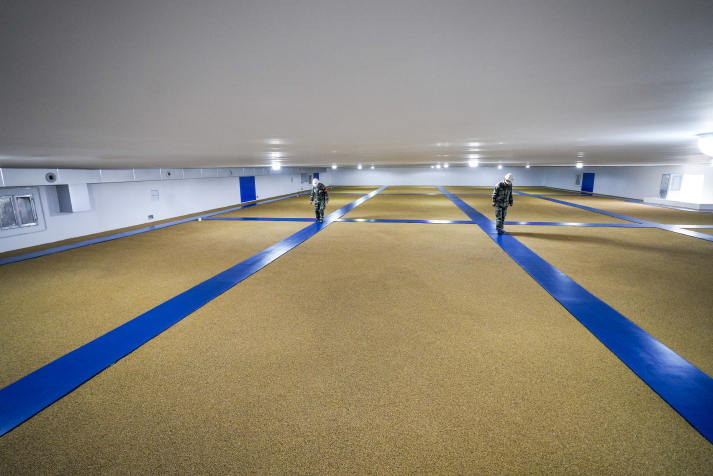 Two men inspect a granary at a grain corporation in Chongqing, southwest China, on April 3
According to a report released by the Food and Agriculture Organization of the United Nations on March 29, the protracted novel coronavirus pandemic could put a strain on food supply chains and threaten the food security of some countries and regions.
Panic behavior has been noticed among some domestic consumers. Worried about an increase in grain prices, they have begun stockpiling food and other daily necessities.
However, thanks to 16 consecutive years of bountiful harvests, China has abundant grain reserves to ensure grain safety and tide over a possible global food crisis, according to Wang Liaowei, a senior economist at the China National Grain and Oils Information Center.
Wang told China Economic Net that during the global food crisis in 2008, shortages hit over 30 countries. However, despite grain prices experiencing fluctuations on the international market this time, the Chinese market has remained stable, showing the capability to cope with problems.
But a sufficient supply does not mean that people can continue to waste food, a widespread problem in China. According to a report by China Agricultural University, from 2007 to 2008, 8 million tons of proteins in food were wasted in China, equivalent to the annual needs of 260 million people.
Many activities are being organized to strengthen awareness of conserving food, like the Clean Plate campaign, which teaches not to waste any food put on the dining table. The individual dining system instead of group dining promoted during the epidemic is also playing a positive role in preventing food wastage. It means ordering food according to individual demand and is a practice that should be retained.
Both the catering industry and consumers should work together to change the lifestyle of excessive consumption, which results in leftovers that go to waste. Local governments can implement a mechanism for rewarding people who take away leftovers to consume them later. It will help cultivate the good habit of utilizing all food.
(This is an edited excerpt of an article originally published in Beijing Youth Daily on April 10)