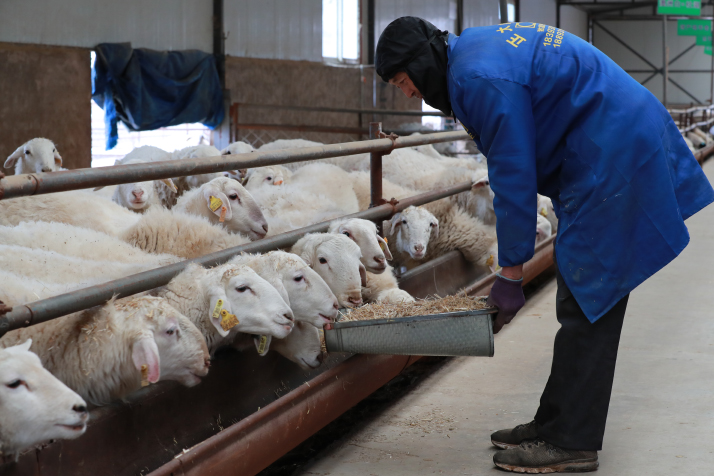 A worker feeds sheep at a herding company in Guanghe County in Linxia Hui Autonomous Prefecture, Gansu Province in northwest China, on January 18 (XINHUA)
In Guanghe, a county in Linxia Hui Autonomous Prefecture in Gansu Province in northwest China, piles of silage—what local people call the bread for cattle and sheep—are scattered in the fields. The silage is made by smashing and mixing corn and cornstalks that have been preserved through acidification and fermentation.
Ma Jinfu, director of the agriculture and rural affairs bureau of Guanghe, told Gansu Daily that the fodder is a precious asset to the local people for them to make a decent living. Linxia started to turn corn into fodder in 2015 and worked out a new poverty alleviation path by developing agriculture and husbandry together.
Repurposing corn
Two thirds of the farmland in Linxia is in arid and semi-arid areas, and corn is one of the few crops that can grow there.
Since 2005, the prefecture has promoted new dry land farming technology to increase corn output. Subsequently, the planting area of corn in the prefecture increased from 267 to 913 square km, accounting for 69.2 percent of all grain acreage.
The increased production improved farmers' income, but in recent years, as the supply of corn surpassed demand, the profit margin of growing corn shrunk.
Ma Zhongming, a Guanghe villager, told Gansu Daily that he made very little money growing corn after deducting the costs of seeds, fertilizers and labor.
Thus, when Linxia began promoting silage technology to increase farmers' income in 2015, Ma started to grow silage corn and sell it to a herding company in 2017 and his income has since doubled.
In Linxia many farmers sell their silage corn to herding companies, while some also raise cattle and sheep themselves. "By using fodder made from our own corn, we can save the cost of raising a cow by over 1,000 yuan ($141)," Ma explained.
In addition, Linxia has strengthened policy, funding and technology support for farmers to grow corn for fodder. The government now provides subsidies for seeds and fertilizers for impoverished farmers who grow corn for fodder. It also set up stations to help farmers process silage for free, which greatly stimulated farmers' enthusiasm to produce fodder using corn and cornstalks.
Zong Yuliang, head of the Linxia agriculture and rural affairs bureau, told Gansu Daily that turning corn into fodder has extended the agricultural industrial chain and is effective for developing circular agriculture. "As many farmers grow corn for fodder, the fodder resources have become abundant, providing a good foundation for developing husbandry to fight poverty," he said.
Turning cornstalks into fodder has also reduced pollution and improved the environment. "In the past, people burned cornstalks for cooking or for heating. Now the stalks are used for making fodder," Ma said.
Agricultural companies and rural cooperatives are also encouraged to purchase material from farmers to produce and sell silage. A complete industrial chain of fodder production, processing and sales has taken shape and the silage is sold to other provinces and regions as well, including Tibet Autonomous Region in southwest China and Inner Mongolia Autonomous Region in north China.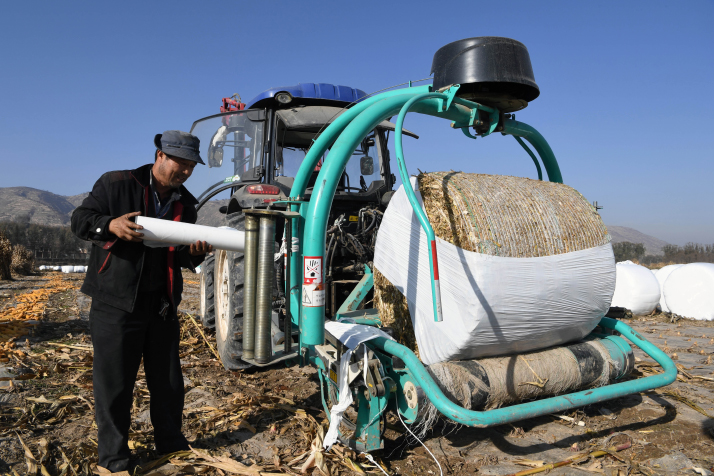 A worker from the agricultural machinery service center of the agriculture and rural affairs bureau of Guanghe County in Linxia Hui Autonomous Prefecture, Gansu Province in northwest China, operates a cornstalk packaging machine on November 15, 2019 (XINHUA)
Developing industries
Located in the upper reaches of the Yellow River, Linxia has 31 ethnic groups. It is one of the three extremely impoverished prefectures in China due to a lack of natural resources, and a weak infrastructure and industrial foundation. Notwithstanding, the prefecture has made remarkable progress in poverty alleviation in recent years.
Its impoverished population decreased from 563,200 at the end of 2013 to 32,500 at the end of 2019, while its incidence of poverty fell from 32.5 percent in 2013 to 1.78 percent in 2019. There are 583 villages and six counties in Linxia that have shaken off poverty.
However, 32,500 people and two counties remain impoverished in the prefecture. Thus, Linxia has taken multiple other measures to fulfill the task of eradicating poverty by 2020, such as introducing labor intensive industries and establish poverty alleviation workshops.
At 6 p.m. every day, 55-year-old Zhang Xiufang, an impoverished villager in Linxia takes home several pairs of unfinished cloth shoes from the poverty alleviation workshop where she works to continue sewing them from home in the evening.
Two years ago, Zhang was relocated from her mountain home to a township with better infrastructure and convenient transportation. On learning that the shoe workshop was recruiting workers, she applied and got the job. "I can make at least 50 yuan ($7) every day and since my family also raises cattle, I believe we can rise out of poverty this year," Zhang said.
There are a total of 264 poverty alleviation workshops in the autonomous prefecture, which have created 10,700 jobs and have helped over 4,000 households rise out of poverty. The average monthly income provided by the workshops is about 2,000 yuan ($282).
"We have worked out customized poverty alleviation plans for impoverished people to ensure every household has at least two stable sources of income so that the remaining impoverished population can get out of poverty on time," said Zhang Zhuo, head of the prefectural poverty alleviation office.
Moreover, Linxia has developed tourism into one of its pillar industries. The prefecture has abundant tourism resources, including both beautiful natural scenic spots such as the Lianhua Mountain and the Dadun Gorge and cultural heritage sites such as the Bingling Temple Grottoes, which was listed as a UNESCO World Heritage in 2014. In recent years, Linxia has created a number of new expos and festivals such as a pear festival to attract more tourists. Distinctive local food such as hand-grabbed mutton is also a main draw for many tourists.
Guo Heli, Secretary of the prefectural Communist Party of China committee, said the prefecture is working to improve its popularity as a tourist destination, accelerate infrastructure construction, develop cultural creative products and promote smart tourism.
The prefecture is also eyeing emerging and hi-tech industries such as logistics and the digital economy for driving its growth.
A bigger final push
This year is the final one for China to eradicate absolute poverty. The number of impoverished counties fell from 832 at the end of 2012 to 52 at the end of February.
As the fight against poverty enters its final stage, relevant government departments are paying special attention to deeply impoverished areas and guiding poverty alleviation in the 52 counties and 1,113 villages that are still in poverty.
"Impoverished counties should promote the development of industries for poverty alleviation based on their own resources and market demands. They should continue to strengthen special and leading industries, and accelerate the development of special planting and herding and rural tourism," said Han Changfu, Minister of Agriculture and Rural Affairs.
Gansu Province has stepped up supervision over its eight counties that are still impoverished, requiring the release of monthly updates on their progress in poverty alleviation. Linxia County in Linxia prefecture is still poor. In this February, the county waged a 100-day decisive battle against poverty. It has taken measures such as providing discount loans for impoverished households to develop specialty industries and sending cadres to poor households to help them fight against poverty.
(Print Edition Title: Turning Poverty Around)
Copyedited by Rebeca Toledo
Comments to jijing@bjreview.com