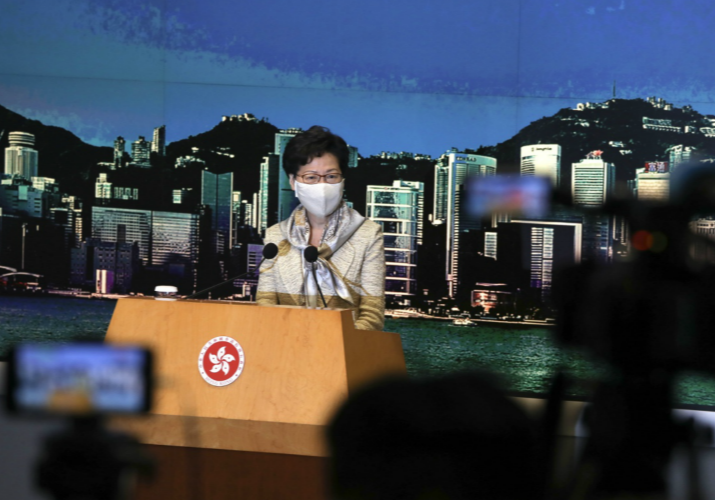 Hong Kong Chief Executive Carrie Lam Cheng Yuet-ngor speaks at a news conference at HKSAR Government Headquarters in the Hong Kong Special Administrative Region on July 1 (CHINA DAILY)
The Foreign Ministry warned Washington on July 1 of countermeasures against U.S. sanctions to protect China's national interests.
Foreign Ministry spokesman Zhao Lijian said China's resolve to advance the legislation for the Hong Kong Special Administrative Region won't be deterred by sanctions.
The United States began eliminating Hong Kong's special trade status under the U.S. law, halting defense exports and restricting the city's access to high technology products.
The national security legislation is purely a domestic issue for China, in which no other country has a right to interfere, Zhao said, adding that the Central Government is firmly determined to safeguard China's sovereignty, security and development.
Also on July 1, Hong Kong Chief Executive Carrie Lam Cheng Yuet-ngor said the SAR won't be intimidated by U.S. sanctions.
She said the SAR would cooperate with any countermeasures deemed necessary by the Central Government.
Lam said the effects of the U.S. sanctions, though still under evaluation, would be few because alternatives can be found for targeted technologies.
The city has little manufacturing, but that doesn't mean that Hong Kong can't buy such items. The sanctions only make purchases more inconvenient, she added.
She also stressed that the U.S. has had a trade surplus as high as $30 billion every year with Hong Kong, the highest among its trade partners.
Lam's remarks were supported by leading local business figures, a local scientist and a U.S. financial consultant who once lived in Hong Kong.
Louis Chan, assistant principal economist on the Global Research Team of the Hong Kong Trade Development Council, said the sanctions will have a limited impact on the city as they do not affect products like daily necessities that it imports.
Chan said only 1 percent of the products imported from the U.S. required export licenses last year and only part of them were exempted from export licenses under the special trade status arrangement. Thus, any sanctions imposed would impact only 1 percent of the products, he said.
According to Raymond Young Lap-moon, CEO of the Chinese Manufacturers' Association of Hong Kong, the city's businesses have prepared for sanctions. No member of the association has complained about the prospect of sanctions, he added.
Wong Kam-fai, Associate Dean of the Faculty of Engineering at the Chinese University of Hong Kong, said sanctions are expected to have little impact on the city's scientific cooperation with the U.S. as the two sides have established mutual trust based on many years of collaboration.
Cyrus Janssen, a U.S. financial consultant who lived in Hong Kong from 2014 to 2017, said the sanctions would also hurt U.S. companies in Hong Kong and at home.
"Ironically, these are who the U.S. claims they want to protect," he said.
Janssen said the U.S. should accept the fact that it is in no position to determine Hong Kong's high degree of autonomy as Hong Kong belongs to China.
He said the U.S. should stop playing a zero-sum game, respect China's internal affairs and concentrate more on its own domestic problems.
Bernard Chan Pak-li, undersecretary for commerce and economic development of Hong Kong, said U.S. enterprises in Hong Kong will bear the brunt of U.S. restrictions.
More than 1,300 U.S. companies have business operations in Hong Kong, according to the U.S. State Department.
Chan warned that any sanctions aimed at Hong Kong's financial system will backfire, hurting global investors using U.S. dollars for transactions or holding U.S. assets, as the city is the world's third-largest foreign exchange center for the U.S. dollar.