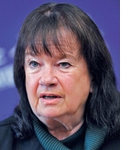 Everybody who has traveled to China, as I have done many times, must agree that the specific version of socialism that guides the Communist Party of China (CPC)—socialism with Chinese characteristics, as it is known—has transformed China in an incredible way from a country torn by imperial aggression, war and poverty into an enormous success story. The Chinese economic model, especially of the last 30 years, is without precedent in uplifting millions of people from desperate poverty. Based on this record, there is good reason for feeling optimistic that the CPC's declared goal of lifting the remaining population out of poverty, especially in China's rural and inner regions, will be reached by the year 2020.
Germany is famous for having achieved an economic miracle, albeit under different circumstances: namely, the very rapid reconstruction of the country following the end of World War II, when Germany was rebuilt from rubble into an economic powerhouse. The reconstruction's early phase of economic development was based on principles very similar to those that underpin the Chinese economic miracle, a fact which is not unrelated to the current status of German economist Friedrich List as one of the most popular economic theoreticians in China.
But, the right economic theory is just one aspect of the Chinese economic model's success. Equally important, if not much more so, is the subjective, moral ideal upheld as the standard for Party members and officials. In various speeches, President Xi Jinping has set this standard very high, demanding that all Party members and officials continuously acquire new knowledge by engaging in lifelong study to keep up with the rapid changes in the world. He actually requires leading officials to improve themselves, in the broadest sense of personal development, in economics, politics, history, culture—particularly, traditional Chinese culture—science and technology as well as social, military and foreign policy issues in order to develop wisdom and become more refined. He puts special emphasis on poetry because it "stimulates us, sends our dreams skyward and makes us witty."
Clearly, these demands reflect the Confucian ideals of lifelong self-perfection and political leadership being in the hands of junzi, wise and noble individuals. This image of society corresponds very well to the best traditions of European humanism, such as the ideas of German philosophers Gottfried Wilhelm Leibniz and Wilhelm von Humboldt and the most-beloved German poet Friedrich Schiller.
Humboldt's ideals on development of beautiful character through the harmonious development of all the potential within each person is essentially the same lofty concept of personality that Xi upholds for Party members. The method for accomplishing this also corresponds closely to the principle of the aesthetic education of man, developed by Schiller, which shows how people can educate their emotions through great classical culture to become beautiful souls.
The problem in Europe is not a lack of such noble ideas in culture and tradition, but rather that today's "Western liberal values" have turned away completely from the lofty ideals of classical humanist culture, replacing them with an ideology of "everything goes, everything is allowed" and the mentality that every opinion is as good as any other. Even the very idea that there is a knowable truth is rejected in favor of a liberal coexistence of all contradicting ideas. Naturally, the end result of this process of complete liberalization and deconstruction is the horrible decadence we see today in much of Western popular culture.
Therefore, the CPC's refusal to bow to "Western values," such as "democracy" (which is not doing so well in Europe and the United States these days) or the multitude of strange lifestyles exercised in the transatlantic world, is not only wise, it is a question of self-preservation.
Interestingly, Leibniz, who became greatly fascinated with China and its language and philosophy, wrote at the end of the 17th century, "In light of the growing moral decay, it seems to me almost necessary to send to us Chinese missionaries to teach us the application and praxis of a natural philosophy. I believe, therefore, that if a wise man were chosen to judge not the beauty of goddesses, but the excellence of peoples, he would give the golden apple to the Chinese."
Today, more urgently than during Leibniz's time, the peoples of Europe and the United States need to develop a truthful picture of Chinese ideals and intentions, especially concerning Chinese statecraft, which so clearly place the concept of the common good above egoism. Such a lofty goal used to be known in Western civilization but has now been all but forgotten.
The author is founder and president of the Schiller Institute headquartered in the United States and Germany
Copyedited by Chris Surtees
Comments to yanwei@bjreview.com