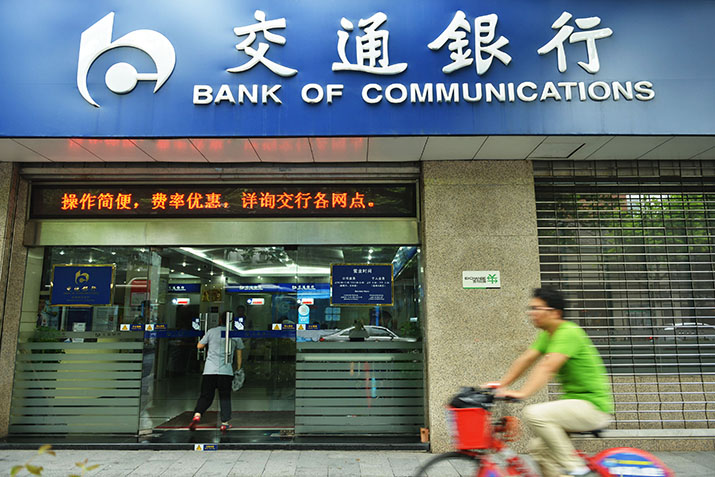 A Bank of Communications' branch in Hangzhou, Zhejiang Province. The state-owned bank announced in June 2015 it would introduce private investors as part of its reform program (XINHUA)
A guideline on better protection of property rights was jointly issued by the Central Committee of the Communist Party of China (CPC) and the State Council in late November 2016. As the first state-level document regarding the issue, it particularly emphasizes equal protection of all kinds of property rights in accordance with the law. Hopefully, it will serve to fuel the ongoing mixed ownership reform of state-owned enterprises (SOEs).
The new property rights protection rules have come at the right time, as pilot programs for mixed ownership reform of SOEs are reportedly to be issued by the central authorities soon.
During the previous round of SOE reforms, some enterprises successfully diversified their ownership structure. However, the government didn't do enough to protect property rights, resulting in some prominent problems. First, it failed to give enough autonomy to enterprises and to tackle monopolies in some sectors. Second, while relaxing regulation extremely on issues such as asset evaluation and public transfer of property rights, it failed to ensure private investors enjoy equal rights in managing enterprises as public shareholders. Therefore in the new round of SOE reforms, the government must fulfill its responsibility to protect property rights properly.
Mixed ownership actually refers to partnership between capitals of different types of ownership. Regardless of the varying types, this cooperation must be mutually beneficial. The foundation for mutual benefit is based on the sound protection of property rights.
We can expect more supporting measures to be formulated following the new guideline. This will naturally break down various restrictions and establish a stricter and more clear-cut system for property right protection in order to ensure that enterprises of all types of ownership are safeguarded without discrimination during the reform process.
We must also note that property right protection is prone to manipulation. For instance, if asset evaluation agencies lose independence, there might be significant errors in their conclusions. Also, if a seller sets irrational restrictions on buyers in the hope of facilitating a related-party transaction, or if non-public investors are banned from allocating many resources after participation, the efficiency of SOE reforms would be negatively affected.
The most important prerequisite for successful SOE reforms—especially the efforts to diversify their ownership structure—is to provide equal protection to the property rights of public and private investors in accordance with the recent guideline. Therefore, the investors will participate in decision-making, share profits and assume responsibilities corresponding to their rights.
First, the government must establish a stringent scheme on property right protection and restriction and provide equal protection without discrimination.
Second, related schemes must be implemented in an orderly and transparent way to avoid under-the-counter deals. Public shareholders should not infringe upon the rights and interests of private investors, and vice versa.
Third, the government should enhance their supervision of property right protection. Whoever damages or infringes upon the rights and interests of other shareholders must be rectified and punished.
Lastly, enterprises as well as the government must respect and protect contracts and give full play to the role of contracts in improving the market economy system, building a social credit system and protecting property rights.
The author is an economic commentator, and the article is published in Economic Information Daily
Copyedited by Bryan Michael Galvan
Comments to zhouxiaoyan@bjreview.com