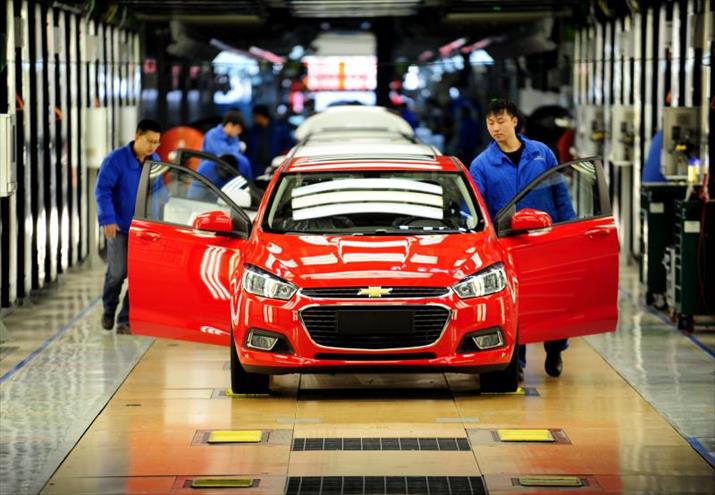 A workshop of SAIC-GM (Shenyang) Norsom Motors, a joint venture between SAIC Motor and GM (China) Investment, in Shenyang, capital of Liaoning Province (XINHUA)
Since China started reform and opening up in the late 1970s, its trade exchanges with the U.S. have become increasingly frequent. As the two largest economies in the world, their bilateral trade not only benefits their own peoples but also serves as the momentum driving the world's economic growth.
President Xi Jinping and his U.S. counterpart Donald Trump agreed to expand mutually beneficial cooperation and manage differences on the basis of mutual respect during Xi's trip to Palm Beach, Florida, on April 6-7.
Xi said cooperation is the only right choice for China and the U.S., while Trump said the U.S. stands ready to work with China to eliminate issues that stand in the way of their relations.
According to China's Foreign Minister Wang Yi, China and the U.S. agreed to facilitate the healthy development of two-way trade and investment, advance negotiations on a bilateral investment treaty, and promote pragmatic cooperation in infrastructure and other areas.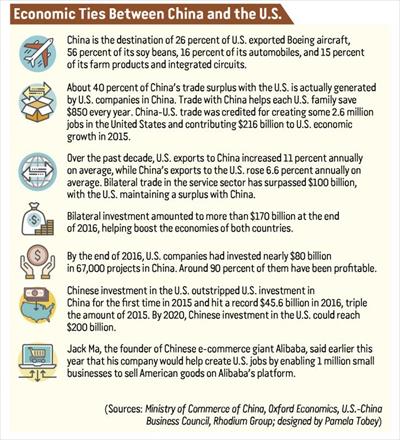 Trade friction causes
The slow recovery of the U.S. economy and the strong U.S. dollar will increase the possibility of trade frictions between China and the U.S. There is an evident negative correlation between the U.S. GDP growth rate and the number of anti-dumping measures the U.S. has launched against China.
Every 1-percentage-point drop in the U.S. GDP growth rate leads to a 0.15-percent increase in the number of U.S. anti-dumping cases against China. A correlation can also be found between the exchange rate fluctuation of the yuan against the U.S. dollar and the number of U.S. anti-dumping investigations against China—the devaluation of the yuan against the dollar largely increases the number of investigations.
In terms of U.S. GDP growth, although a number of favorable factors for economic recovery have emerged, such as manufacturing revival and employment growth, U.S. economic growth slowed to 1.6 percent in 2016, far below the 2.6 percent seen in 2015. According to forecasts from the International Monetary Fund, the World Bank and the U.S. Federal Reserve, the 2017 GDP growth rate of the U.S. will not surpass 2.3 percent, even with the proactive fiscal policy advocated by the Trump administration. This is far below the 4-percent growth goal proposed by the administration to "bring back jobs and growth."
On March 15, the Fed raised the target interest rate by 25 basis points to a range of 0.75 to 1 percent. The widely expected move marks the third rate rise in almost a decade and the first one since Trump took office.
According to the Fed's rate-setting meeting in December 2016, it will probably raise interest rates three times in 2017. The increased expectation of U.S. inflation will put more pressure on the Fed to raise interest rates, possibly resulting in a strong dollar that the yuan will depreciate against in 2017.
Thus, China-U.S. trade frictions will probably witness a marked rise in 2017 because the U.S. GDP growth rate will be far below the projected goal, and a strong U.S. dollar caused by the Fed's measures to raise interest rates will put more pressure on U.S. exports and employment.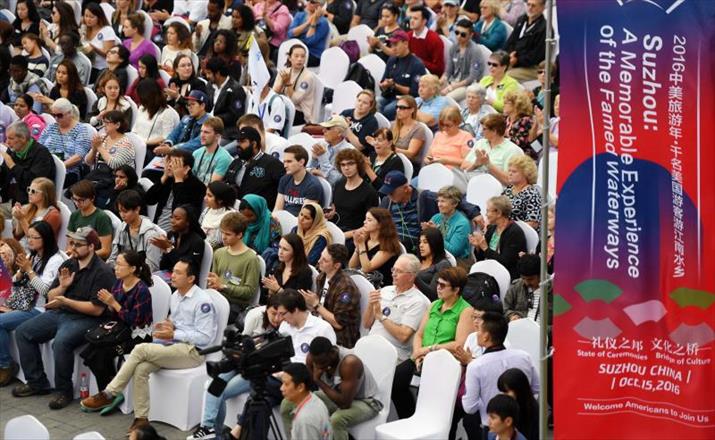 An event kicks off in Suzhou City, Jiangsu Province, on October 15, 2016, as part of the 2016 China-U.S. Tourism Year, giving some 1,000 U.S. tourists a special tour of the city's distinctive water town culture (XINHUA)
Room for cooperation
Unemployment problems in the U.S. have little to do with China-U.S. trade. Looking at the China-U.S. bilateral trade structure, the U.S. mainly exports capital- and technology-intensive products to China, while China mainly exports labor-intensive products to the U.S. In general, the bilateral trade structure is complementary.
Since the 2008 global financial crisis, the U.S. GDP growth rate has gradually slipped to its lowest level since World War II. Due to high labor costs, many labor-intensive industries such as textile have shifted to a number of Asian countries, resulting in the disappearance of some low-end jobs. The Obama administration advocated replacing human workers with smart factories in high-end manufacturing, which led to an even more prominent structural unemployment issue.
China-U.S. trade actually eases the U.S. employment situation. According to the U.S.-China Business Council, such trade created 2.6 million jobs for the U.S. in 2015, and Chinese enterprises operating in 44 American states have created nearly 100,000 local jobs as of the end of 2016.
China and the U.S. have even more room for cooperation on infrastructure investment. For a long time, a massive financial deficit, current account deficit and huge individual consumption have been the major drivers of U.S. growth. Now the Trump administration is trying to change this development pattern. Through tax cuts of $137 billion and government input of $550 billion, the administration hopes to encourage more private sector participation in infrastructure investment so as to improve the U.S. transportation network and benefit local businesses.
However, recent news indicates Trump is considering postponing infrastructure construction until 2018 because government revenue currently cannot cover this massive spending plan. China is competitive in terms of infrastructure financing capability and construction efficiency and has accumulated abundant experience in railway and highway construction. This is exactly what Trump needs to carry out his infrastructure construction plan.
The U.S. also has more development opportunities in its services trade with China. China is an international trade power not only in goods, but also in services and is an important export market for U.S. services. The China-U.S. services trade has exceeded $100 billion, accounting for roughly 6 percent of U.S. total services trade exports.
Since 2002, the U.S. has been witnessing a favorable balance of services trade with China, although China enjoys a favorable balance in goods trade with the U.S. Besides, the U.S. deficit of goods trade with China is directly related to its export controls on advanced technologies. Frequently using national security as an excuse, the U.S. has forbidden the export of advanced technologies and equipment to China.
The space for China-U.S. cooperation in the economic and trade fields is extensive. Expanding trade and economic cooperation with China will be conducive to U.S. economic recovery and employment growth.
Copyedited by Sudeshna Sarkar
Comments to zhouxiaoyan@bjreview.com