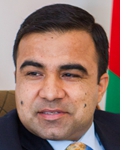 Afghanistan's fight against extremist and terrorist forces continues, as the recent U.S. bombing demonstrates. If Afghanistan and its allies succeed in finally resolving the conflict and creating and sustaining the conditions necessary for long-lasting peace and stability, national rebuilding will become the top priority.
In an exclusive interview with Beijing Review, Ambassador of Afghanistan to China Janan Mosazai talked about Kabul's historical and traditional relationship with Beijing and how the Belt and Road Initiative is deepening Sino-Afghan ties. Edited excerpts of the interview follow:
VIDEO: Two Countries, One Vision
Beijing Review: What does the Initiative mean for Afghanistan?
Janan Mosazai: Afghanistan was one of the first countries in the region, if not the first, to welcome the Belt and Road Initiative, which we see as a very visionary and transformational proposal by Chinese President Xi Jinping. It will promote cooperation among countries in the region and beyond, enhancing economic interactions and integration, and deepening cultural cooperation and exchanges and people-to-people interactions.
Given the capabilities of China, with all the resources it possesses and the experience it has accumulated over the past decades, we see the Initiative as a strategy that we in Afghanistan hope to leverage for our national plans. These include the integration of Afghanistan's economy, linkage of Afghanistan's infrastructure with the region, and basically the realization of our President Ashraf Ghani's vision of reviving Afghanistan's historical and rightful role in the region as a land bridge, a center of trade, a transit hub through which people, goods, capital and energy flow, and also as a platform for win-win cooperation.
Afghanistan is an official partner of the Initiative. We signed the MOU last May in Beijing, and our two presidents have identified three priority sectors under it: railways, roads and fiber optic networks.
We have a five-nation railway project that will connect China, through Kyrgyzstan and Tajikistan, to Afghanistan and onward to Iran. It's a critical project that will not only link China to Iran, but also connect Central Asian republics through Afghanistan to Iran and, through another railway network in the east and south Afghanistan, to South Asia. That's also a priority in our cooperation in the Belt and Road Initiative, because it's not just two countries involved, but five, which are all friends and good neighbors.
A direct cargo service between China and Afghanistan started in August 2016 which links Haimen City in Jiangsu Province to Hairatan in Balkh Province in northern Afghanistan, via Kazakhstan and Uzbekistan. This is perhaps the first time since the days of the ancient Silk Road that we have direct trade transportation between China and Afghanistan. We look forward to making this a two-way cargo service, so that it not only transports Chinese goods to Afghanistan, but also carries Afghan goods--agricultural produce and natural resources, including minerals that are too heavy to be transported otherwise--in the opposite direction.
Once we establish the five-nation railway, cargo can also travel from China to Iran and onward. So, we see that as an important example of the kind of cooperation we can achieve in the framework of the Belt and Road Initiative, both between Afghanistan and China bilaterally and also with other partner countries in the region, especially our common neighbors.
The cargo train travels once every two weeks. The journey itself takes less than a week, neglecting the customs clearance procedures required at each border. Customs cooperation is also a key component of the Belt and Road Initiative. It will be one of the main topics of discussion at the Belt and Road Forum on International Cooperation in May. That's one of the things that countries wanting to enhance trade relations and economic integration have to do, so that traders and business people don't have to waste time going through endless hours of paperwork at each border customs point.
Where do diplomatic ties stand in the 62nd year of the establishment of bilateral diplomatic relations?
We are in the 62nd year of diplomatic relations, which have always been marked by cordiality, friendship, trust, cooperation and confidence. Since the elevation of our cooperation to a strategic level in 2012, we have seen significant expansion in all dimensions; political, security, economic and cultural. We are very keen to deepen that cooperation, given not just the common threats and challenges that Afghanistan and China face, which include terrorism and extremism, but also the tremendous opportunities we have before us. This includes economic integration both between Afghanistan and China and also regionally – courtesy of Afghanistan's central location in the region – to link Central Asia with South Asia and China with West Asia for the benefit of all citizens of the region.
The two presidents met last June and have an agreement to meet whenever they are together in the same city. We hope an opportunity will arise this year for the two presidents to meet. Last May, our Chief Executive, Dr. Abdullah Abdullah, visited China at the invitation of Premier Li Keqiang. The Chief of the General Staff of the People's Liberation Army, General Fang Fenghui, visited Kabul last year, and a visit to Beijing and Urumqi by the Chief of Staff of the Afghan National Army, General Qadam Shah Shahim, followed. We will work to realize further visits at the leadership level and also at working levels during this year.
We will have a high-level delegation coming to attend the Belt and Road Forum for International Cooperation. Afghanistan is an official partner of the Belt and Road Initiative, and so we look forward not only to discussions in the context of the forum, but also bilateral meetings to firm up our work and cooperation in the implementation of the Belt and Road Initiative.
Afghanistan shares a border with China. What about security cooperation?
We have very important security cooperation with China. Both countries elevated security cooperation, especially between the two militaries, to a strategic level last year. The elevation of our military partnership will have an impact on our cooperation on counterterrorism, information sharing, training and military equipment.
The first strategic military dialogue was held in Beijing last year. For the first time in the history of relations between Afghanistan and China, we will be holding a joint counterterrorism exercise involving our special forces in China this year. That is an important milestone in terms of deepening practical cooperation between our armed forces.
Afghanistan and China see eye to eye on fighting terrorism and extremism. We have a very strong partnership in this area. It's not just fighting groups such as the [separatist] East Turkestan Islamic Movement or the Islamic State, it's also a very strong partnership in terms of defeating all the forces of terrorism and extremism that pose a threat not just to Afghanistan and China, but to the entire region and the civilized world. We will strengthen and broaden our security partnership in the years to come.
How is Afghanistan addressing the trade imbalance with China?
Probably over 95 percent of the current bilateral trade comprises Chinese exports to Afghanistan, everything from electronics to clothing, furniture and construction materials. Chinese imports from Afghanistan are very limited, consisting mainly of traditional Afghan products such as handmade carpets and jewelry made of lapis lazuli from Badakhshan, a province bordering Xinjiang Uygur Autonomous Region. Afghanistan is probably the only country that has lapis. You can see Afghan lapis in ancient Egyptian, Chinese and even Roman monuments. The Mogao Grottoes in Gansu Province have beautiful, blue murals made from Afghan lapis.
What we are trying to do to address the imbalance is to increase or start the export of specialty Afghan products such as Afghan saffron, which consistently wins international awards, pomegranates and pine nuts, and marble and onyx, which will have a in very high demand in China. We have reached an agreement on the export of saffron and hope it will be implemented very soon. The Chinese use saffron mostly in food, but also in traditional medicine.
In terms of natural resources, in 2007, we granted the first major contract--still the largest to date--to China Metallurgical Group Corp. for the Mes Aynak copper mine in Logar Province, southeast of Kabul, because China is a neighbor and its industry relies on the import of raw materials such as copper.
At the same time, we want to benefit from Chinese investments in Afghanistan. We hope that contract will be implemented fully and start to benefit the people of Afghanistan and the people of China.
We also issued a contract for oil exploration and extraction in the north of Afghanistan to a joint venture between China National Petroleum Corp. and Afghan company Watan Group. We also have several Chinese companies present in Afghanistan implementing projects funded by the Afghan Government or by multilateral partners such as the World Bank and the Asian Development Bank.
In 2015, bilateral trade was nearly $1 billion. It was almost the same in 2016. Since we are next-door neighbors, and given the historical and deep economic connections between Afghanistan and China and also the strategic partnership, that trade volume is not reflective of the strength, breadth and depth of the relationship. So, we will continue to try to expand our trading cooperation.
We hear that learning Chinese is catching on in Kabul?
We have a Confucius Institute in Kabul University, which started in 2008. Increasing numbers of Afghan students are studying there and also coming to China through the institute to study Chinese so that they can go back and teach Chinese at Afghan schools and other institutions.
Last May, we reached an agreement to establish at least two additional Confucius Institutes, at Herat University (in the west) and Balkh University (in the north). We are also working with our Chinese friends to establish additional institutes in cities in the east and south of Afghanistan, such as Kandahar and Jalalabad, because there is keen interest among Afghanistan's youth in learning Chinese. Given the expanding cooperation in all areas between China and Afghanistan, we believe it's the right thing to do.
Copyedited by Chris Surtees
Comments to liuyunyun@bjreview.com