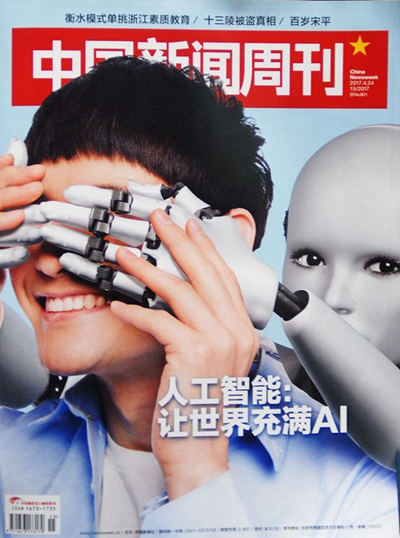 China Newsweek
April 24
The rapid development of artificial intelligence (AI) is increasingly impacting social life and commercial models in China and throughout the world.
Domestically, apart from iFlytek, whose AI programs cover sectors like education, government services, automobiles and medical care, AI breakthroughs have been achieved mainly by the three Internet giants Baidu, Alibaba and Tencent. For instance, an AI Go program called Jue Yi, also known as Fine Art, developed by Tencent's AI Lab beat Crazy Stone from France and DeepZenGo from Japan in the 10th Computer Go UEC Cup in Tokyo in March. AliCloud has developed its online-to-offline takeout food platform, which helps to efficiently match consumers' demand for takeouts and restaurants' service.
In China, AI is also widely used in the real economy. According to estimates by McKinsey, automation based on AI can contribute 0.8 to 1.4 percentage point growth to the Chinese economy annually. At a time when China's demographic dividends are disappearing, AI technology will help to boost the efficiency of conventional industries.
The shortage of talent is a major obstacle in China's AI technology development. Fewer than 30 universities have AI labs and production of talent falls far behind the demand. Besides, China's AI scientists center on computer vision and voice recognition, leaving other AI research areas short of talent. However, it's expected that in the upcoming decade AI will be more widely applied in various aspects of people's life, and the era of AI Plus will finally come.