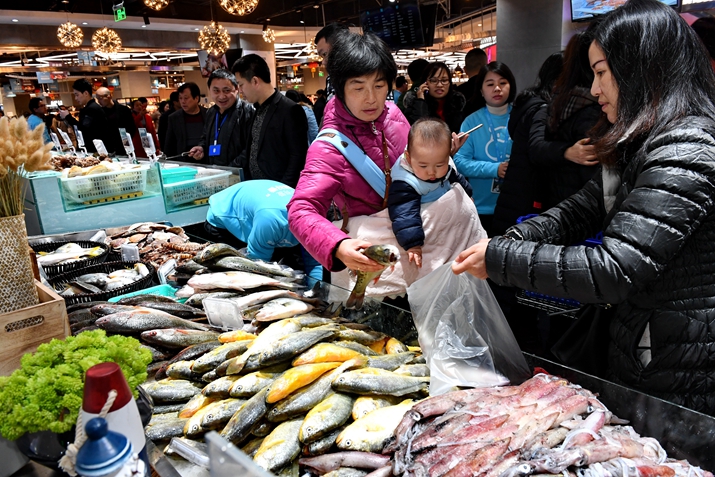 People buying fish at a market in Fuzhou, the capital city of Fujian Province on February 8 in 2018 (XINHUA)
It is evident that there is a global slowdown. But it's a general weakening of the growth, not a recession, said Ethan Harris, head of Global Economics Research at the Bank of America Merrill Lynch in a press briefing on February 13.
The global Purchasing Managers' Indexes in manufacturing and services are now in the third slowdown during the current expansion period, following similar downturns in 2012 and 2015, according to Harris.
Bank of America Merrill Lynch predicted that global economic growth would slow to 3.7 percent in 2018 and will slow to 3.4 percent in 2019. However, they also foresee a rebound to 3.6 percent in 2020, still lower than 2018's final figure of 3.8 percent.
Harris said that it's pretty clear China is also slowing but is not yet in the territory of a recession.
By tracking non-traditional metrics such as electricity usage and travel miles in China, Harris predicts that indicators will stabilize by the second quarter of 2019.
"China is still in a weakening phase. The government will continue to roll out stimulus measures," said Harris, who expects the Chinese economy to encounter a soft landing.
The investment bank predicts that U.S. economic growth will drop to 2.5 percent in 2019 and to 1.8 percent in 2020 from an estimated 2.9 percent in 2018. Harris pointed out that a failure to raise the debt ceiling would be a major shock to the U.S. economy. It will cause a credit down and break U.S. treasuries. If this was to last for more than a few weeks it has the potential to create a mini domestic recession. He also noted that U.S. fiscal policy just turns from easy to neutral and the financial conditions are tightening.
(Reporting from New York City)
Copyedited by Craig Crowther
Comments to yushujun@bjreview.com