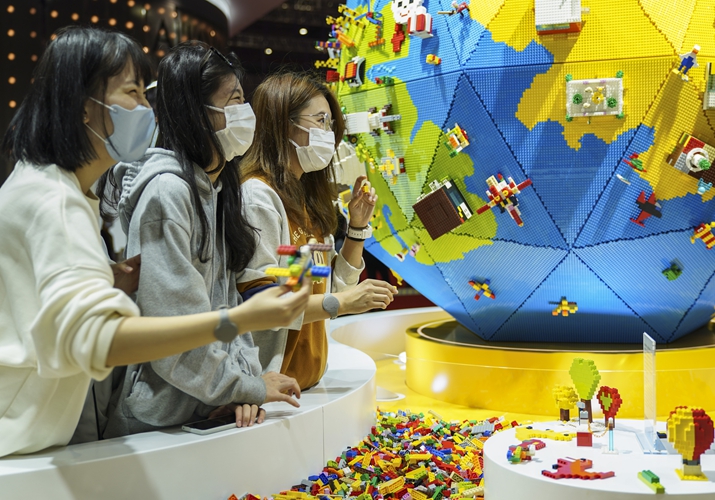 Visitors at Danish toy company Lego's booth during the Third China International Import Expo in Shanghai on November 8, 2020(XINHUA)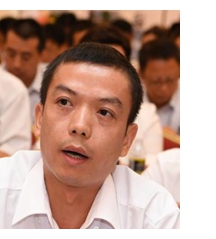 The Fifth Plenary Session of the 19th Central Committee of the Communist Party of China (CPC) in October 2020 decided to comprehensively promote consumption and further its fundamental role in driving economic development. A major task during the 14th Five-Year Plan (2021-25) period will be to adapt to the general trend of consumption upgrading and accelerate unleashing the consumption potential of 1.4 billion people to lay a solid foundation for high-quality development.
Structural upgrading
Statistics during the past few years show that consumption in China has not only grown rapidly in scale, but is also rapidly upgrading in structure with service consumption as the focus.
Although the novel coronavirus disease outbreak had a short-term impact on resident consumption, the long-term trend of consumption growth remains unchanged. The demand for service consumption has been growing fast. In recent years, demand for service-oriented consumption in health, medical care, culture, tourism, education and information has increased quickly, becoming an important part of their growing needs for a better life.
In 1978, when reform and opening up started in China, the Engel coefficient, which represents the proportion of food expenditure in the family budget and denotes the standard of living, was 57.5 percent for urban residents and 67.7 percent for rural residents. But in 2017, the coefficient for Chinese residents stood at 29.3 percent, below 30 percent for the first time. In 2018, it further dropped to 28.4 percent.
Figures from the National Bureau of Statistics showed that in 2017, service consumption accounted for 42.6 percent of the total consumption in China; the proportion increased to 44.2 percent in 2018 and 45.9 percent in 2019, indicating a clear trend of consumption upgrading. People can feel that production and final consumption of traditional material products is starting to incorporate more and more new services, different from the traditional mode of consumption.
Upgrading of consumption will significantly expand the market size. In 2019, China's total retail sales of consumer goods reached 41.2 trillion yuan ($6.31 trillion), up by 3.1 trillion yuan ($474.73 billion) from 2018. Assuming that the total retail sales of consumer goods in 2020 remains at the 2019 level, it will exceed 50 trillion yuan ($7.66 trillion) in 2025 if the indicator maintains an average annual growth rate of 5 percent during the 14th Five-Year Plan period.
Release of the consumption potential will serve as an important driver of economic growth. Since 2014, the contribution of consumption to economic growth has been higher than that of investment. In 2019, China's final consumption contributed 57.8 percent to the GDP. At the current growth rate, it is estimated that consumption in China will reach 60-65 trillion yuan ($9.19-9.95 trillion) in 2025, with its contribution to GDP growth staying above 60 percent.
Reform in service sector
Consumption in China is facing prominent challenges: It has demand but lack of supply, has supply but lack of quality, and has quality but lack of brands. In the 14th Five-Year Plan period, both industrial progress and innovation of business models need to focus on consumption upgrading and advance new supply-side structural reform based on the new consumption.
The supply system needs to be innovated and supply of services increased. To meet the growing demand for services, China must further open up the service sector and attract more private investment, so as to establish effective supplies. There are huge gaps in the markets of education, healthcare, nursing as well as green and tailored services. These are all sectors likely to see new business opportunities.
The investment structure needs to be improved and investment in services boosted. In the process of consumption upgrading, it is particularly important to optimize the investment structure.
According to a report by China Minsheng Banking Corp. Ltd., China's education market will exceed 16 trillion yuan ($2.45 trillion) in 2030 and 50 trillion yuan ($7.66 trillion) in 2050; the healthcare market size will reach 15 trillion yuan ($2.3 trillion) in 2030, 29 trillion yuan ($4.44 trillion) in 2040 and 37 trillion yuan ($5.67 trillion) in 2050. In the next few years, the education and healthcare industries will become magnets for corporate investment, especially for private businesses.
The service market also needs to be further opened up. Though accelerated in recent years, the opening up in this aspect still falls far behind the manufacturing industry. Opening up service market should be regarded as a major part of supply-side structural reform. It will essentially break monopolies in the sector, deepen the integration of the service industry with the new economy, and resolve the problem of having demand but lacking supply.
The middle-income group
Unleashing the potential of consumption involves resident income, policy readjustments and institutional innovation in aspects such as the consumption environment. Measures must be carried out and breakthroughs achieved as soon as possible at least in the following aspects.
Efforts should be made to maintain sustainable growth of urban and rural resident incomes and expand the middle-income group. China now has a middle-income group of 400 million people. If the number can be expanded to around 800 million, it will profoundly change the social structure and establish an important force for unleashing consumption potential.
Therefore measures should be taken to double the size of the middle-income group. For instance, a huge middle-income group can be set up through protecting and stimulating entrepreneurship, adopting employee stock-ownership plans, and protecting intellectual property rights. Besides upgrading the consumption structure, this will also drive global economic growth.
A dual drive of new-type urbanization and rural vitalization should be adopted. Rural areas have huge consumption potential but the biggest constraint is that the property rights of farmland are not well clarified, and the proportion of income from property in farmers' income is still very low.
In 2017, the proportion of income from property in the total disposable resident income was 8.11 percent, but for farmers, it was merely 2.26 percent. Such a situation requires the authorities to increase farmers' income, especially from property.
In addition, a universal urban and rural public service system will make more farmers part of the middle-income group to unleash the huge consumption potential in the countryside.
Readjustment to the tax structure must be accelerated to reduce resident tax burden and increase their spending power. A reasonable tax structure can reduce the tax burden of middle- and low-income groups.
The current tax system still mainly relies on indirect taxes. This imposes a heavy burden on corporations because 90 percent of the country's tax revenue comes from them. Moreover, under such a structure, the tax burden of middle- and low-income groups is heavier than high-income groups'.
To suit the trend of economic transformation and expand the middle-income group, the current tax structure that mainly relies on indirect taxes should be changed, and the proportion of direct taxes should be raised as soon as possible.
(Print Edition Title:

Consumption-led

Development

)
The author is director of the Economic Research Center at the China Institute for Reform and Development
Copyedited by Sudeshna Sarkar
Comments to yanwei@bjreview.com