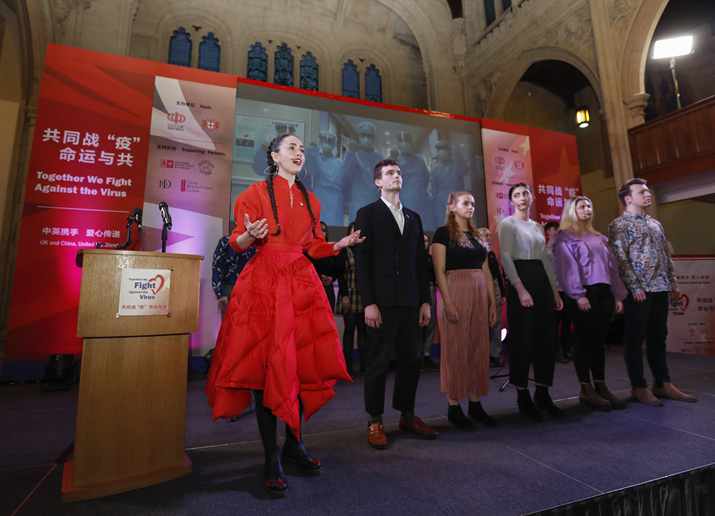 Performers sing at an event voicing support for the Chinese city of Wuhan, which suffered a severe novel coronavirus epidemic, and China at the Guildhall in London, Britain, on February 28, 2020. The event, hosted by the City of London and the China Chamber of Commerce in the UK, was attended by business people and politicians (XINHUA)
Recent events suggest British political circles are confused about what kind of relationship they want with China. This lack of a coherent strategy is certain to cause problems down the road.
Lack of coherence
On February 12, at a roundtable event with business leaders at 10 Downing Street, British Prime Minister Boris Johnson said he was "fervently Sinophile" and would seek to strengthen economic and trade links with China, resuscitating dialogues previously frozen owing to tensions over Hong Kong.
This came amid a flurry of recent UK actions against China, including Foreign Secretary Dominic Raab attacking China at the UN Human Rights Council in Geneva, alleging human right violations in Xinjiang Uygur Autonomous Region in northwest China, and its television regulator Ofcom revoking the UK broadcasting license for satellite news channel China Global Television Network.
Also, Britain is pitching itself as an Indo-Pacific power, strengthening security cooperation with regional countries.
This suggests Britain has firmly cast in its lot with the United States. But Johnson's claim begs the question just what does Britain want from China. The contradictions illustrate the deep abiding divisions within the governing Conservative Party on the matter and the pressing reality that China is deeply essential to Britain's post-Brexit vision.
This has created a political tug of war between the two factions, many of which are eager to push closer to Washington and promote decoupling with China. This reveals the more troubling reality that Britain doesn't have a coherent China strategy.
The Conservatives are known primarily for the fact that they are unapologetically pro-business, something many deplore. Since the era of late Prime Minister Margaret Thatcher in the 1980s, the party has run on a doctrine of neoliberal economics, opting for low taxes, low regulation and open markets. Under such a mantra, foreign investment into Britain is to be encouraged even if it is at the expense of domestic industries or jobs.
Also, the Conservatives admired China as an overwhelming business opportunity. Former Prime Minister David Cameron created what was called a "golden era" of relations with China, and sought to frame Britain as China's partner in the West.
Unfortunately, the world has changed and that era has since long gone. Britain's obligation to the strategy of the United States is part of the reason, along with a determination to achieve Brexit, which influenced many of the right-wing factions in the Conservative Party, opting for a more nationalistic view of the world, to turn anti-Chinese.
The Conservative right has for decades been a headache to the front bench, be it in the government or opposition, as they seek to repeatedly undermine the leadership and push a harder agenda on various issues. Traditionally since the post-Thatcher era, their point of emphasis has been Europe, and various rebels have been remarkably successful in forcing Euroskepticism into the mainstream and bringing about Brexit itself.
Now that Brexit is complete, these individuals have since redefined their purpose. Having done away with Europe, their emphasis is now China, and a coalition of right-wing Conservative members of parliament have persistently sought to try and force the government to take a harder position on China.
For Johnson personally, this is unfavorable, forcing him to have to negotiate and compromise with the rebels to stop them from completely upending the government's position.
Initially, the government sought to include Chinese technology company Huawei in their 5G networks, but growing pressure from the then U.S. administration of Donald Trump, as well as a growing rebellion in parliament and the COVID-19 pandemic forced anti-China sentiment into the mainstream, and made this untenable. This, combined with tensions over Hong Kong, has sent UK-China relations on a sharp downward trajectory.
However, it is obvious that the benefits of China are not lost on Johnson. His comments will infuriate many, but he seems to maintain the longstanding concept that Britain has a lot to lose if it is locked in a confrontation with China.
British and Chinese business representatives at an industry matchmaking conference in Shenzhen, Guangdong Province in south China, on November 14, 2019 (XINHUA)
Trade partner?
A post-Brexit Britain, which is losing trade with the European Union, ultimately needs more markets, and like it or not, China happens to be the largest market in the world. This means that Britain's China approach is marred with uncomfortable contradictions, and there is no clear strategy or approach at the helm.
What is visible is a confrontation between numerous interest groups pushing for both harder and open approaches simultaneously, creating uncomfortable crisscrossing on a number of issues. What does Britain want? It's impossible to say because it is not so much about a country as it is about a myriad of agendas.
Ultimately, this is hardly a vision and nor is it a position of strength. Britain needs to adequately and straight out communicate to China what it wants, where it stands and what it does not want, instead of persistently communicating rampant hostility and then indicating it still values business. China might appreciate the clarity.
(Print Edition Title:Mixed Messages)
The author is a British political and international relations analyst.
This article was first published on China.org.cn
Copyedited by Sudeshna Sarkar
Comments to yanwei@bjreview.com