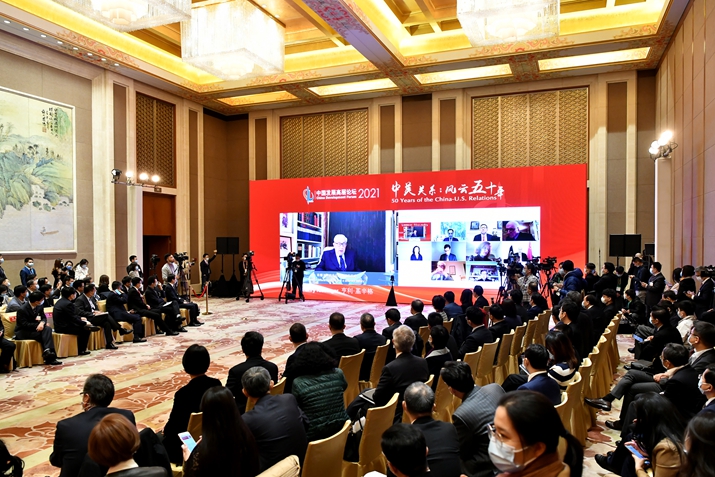 The China Development Forum in session in Beijing on March 20 (XINHUA)
An extraordinary year has passed, in which COVID-19 swept the world, global political and economic uncertainty abounded, and people from all walks of life faced challenges unseen in generations.
Participants at this year's China Development Forum, an annual event hosted by the Development Research Center of the State Council, have reflected on 2020, and also on the opportunities 2021 will bring, particularly in China. Below are edited excerpts of what they said:
Henry Alfred Kissinger, former U.S. Secretary of State
This year, the concept of cooperation among societies is emphasized by the experience of the pandemic, and by the enormous technological development that is taking place in so many countries, importantly in China and the United States.
When I came to China 50 years ago, I had the honor of opening relations that had been broken off for [more than 20] years. In my opening remarks, I said something about the mystery of China, and Premier Zhou Enlai said to me, "What is so mysterious about China?" In the half a century since, I have learned a lot about China. The relationship between China and the United States developed in a very positive way on the basis of cooperation on key issues.
In recent years, there have been some issues for discussion. Fundamentally, China and the U.S. are two great societies, with a different culture and a different history. So we sometimes have a different view. But at the same time, the modern technology, the global communications, and the global economy require that the two societies begin ever more intensive efforts to work together, because the peace and prosperity of the world depend on an understanding between the two societies.
It is important to have cooperative and positive relations between the major industrial and technological countries in the world, and between China and the United States.
Roland Busch, President and Chief Executive Officer of Siemens AG
New technologies and digitalization will boost the development of our economies. Teamwork and collaboration helped us to manage during the crisis and this is something we will increase in the future. The empowerment of our people made us much faster and better, and it will be core going forward.
During my time in China, I experienced one of the greatest strengths of our Chinese colleagues on a daily basis: rapidly developing solutions to tackle problems, instead of waiting to find the "optimal" solution, [as well as] the willingness to correct the things that didn't work so well and do it all over again with incredible speed.
Technology can help companies to become more innovative and resilient in the uncertain times ahead and, at the same time, tackle the most pressing challenges of our time, achieving more with less.
By combining the real and the digital worlds, we can empower customers to transform their industries: to build more agile factories, more intelligent infrastructure, cleaner transport and better healthcare. And by doing this, we are helping to transform the every day for billions of people.
The way China has managed the crisis is outstanding, and the Chinese economy has recovered faster than any other country in the world.
When it comes to the digital transformation of markets, I am sure that our learnings from around the globe can be applied in and further advanced by China and that China's experience will also benefit other markets.
Over the past decade, technology development has led to rapid economic growth, lifting millions of people out of poverty, particularly in China.
The 14th Five-Year Plan (2021-25) will increase prosperity and help create a more sustainable future by putting emphasis on digitalization and sustainable technologies.
This year has shown us that through innovation we can overcome challenges and that working together with partners makes us stronger.
Lars Fruergaard Jørgensen, President and Chief Executive Officer of Novo Nordisk
The economic and social disruption caused by the global COVID-19 pandemic has been devastating from an economic and social perspective. But we are also seeing the emergence of different, more agile ways of developing new solutions to the problems we are facing. Public-private collaborations rise to the challenge, and people work in an even more solutions-oriented way.
COVID-19 has demonstrated a collective obligation to find sustainable ways to reduce the health inequalities that exist on a global scale.
At the same time, we commend China's effective control of the pandemic domestically as well as its support to the global community. The Chinese leadership has made a bold call for the need to establish "a global community of health for all" and Novo Nordisk is ready to be a very active part of the solution.
We are impressed by China's resilience in economic recovery and advancing a "dual circulation" strategy combining domestic development and global integration. In China, Novo Nordisk contributes to local innovation and achieved robust growth during 2020 as a consequence of increasing domestic demand.
2021 marks the 100th anniversary of the discovery of insulin. However, our journey of defeating diabetes is far from over. We are dedicated to defeating diabetes with a focus on prevention, access and affordability, and innovation, as well as extending our focus and solutions to obesity, a major public health challenge for the 21st century. In China, we have made sustained contributions to the Healthy China 2030 initiative through partnerships including Cities Changing Diabetes in six major cities, and screening programs for around 1.3 million people across the country to detect the risk of diabetes and its complications.
Rich Lesser, CEO of Boston Consulting Group
I'm always struck by the continued resilience in China. The country's ability to quickly rebound from COVID-19 and achieve growth in 2020 was truly impressive. I'm also very encouraged by China's bold climate commitment, which will help accelerate critical global progress toward net-zero [carbon emissions].
As I reflect on 2020, I think three powerful forces came to the fore and continue to profoundly shape how we're moving forward:
• the power of innovation and technology to break down barriers to equity
• the power of integrative thinking to tackle climate change and
• the power of human connection to transform our organizations, support our people, and renew our sense of purpose.
I believe it's our job as leaders to collectively commit to using these three powers to make progress on the toughest challenges facing society and businesses.
The past year highlighted and accelerated how technology and innovation can solve our most difficult challenges and improve business, economies and our lives.
Entering 2020, before COVID-19 rightly grabbed attention and resources, there was increasing awareness of the urgency of the climate crisis. The good news is that we have begun 2021 with bold ambitions from China, a committed new U.S. president, and an action-oriented Europe.
We can play an important role in making climate progress throughout this year, implementing integrated approaches to this existential challenge.
The role of business and its potential to move the world forward in a positive way have never been more important. Business can be the catalyst for collaboration and real change.
China's high-quality growth will benefit not only China but the world as it commits to being a key contributor to the global agenda.
(Print Edition Title: Solutions and Ambitions)
Copyedited by Garth Wilson
Comments to yanwei@bjreview.com