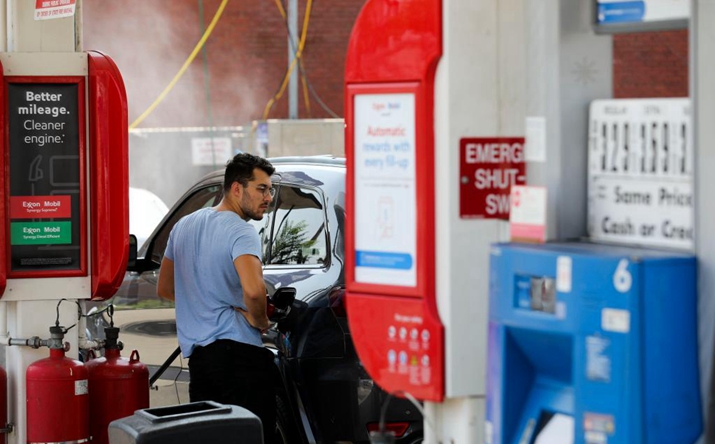 A man fuels his car at a gas station in New York, the United States, August 11. On the economic front, the U.S. CPI, a measure on inflation, rose 0.5 percent in July for a 5.4-percent year-over-year gain, the Department of Labor reported, roughly in line with market estimates. The so-called core CPI, which excludes energy and food, rose 0.3 percent last month for a 4.3-percent year-over-year increase, showed the report(XINHUA)
When we talk about the phrase 'wolf warrior diplomacy,' it is usually an accusation against China. Western media and politicians are accusing China's Ministry of Foreign affairs and China's ambassadors throughout the world of wolf warrior diplomacy.
At times, I think they respond too harshly and sarcastically. When the West makes ridiculous, sarcastic, sneering remarks and comments, it would be best not to reply in the same tone because that doesn't add to the conversation. And when they do that, they are just dropping down to the level of what the Western media is doing. I don't think they should do that. 'Stay above the fray,' as they say, might be a good choice of tactics.
However, that isn't the main point I want to make. The real wolf warriors are the capitalist wolves who are dressed in sheep clothing. They have destroyed western society by creating an oligarchic government. They run the government for the wealthy and for shareholders, primarily what is often referred to as the finance, insurance and real estate sectors (FIRE).
China has always put society and people before shareholders and the wealthy. But Western governments have been completely absorbed by them – through outright corruption, coercion or just cognitive capture.
Take the U.S. Government for example. The U.S. Government is a billionaire boys club. It is controlled by the wealthy elites that cater to the billionaires and the billionaires cater to them often via a revolving door that operates between politics and finance. This has resulted in the destruction of the middle class in the U.S.
In January 2020, there were 580,466 homeless people in America. But billionaires become richer and richer. This is insanity. What is U.S. politicians' job? What were they elected to do? To take care of the country. But they are taking care of the elites. They're being influenced by and controlled by the elites.
Compared to the U.S., China is working hard to take care of its society and people. I've participated in documentaries recording China's poverty alleviation efforts, which showed that the Chinese Government officials have only one job--which is to take care of the society.
For example, in Guangxi Zhuang Autonomous Region where I did my first poverty alleviation documentary, with assistance from the local government, a framework was established to work with the farmers, to build up their ability to harvest, cultivate and ultimately improve their standard of living.
China's targeted poverty alleviation has helped almost 100 million people out of poverty since 2012. While in the U.S., we still have 580,466 people sleeping on streets. What programs do we have to help raise them up? How many billions of dollars are being held in the hands of shareholders, private and wealthy individuals sucking the money out of the society?
By this contrast, it is clear which country is engaged in human rights abuse.
The author is a non-resident senior fellow with the Center for China and Globalization
Copyedited by Ryan Perkins
Comments to wenqing@bjreview.com