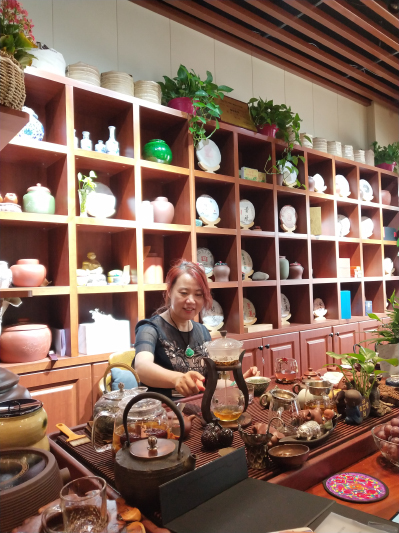 Chen Wei makes pu'er tea at a tea ceremony in her store in Beijing on August 6 (JACQUELIE MILLER)
Being invited to a traditional Chinese tea ceremony on the lunar calendar's first day of autumn was the perfect way to celebrate a long-anticipated reunion.
Chen Wei runs a jade and tea shop near Beijing's Fragrant Hill Park. The first thing I noticed about her was the giant jade Buddha pendant she was wearing. "Perfect!" I thought to myself. This would be a quintessentially "Chinese" afternoon that would see me steeping myself in China's ancient tea traditions.
Chen's shop looked like a laboratory where Harry Potter took his potion classes. It was a very atmospheric shop, featuring the occasional green space here and there. There was the traditional stringed plucked musical instrument guzheng in a corner, a money tree in another, discs of pu'er tea, a kind of black tea produced in Yunnan Province, southwest China, on the shelves as well as tea paraphernalia and most conspicuously of all, a large tea table.
On the table there was a figurine of a monk meditating, a frog with a coin in its mouth to ensure the inflow of money according to the principles of fengshui, tea strainers, and dainty cups.
We were seated at the tea table which was covered with a grille; it had a pan underneath to catch the water.
The Chinese tea ceremony, or chadao, literally "the way of tea," may be staged as an act of hospitality, or conducted as part of Chinese culture.
As a prelude, Chen brought out a silver-plated tea pot with a dragon and phoenix on it which held boiling water. She poured the sizzling water over a cluster of lychees that then turned color. I admired some whimsical clay pig figurines parked on the table, as Chen was born in the Year of the Pig. These were all fun, not functional, parts of our tea ceremony.
Then she took out some exquisite pu'er and some tiny cups, and first poured hot water into the cups to disinfect them, the residue water caught by the pan underneath the grille. Afterward, she heated up some more water and poured it onto the bingdao pu'er tea—which translates as "Iceland" pu'er tea. The tea water once brewed turns the color of champagne. The second time around, or, better yet, second infusion around, the taste became weaker, no longer possessing its initial full body. We drank the tea from cups with a silver goldfish at the bottom of each. It felt like drinking out of a tiny fishbowl.
I was intrigued by the name bingdao pu'er tea—it had, in fact, nothing to do with Iceland but was named after a village in Yunnan located at a high altitude with ancient tea trees lining the vista. Pu'er is a complex tea, sold mostly in discs or cakes to facilitate its transportation and storage; another detail is that the tea is fermented. As opposed to other tea varieties, it doesn't lose its flavor over time but improves with age; like certain wines, there are vintage versions of pu'er, and it can be brewed and drunk decades later, and as time goes by the price tag goes up. It is consequently a firm favorite with deep-pocketed tea connoisseurs.
It is my impression that pu'er is not as well known in the West, as opposed to green red, the other kind of black tea. It was only in China that I discovered the pu'er tea variety when a friend gifted me a tea disc; it wasn't until years later that I realized the value and beauty of the gift as well as its rich cultural connotation.
Chen called me jie, or elder sister. Indeed, we were women enjoying pu'er tea together. Just like a woman will not be mature and wise until she has gained enough life experience, pu'er tea isn't good until it has aged properly. Our topics covered the philosophical—the importance of a person's inner qualities—to the mundane, namely the latest smartphone models.
This had been my first real meeting with friends in the last couple of months due to the pandemic, and whilst we of course took off our masks while sipping our tea, we made sure social distancing was in place. Sipping tea with friends in a relaxing setting, I felt I had found an oasis of inner peace and joy.
We had found refuge in Chinese tradition and ceremony in these turbulent times.
The author is an American based in Beijing
(Print Edition Title: Tranquility in the 'Way of Tea')
Copyedited by Elsbeth van Paridon
Comments to dingying@bjreview.com