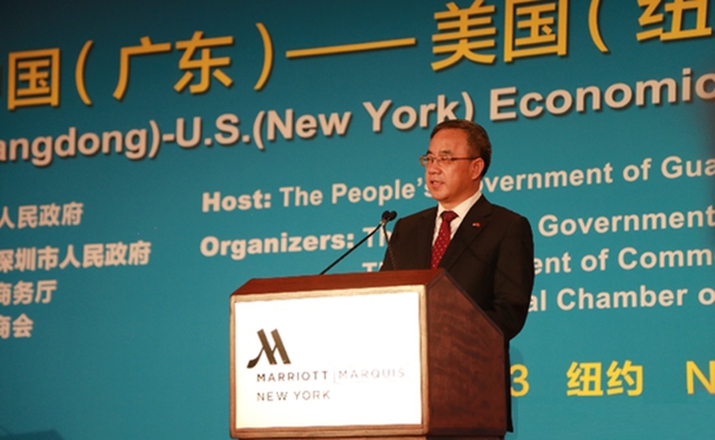 Hu Chunhua, Guangdong Province's Party Secretary, delivers a speech at the China (Guangdong)-U.S. (New York) Economic and Trade Cooperation Conference in New York on May 13 (SOUTHCN.COM)
In February 1784, a small U.S. ship named the Empress of China was set to go down in history as the first to initiate China-U.S. trade after sailing east from the port of New York toward Canton, now known as Guangzhou, capital of south China's Guangdong Province.
On May 13, a Chinese delegation of senior government officials and business leaders from Guangdong came to New York to promote business potential and technological innovation, extending the 232-year-old trade link even further.
The delegation, which participated in the China (Guangdong)-U.S. (New York) Economic and Trade Cooperation Conference, was headed by Hu Chunhua, Secretary of the Guangdong Provincial Committee of the Communist Party of China.
In 2015, the province's GDP reached $1.17 trillion, an increase of 8 percent over the year before, and one ninth of the country's total GDP last year. Its per-capita GDP of $10,800 is the highest in China. "Guangdong is one of the most prosperous provinces in China. It has always been at the forefront of China's economic development, and it has always been very innovative," said Cui Tiankai, China's Ambassador to the United States.
At the conference, Hu said that Guangdong's main task going forward is to "promote structural adjustments, which include promoting hi-tech industries, improving traditional industries, and relying on new technology development."
Hu claimed that after over 30 years of economic reform, Guangdong has achieved progressive development. "Currently, Guangdong has entered into a new economic norm and maintains a stable development trend," said Hu. He explained that the province is also seeking to implement smart manufacturing and green low-carbon ecological development to improve the environment, and to speed up innovation.
After reviewing the history of cooperation between Guangdong Province and the United States, Hu called for the continuation of two-way investment and for the expansion of bilateral trade. He also encouraged deepening cooperation on technological innovation, strengthening tourism and cultural exchanges, as well as establishing and improving long-term exchange and collaboration mechanisms between the two sides.
The U.S. side also expressed confidence in fostering increased multi-sector cooperation as well.
"We know that Guangdong is at the forefront of innovation in China and it has served as a gateway to China, way back to the days when it was first called Canton," said Patrick Santillo, Deputy Assistant Secretary of Commerce for China at the U.S. Department of Commerce.
Officials and business leaders from the two sides conducted discussions focusing on financial cooperation, the Internet Plus initiative and technological innovation at the event.
(Reporting from New York City)
Copyedited by Bryan Michael Galvan
Comments to liuyunyun@bjreview.com