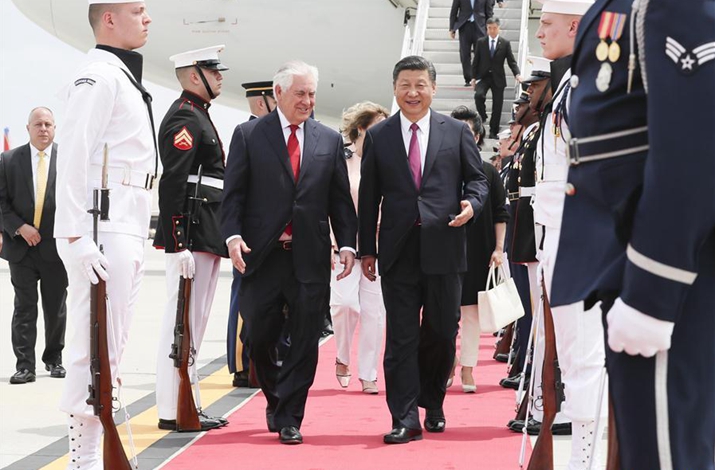 Chinese President Xi Jinping and his wife Peng Liyuan are welcomed by U.S. Secretary of State Rex Tillerson and his wife upon their arrival at Palm Beach International Airport in Florida, the United States, on April 6, 2017. Xi arrived for the first meeting with U.S. President Donald Trump. (XINHUA)
The first meeting between Chinese President Xi Jinping and U.S. President Donald Trump, the leaders of the two biggest economies in the world, is going to help them to establish a working relationship while laying out key concerns.
Matt Pottinger, Senior Director for Asia at the National Security Council and Susan Thornton, Acting Assistant Secretary for East Asian and Pacific Affairs at the State Department, stressed the importance of the coming summit between the two presidents in Mar-a-Lago Florida at a press conference on April 5 in Washington.
President Xi will meet with President Trump from April 6 to 7 after his state visit to Finland.
"[This is] really an opportunity for the two leaders to get to know one another, to talk about bilateral issues and regional issues, and starting with areas of cooperation, but also many areas of difference in the U.S.-China relationship," Pottinger noted during the press conference.
Thornton is also optimistic about the summit. "We want to have them [President Xi and President Trump] establish a good working relationship so that they can in times of both opportunity and crisis reach out to one another and have a good rapport," she said. She also pointed out that it is a good chance for them to have these serious and important discussions in a more informal atmosphere. This will also be an opportunity to start a good relationship at the outset of the Trump administration and paves the road for discussions about trade problems and challenges, investment, and North Korea.
In March, U.S. Secretary of State Rex Tillerson paid his first visit to China since taking office, during which China and the United States reached consensus on developing ties in the spirit of no conflict, no confrontation, mutual respect and win-win cooperation.
"The secretary was using his statement during the press avail in Beijing to refer to the key elements that have characterized U.S.-China relations going back 40 years, since [Richard Nixon's] visit to China," said Thornton on Tillerson's statements. "So the elements [Tillerson referred to] were really talking about how we've managed the relationship going back, and now he thinks it's important for the two leaders to come together and discuss how they're going to set a course for the future."
(Reporting from New York)
Copyedited by Bryan Michael Galvan
Comments to liuyunyun@bjreview.com