Though the world economic and trade recovery is still sluggish, the China-proposed Belt and Road Initiative plays a growth engine role for the global economy, according to Professor Peter Drysdale of the Australian National University.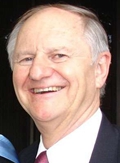 Peter Drysdale
"The Belt and Road Initiative is not only a very important element in stimulating trade growth and economic recovery but also in pushing back against the forces of anti-globalization in the Atlantic region," said Drysdale in an interview with
Beijing Review
on the sidelines of the Belt and Road Forum for International Cooperation.
In the professor's view, the China-proposed initiative offers a framework for deepening international economic cooperation through a platform of open regionalism that promotes economic integration through deepening five types of links, namely: policy, infrastructure, trade and investment, as well as financial and people-to-people exchanges. "This is critical at a time when the open global economic regime is under challenge," Drysdale stressed.
When referring to the significance of the initiative for the economic development of his country, Drysdale said that it relates to the overarching agenda for cooperation between Australia and China based on their shared interest in an open global economic system, and reforms that promote the effectiveness of participation in the international market. These interests should guide the approach to regional and global cooperation, he added.
The professor also claimed that the success or failure of the Belt and Road Initiative, not only for China's economic diplomacy, but also for outcomes in the global economic regime, will depend on whether countries like Australia make the choice to sign on in the spirit of multilateral engagement. "The alternative is a world of transactional bilateral deals that threaten the openness of the global economic regime," said Drysdale.
Copyedited by Dominic James Madar
Comments to yulintao@bjreview.com