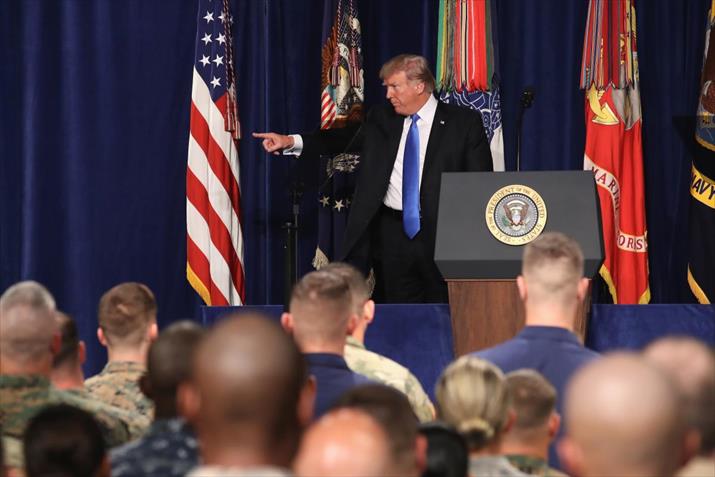 U.S. President Donald Trump acknowledges members of the military before delivering remarks on America's involvement in Afghanistan at the Fort Myer military base on August 21 in Arlington, Virginia (XINHUA)
In August, U.S. President Donald Trump delivered a speech on his policy toward Afghanistan. The speech posited strategies different from those of his predecessor, Barack Obama's, and will have a number of impacts on the future of Afghanistan.
Five pillars
In his speech, Trump analyzed the U.S.' core interests in Afghanistan. He said that U.S. troops have made contributions in Afghanistan, and the nation "must seek an honorable and enduring outcome worthy of the tremendous sacrifices that have been made, especially the sacrifices of lives."
A rapid exit from Afghanistan would bring huge uncertainty. A hasty withdrawal of U.S. troops would "create a vacuum that terrorists, including the Islamic State (ISIS) and Al-Qaeda, would instantly fill just as happened before September 11, 2001." America's hasty withdrawal from Iraq in 2011 led to a deterioration in the country's security environment and fostered the expansion of ISIS. The U.S. must draw lessons from that mistake.
Afghanistan and the broader region are facing huge security threats. Today, 20 U.S.-designated foreign terrorist organizations are active in Afghanistan and Pakistan. Moreover, Pakistan and India are two nuclear-armed states, and their tense relations might cause conflict with possibly unimaginable outcomes. Washington must also prevent terrorist organizations from obtaining nuclear weapons.
Based on the critical interests mentioned, Trump came up with five pillars for America's new strategy in Afghanistan and South Asia.
The first pillar is "a shift from a time-based approach to one based on conditions." Trump accused Obama's schedule of troop withdrawal from Afghanistan as being divorced from reality. So in future military activities, U.S. decisions on the number of troops involved and related plans will be based on specific conditions on the ground. The country will not disclose the number of added troops or action plans to avoid giving an information advantage to the Taliban.
The second pillar of Trump's new strategy is an integration of all instruments of American power—diplomatic, economic and military—toward a successful outcome. He clarified that the U.S. aims to combat terrorism in Afghanistan. America will continue training the Afghan military so as to elevate its combat capability. But unlike his predecessor, Trump said the United States "will not dictate to the Afghan people how to live or how to govern their own complex society."
Third, Trump had a change of attitude toward Pakistan. In the past, the U.S. offered various types of assistance to Pakistan in exchange for the latter's cooperation in the fight against terrorism. However, some terrorist organizations can still find safe havens in mountainous areas in Pakistan. Trump urged Pakistan to adopt a tough attitude toward those groups, and threatened that Pakistan would face serious consequences if it failed to do so.
The fourth pillar is that the U.S. will support India to play a bigger role in Afghanistan. India, which has proclaimed itself the largest democracy in the world, is viewed as a key security and economic partner of the U.S. India is expected to join Washington to assist Afghanistan with its economic development. Trump has great expectations of India regarding the peace and security of South Asia and the broader Indo-Pacific region.
Last but not the least, the Trump administration asked NATO allies and global partners to support its new strategies with additional troops and funding increases. They are supposed to shoulder more responsibilities so as to safeguard shared interests. Afghan people are expected to build their own future, and assume more economic and security responsibilities. Trump has vowed to work with the Afghan Government. "Though our commitment is not unlimited, our support is not a blank check," Trump has said.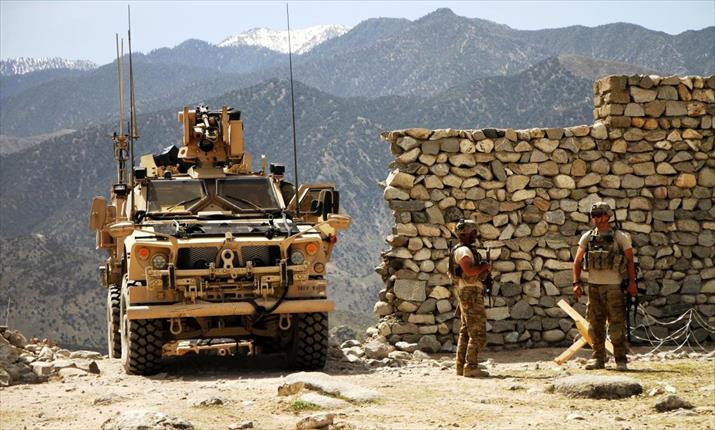 U.S. soldiers patrol near the bomb site on April 15 when its "mother of all bombs" killed 94 militants on the ground in Afghanistan (XINHUA)
Evolving situation
In general, Trump's new policy is good for the anti-terrorism endeavor in Afghanistan. By the end of 2014, the U.S. and NATO officially ended their combat mission in Afghanistan and handed defense responsibilities over to Afghan National Security Forces (ANSF). Shortly after, the security situation deteriorated rapidly, with an unprecedented surge in the number of terrorist attacks and casualties.
According to the United Nations Assistance Mission in Afghanistan, there were 23,712 security incidents in 2016, a 5-percent increase compared to the previous year, while civilian casualties in Afghanistan reached new highs in 2016. According to the U.S. Special Inspector General for Afghanistan Reconstruction, only 57 percent of Afghan territory is now under government control or influence, an almost 15 percent decline since the end of 2015, and the proportion keeps shrinking.
The Taliban is consolidating its power in east Afghanistan and its base in the south, while at the same time spreading toward the northeast and northern regions. It attempted to attack large and medium-sized cities, and occupied Kunduz, a crucial city in the north, twice.
ISIS is also seeking to expand its sphere of influence. In January 2015, it announced to establish an affiliate called "ISIS-Khorasan," which plans to cover almost the entire South Asia region and part of Central Asia, with Afghanistan as its key target.
Since 2016, ISIS has planned several major terrorist attacks. In July 2016, the terrorist group claimed responsibility for twin explosions which tore through a demonstration by members of Afghanistan's mainly Shiite Hazara minority in Kabul, killing at least 80 people. It was the largest number of casualties caused by a terrorist attack since 2001. In October, ISIS claimed responsibility for an attack at a mosque in Kabul, killing 18 civilians. Moreover, on November 21, the group attacked another mosque in Kabul, killing at least 30 people.
The attacks demonstrate that the terrorist group has already infiltrated core cities in Afghanistan and established a network for personnel and logistics.
Under such circumstances, John Nicholson, commander of the U.S.-led coalition forces in Afghanistan, publicly pledged to defeat and eliminate the local Afghan branch of ISIS by the end of 2017. Besides, the Taliban views ISIS as a dissident force, and has also distributed elite combat forces to fight against it.
Under attacks from both the U.S. and the Taliban, the amount of land and soldiers controlled by ISIS has shrunk. But ISIS remains a threat to Afghanistan's security as it is still active in Nangarhar Province in east Afghanistan.
Although Trump did not specify the number of troops to be added, he has promised to send U.S. soldiers in Afghanistan the resources they need to carry out their tasks. Before his speech, Trump has authorized Defense Secretary James Mattis to decide a ceiling for the anticipated increase in the number of troops deployed in Afghanistan.
The U.S. is expected to take more measures to stifle extremist groups in Afghanistan, especially ISIS, which is a global security threat. This will help restrict ISIS activities, preventing it from expanding to neighboring Central Asian countries, and from further affecting the peace and stability of Central Asia.
But the Obama administration had also sent a large number of troops to Afghanistan, reaching nearly 100,000 soldiers at one point. Even then, the drastic increase in the number of troops failed to bring long-lasting peace and stability to the country. Trump is reportedly planning to send between 4,000 and 6,000 soldiers, obviously not enough to annihilate all threats.
Afghanistan's economy has been continuously low since the U.S. and other foreign troops ended their combat mission there in 2014. Its economic growth was 1.5 percent in 2016 compared to its double-digit expansion years ago.
Under such conditions, it is unrealistic to expect that Afghanistan can achieve economic independence. Its government budget and military expenditure will still rely heavily on external assistance, without which the government cannot function normally, and its national security forces would encounter more challenges.
The author is a scholar on South Asian studies at the China Institutes of Contemporary International Relations
Copyedited by Bryan Michael Galvan
Comments to yulintao@bjreview.com