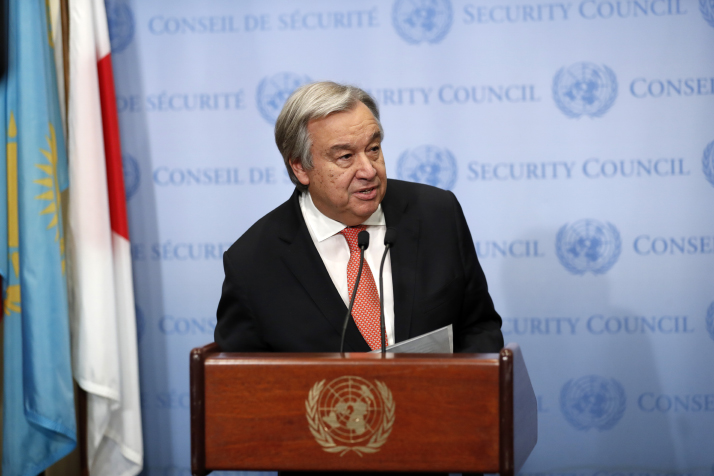 UN Secretary-General Antonio Guterres reads a statement at the UN headquarters in New York City, on December 6 (XINHUA)
United Nations Secretary General António Guterres said on December 6 that there is no alternative to the two-state solution in Israel, and that Jerusalem is an issue that must be resolved through direct negotiations between all parties.
Guterres made the remarks at a press conference at the UN Headquarters in New York City, in responding to U.S. President Donald Trump's earlier announcement that recognized Jerusalem as the capital of Israel.
"In this moment of great anxiety, I want to make it clear: there is no alternative to the two-state solution. There is no plan b," said Guterres to the press.
President Trump announced on December 6 that he formally recognized Jerusalem as the capital of Israel and declared a motion for moving the United States Embassy from Tel Aviv to the fiercely contested Holy City.
"Today we finally acknowledge the obvious: that Jerusalem is Israel's capital," Trump said, "This is nothing more or less than a recognition of reality. It is also the right thing to do. It's something that has to be done."
As Trump's remarks reversed decades of international protocol and U.S. foreign policy, the international community is worrying about the potential consequences around the world as well as in the United States itself due to the sensitive position of Jerusalem.
The UN chief noted that it is only by realizing the vision of two states "living side-by-side in peace, security and mutual recognition, with Jerusalem as the capital of Israel and Palestine, and all final status issues resolved permanently through negotiations," that the legitimate aspirations of both peoples will be achieved.
"I understand the deep attachment that Jerusalem holds in the hearts of so many people. It has been so for centuries and it will always be," said Guterres.
He stressed, "For my part as the UN Secretary-General, I will do everything in my power to support the Israeli and Palestinian leaders to return to meaningful negotiations and to realize this vision of a lasting peace for both people."
Copyedited by Laurence Coulton
(Reporting from New York City)