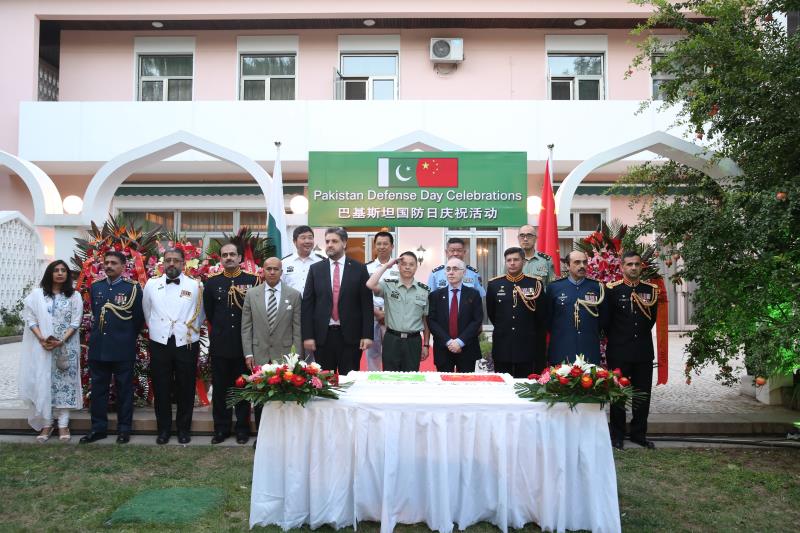 Ambassador Masood Khalid (front, four right), Chief Guest Major General Jiang Qianming (front, five right), and other dignitaries at the Defense and Martyrs Day of Pakistan on September 6 (COURTESY PHOTO)
Defense and Martyrs Day of Pakistan was commemorated with due fervor and solemnity at the Embassy of Pakistan, Beijing on September 6. Defense Day is dedicated to pay homage not only to the martyrs of the 1965 war, but to all those souls who rendered ultimate sacrifice for the defense of Pakistan.
To mark the occasion, a reception was held at the Pakistan House. Major General Jiang Qianming, Political Work Department of People's Liberation Army (PLA), was the chief guest. Four other Major Generals representing Joint Staff Department of PLA Army, Navy and Air Force were also in attendance. Other guests included Ambassadors and members of diplomatic corps, Defense and Military Attaches, Chinese Government officials and members of the media. Pakistani diaspora in China also participated in the event.
The event started with the National Anthems of Pakistan and China followed by a tribute to the armed forces, law enforcement agencies and citizens of Pakistan for their sacrifices for the country.
Welcoming the guests, Ambassador Masood Khalid said that Defense Day is commemorated as a tribute to valiant armed forces and to their inherent patriotism, discipline and commitment. He said that Pakistan seeks a peaceful and prosperous neighborhood which is the key principle of Pakistan's foreign policy.
The ambassador also highlighted the sacrifices of armed forces of Pakistan in the fight against terrorism and reaffirmed Pakistan's resolve to root out terrorism. He thanked the Chinese Government and PLA for their friendship and cooperation.
The large attendance at the occasion was a testimony to the strong ties between Pakistan and China and the militaries of the two countries.
Comments to panxiaoqiao@bjreview.com