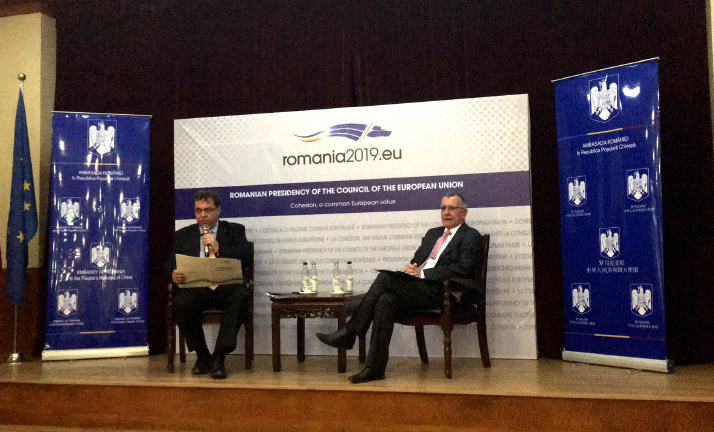 Romania Ambassador to China Basil Constantinescu (left) and EU Ambassador to China Nicholas Chapuis (right) ttend apress conference in Beijing on January 24 (WEN QING)
A joint press conference to introduce the mission and priorities of the Romanian Presidency of the Council of the European Union (EU) was held in Beijing on January 24. Romania Ambassador to China Basil Constantinescu and EU Ambassador to China Nicholas Chapuis both attended the press conference.
This is the first time Romania holds the presidency, which it took over on January 1, against a backdrop of uncertainty at both the European and international levels. The Brexit process, the transition toward a new legislative cycle with European Parliament elections set for May, and reflections on the future of the EU all bring new challenges as well as opportunities for the development of the regional organization.
It for these reasons that one of Romania's main objectives is to promote cohesion in all dimensions, namely, in political, economic and social areas, according to Constantinescu.
Within this paradigm, the Romanian presidency's work agenda will focus on four pillars: convergence, safety, globalism and common values. "Only united can we create a better future for future generations," he said.
During Romanian's presidency, the 21st China-EU Summit will be held in April. "EU and China enjoyed common interests in many regards and they have worked closely together," Chapuis said, adding that the EU and China played leading roles in the 24th Conference of the Parties to the United Nations Framework Convention on Climate Change. They also stand together on safeguarding the Iran nuclear deal to defend international security.
"Instead of empty words, EU-China cooperation is based on concrete actions," Chapuis concluded.
Copyedited by Rebeca Toledo
Comments to wenqing@bjreview.com